We're proud to inform the next 2019 Laser Master European Championships will be record of participation, even 5 weeks before closing the registration process.
2019 Laser Master Europeans will be record in Roses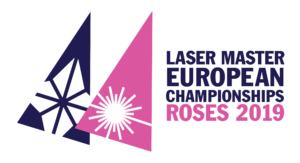 234 sailors (107 Laser Standard and 127 Laser Radial) have been registered up to date. So you are still on time to join the party in Roses!
Event will be organized by GEN Roses and entries will be open until May 17th.
It's an European and Open championship so Laser Masters all around the World are welcome to participate. Sailors from Argentina, Australia, Brazil, Canada, Dominican Republic, Mexico and United States have already registered.
2019 Laser Master Europeans – Previous editions
The first Laser Master European championships played after EurILCA's creation in November of 2013 was 2014 edition in Duinbergen, Belgium, with 106 sailors.
The most popular edition since then was 2017 in Fouesnant, France, with 172.

The 2019 Laser Master European championships are waiting for you
Among the 234 sailors registered up to date this year we count 19 women and 9 Legend sailors. What are you waiting for? Come on! Fill the application form and wrap up the Spring at this beautiful sailing spot in Costa Brava, Spain.
You can find further information on any of the links below and also following our Facebook, Twitter, Youtube and Instagram accounts. #KeepSmilingKeepSailing
By Agustín Argüelles – EurILCA | Cover photo: Thom Touw.