The 2019 Youth Sailing World Championships concluded in Gdynia, Poland, after 9 races in 5 days of competition. Great event for our European sailors, winning 5 of 6 Laser medals.
2019 Youth Sailing World Championship – Laser Radial Girls
Italian sailor Chiara Benini ITA could manage first spot from the beginning of competition and crowned new 2019 Youth Sailing World champion among the Radial Girl's fleet with 33 points (1-3-7-22-4-2-12-2-2). Silver and Bronze medals were also for Europeans, with Spanish Ana Moncada ESP and Israeli Shai Kakon ISR finishing on second and third overall with 53 and 55 points respectively.
"I'm very happy. I've had a lot of fun at this event. I started very well in the last race and I was first at the top mark but then I was overtaken so I finished second. It's a great thing to win here as the other sailors are very good." Chiara Benini ITA.
But European sailor's great performance didn't end there, with Marissa Ijben NED (4th), Matilda Nicholls GBR (5th), Rosine Baudet SUI (6th), Manon Peyre FRA (7th), Eline Verstraelen BEL (8th) and Theresa Wierschin GER (10th) occupying 9/10 of Youth World's Top 10. Congrats girls!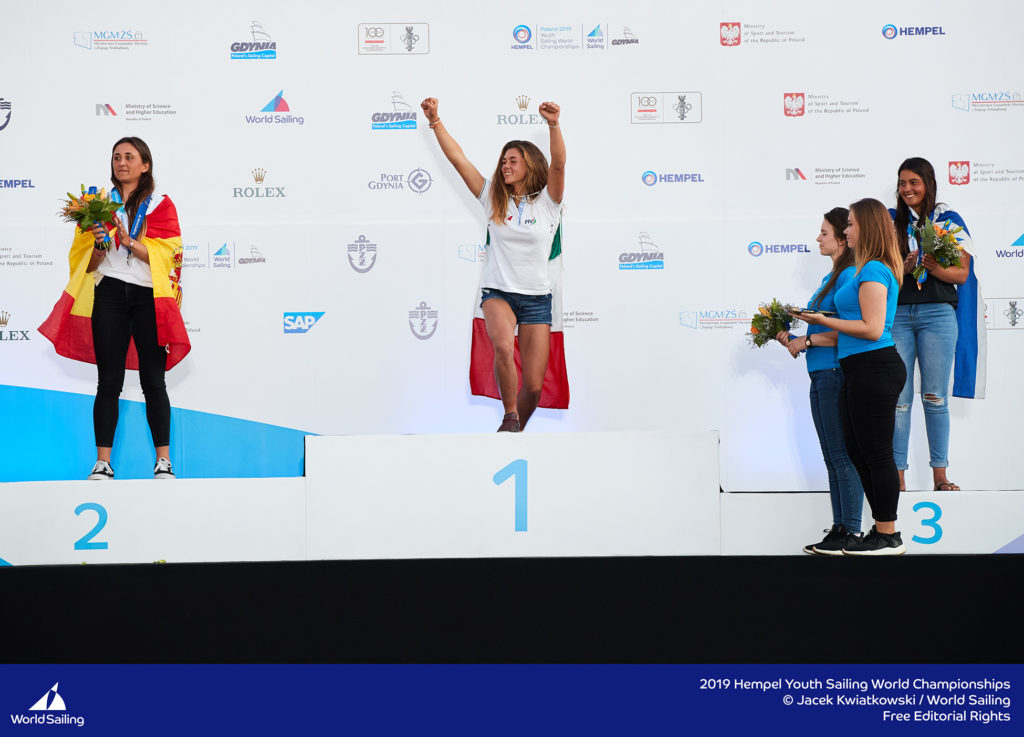 2019 Youth Sailing World Championship – Laser Radial Boys
The last race changed things dramatically and crowned Turkish sailor Yigit Yalcin Citak TUR as new 2019 Youth Sailing World champion among Radial Boy's fleet. He was third in the morning but main Gold contenders Zac Littlewood AUS and Tytus Butowski POL got stuck in the middle of the fleet, finishing 23rd and 22nd and draw in 63 points. Tytus got finally Bronze cause of Zac winning 2 races within 9 raced, so taking Silver to Australia. With a 5th place on this last race Yigit wrapped score with 56 (8-22 SCP1-13-3-8-7-9-3-5) and took Gold for Turkey. Congrats boys!
"I'm so happy right now. I just want to thank everyone who's supported me, my club, my family my friends. My goal was to always finish in the top three. In the last race I was aiming for the top ten at the first mark but I rounded in 13th. But then I passed the other guys and finished fifth and now I'm here right now. The race didn't finish for me when I crossed the line. It felt like one month waiting for them to finish." Yigit Yalcin Citak TUR.
Theo Peyre FRA, Jordi Lladó ESP and Tobias Birkeland NOR were also part of Youth World's Top 10, finishing 5th, 8th and 9th respectively.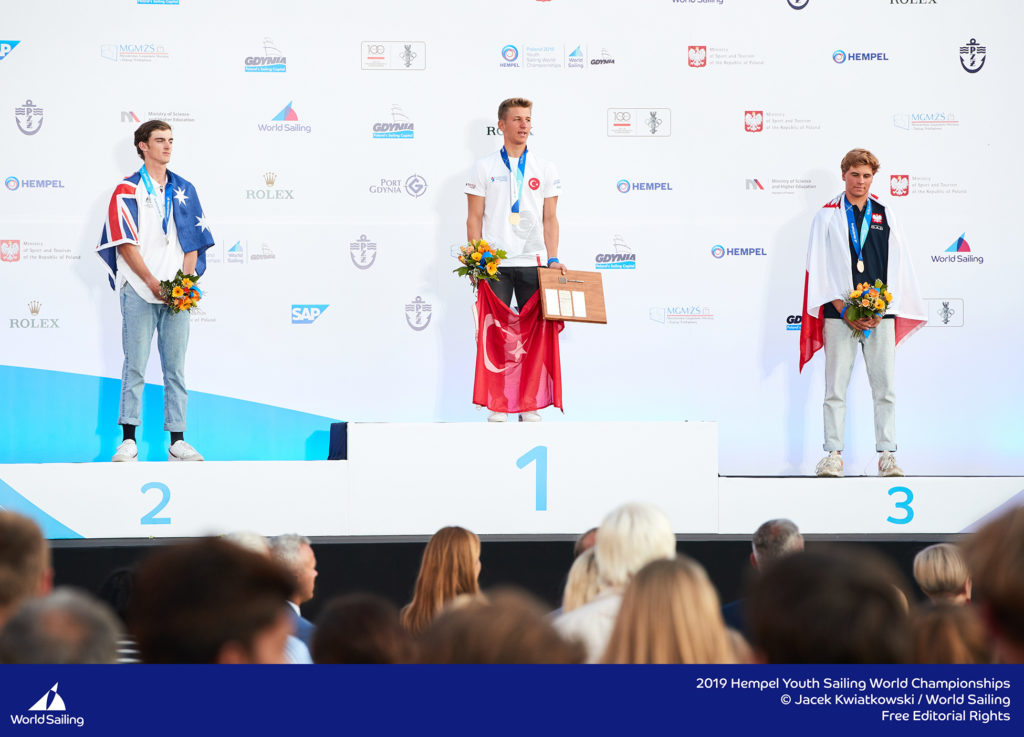 2019 Youth Sailing World Championships – Full results.
Don't miss the Laser Class European action worldwide and follow us on Facebook, Instagram, YouTube and Twitter.
#JoinTheLaserClass #HaveFun #SailFast #KeepSmilingKeepSailing
By Agustín Argüelles – EurILCA | Photos: Robert Hajduk – World Sailing.