Our European sailors shone again at the Laser Worlds, this time far away on foreigner waters of Sandringham, Australia, where the 2020 Laser Men's World Championships were held.
Due to an extraordinary performance, the German and 30-years old sailor Philipp Buhl GER could finally conquer his first Laser World championship (also first for Germany), after a Bronze in 2013, Silver in 2015 and Bronze again in 2018.
Buhl could manage to lead the championship from the beginning (4-1-1-1-1-2-2-3-5-6-10-4), winning 4 of the first 5 races during the qualifying series. A consistent performance during the whole championship, finishing every of races within the top 10, allowed him to consolidate his triumph after 12 races, concluding the championship with 26 points.
After being showered with champagne by his supporters on the beach, Buhl said it was hard to describe the winning feeling. "The week just happened," he said. "When I got the two firsts on the second day, that gave me good momentum, but I knew anything could happen up until the second race today (when he knew he was unable to be beaten). I had good first beats, good downwind speed. It all came together for me this week".
"I've come close to a world championship a few times before. It's so incredibly hard to make it happen. I think the Laser is the hardest class to win a World Championship. I'm just so happy!" – Philipp Buhl GER
Second on podium was local and ascendant sailor Matt Wearn AUS with 38 points. This is third Silver medal in a row to him at the Laser Worlds.
"Obviously I would have liked to have won," he said. "But I've still got a fair bit to work on so I'm happy to take second in a World Championship. This level definitely tests the form and I've been working on a few things all week. I'm still making silly mistakes here and there so I've got to iron those out and move one step up the podium (in Tokyo)."
Current Olympic Silver medalist Tonci Stipanovic CRO won the Bronze here, finishing third overall with 64 units. This is second Laser World's medal for him, after getting Silver in 2012.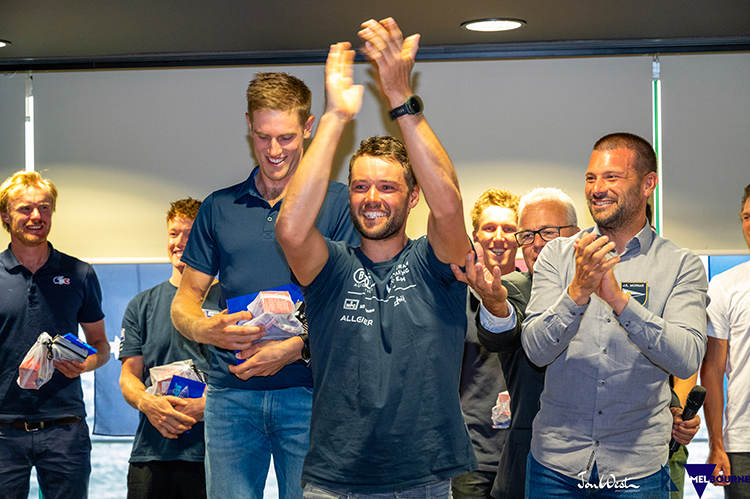 ---
This World's Top 10 rank included five more European sailors, with Jean Baptiste Bernaz FRA finishing 4th overall, Elliot Hanson GBR on 5th, Hermann Tomasgaard NOR on 6th, Jesper Stalheim SWE on 9th and Filip Jurisic CRO on 10th.
2020 Laser Men's World Championship – Full results here
Being so close now to Tokyo 2020, it seems the fight for the Olympic medals will be really tighten, with many sailors with serious chances to get them.
Next challenging regatta will be the 2020 Laser Senior Europeans in Kalamata, Greece, from May 16th to 23rd.
#LaserSailing #OlympicSailing #SailSmileRepeat #SailFast #HaveFun #KeepSmilingKeepSailing
---
By Agustín Argüelles – EurILCA | Photos by Jon West Photography.