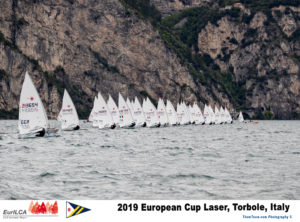 The 2019 Laser Europa Cup Italy concluded today in Torbole, Garda. Sailors were sent earlier to water this time due to nice Northern wind (Peler) arriving in the morning.
18-20 knots of wind and 25 on gusts allowed the Laser Standard fleet, Laser Radial Women's fleet and Laser Radial Men's Gold fleets to complete two new races, while the Laser Radial Men's Silver fleet and Laser 4.7 fleets raced only one.
2019 Laser Europa Cup Italy – Final results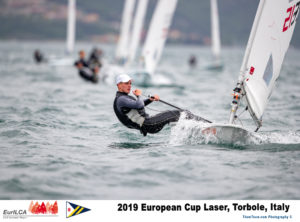 Russian sailor Dmitry Golovkin RUS (1-14-1-1-1) was the overall champion in the Laser 4.7 fleet with 4 points after winning 4 of 5 races played. Second place overall was for Roko Stipanovic CRO (1-2-2-2-5) with 7. Third place overall was for girl's champion Anja Von Allmen SUI (3-3-2-3-8) with 11 units.
Attilio Borio ITA completed boy's podium on fourth overall.
Domenico Lamante ITA was first U16 and 6th overall, followed by Mattia Cesana ITA on 8th.
Alexandra Lukoyanova RUS and Jade Gavin SUI were second and third on girl's podium, finishing 14th and 18th respectively.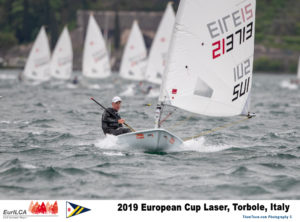 The Laser Radial Men's overall and U19 champion was Swiss Gauthier Verhulst SUI (19-2-1-1-1-1) with 6 points, winning all last 4 races, followed by German Julian Hoffmann GER (9-1-2-1-3-10) with 16 and second U19. Third place overall for Belgium Simon De Gendt BEL (16-2-3-5-2-11), draw in 23 points with Italian Augusto Mondelli ITA (35-3-5-3-6-6), finally fourth overall and third U19.
Tito Morbiducci ITA (11-1-12-8-8-34) was first U17 sailor and 8th overall with 40 points, escorted by Martin Verhulst SUI (13th) and Arthur Fairley GBR (15th).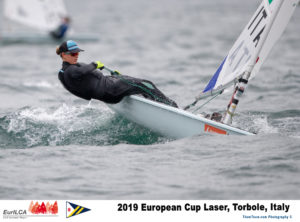 The Laser Radial Women's overall champion was our current 2018 Radial Youth European champion Matilda Talluri ITA (10-5-1-1-1-3) with 11 points, followed two points behind by local Federica Catarozzi ITA (35-3-2-2-4-2).
Marta Zattoni ITA (3-6-4-5-5-5) made podium completely Italian, both overall and in U21 category, finishing third with 22 units.
The first U19 place was also for a local sailor, Giorgia Cingolani ITA (8-2-5-4-6-6), who finished fourth overall. First U17 place for Eve McMahon IRL (1-1-9-15-11-12), who finished 7th.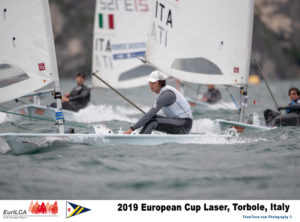 Finally, the Laser Standard overall champion was Gianmarco Planchestainer ITA (2-5-8-6-3-5) with 21 points, followed by Nicolo Villa ITA (5-2-24-7-2-9) and Ning Zhao CHN (15-7-1-22-1-2) with 25 and 26 points respectively.
Russian sailor Daniil Krutskikh RUS (3-3-16-UFD-6-3) was fourth overall and first U21 sailor with 31 units, escorted by Lorenzo Masetti ITA (10th) and Ben Flower GBR (13th).
First U19 place was for Ilija Markovich MNE, finishing 12th overall among 58 competitors.
2019 Laser Europa Cup Italy – Final results
Don't miss the action and follow the 2019 Laser Europa Cup with us on Facebook, Twitter and Instagram.
2019 Laser Europa Cup – Previous events
#LaserEuropaCup #EuropaCup2019 #HaveFun #KeepSmilingKeepSailing
By Agustín Argüelles – EurILCA | Photos: Thom Touw.