Second day of races at the 2019 Laser Europa Cup Italy in Torbole, Garda. Wind filled the lake early in the afternoon with 12-15 knots, allowing two new races per fleet to be added to scores.
2019 Laser Europa Cup Italy – Day 2 results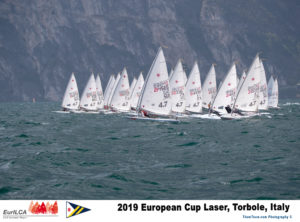 Russian sailor Dmitry Golovkin RUS (1-14-1-1) is leading now the Laser 4.7 fleet overall with 3 points after a perfect day on water, followed by Roko Stipanovic CRO (1-2-2-2) with 5 and a better discard. Third place overall and first Girl's spot for Anja Von Allmen SUI (3-3-2-3) with 8. Fourth place overall and first U16 for Domenico Lamante ITA (3-1-12-9) with 13, draw in points with Attilio Borio ITA and Mattia Cesana ITA, who's second U16. Overnight leader Eliott Raison SUI (2-1-25-14) is now ninth overall and third U16 with 17.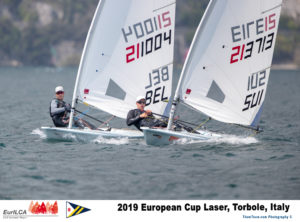 The Laser Radial Men's fleet is now led by Gauthier Verhulst SUI (19-2-1-1) after his perfect score today, draw in 4 points with Julian Hoffmann GER (9-1-2-1). Overnight leader Valerio Palamara ITA (1-5-4-15) is now third overall with 10 units.
Tito Morbiducci ITA (11-1-12-8) is U17 leader and ranked 13th overall, followed by Arthur Farley GBR (15-18-9-5) and Thomas Flachon FRA (28-11-5-13) on 20th and 21st place overall respectively.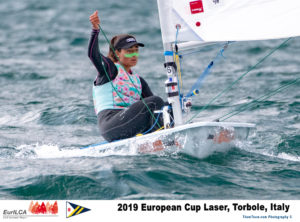 The Laser Radial Women's fleet is headed now by Italian sailor Matilda Talluri ITA (10-5-1-1) rounding a perfect day on course, draw in 7 points with Federica Catarozzi ITA (35-3-2-2).
Third place overall and first U17 for overnight leader Eve McMahon IRL (1-1-9-15) with 11, same score as Giorgia Cingolani ITA (8-2-5-4) on fourth overall and first U19. Previous vice-leader Marta Zattoni ITA (3-6-4-5) is now fifth with 12 units.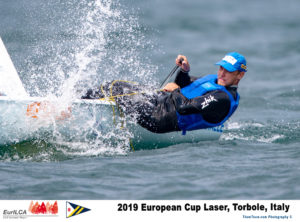 Finally the Laser Standard fleet is still led by Giovanni Coccoluto ITA (1-1-11-1), who's leaving the event today and moving to Porto for the next 2019 Laser Senior Europeans starting on May 18. Gianmarco Planchestainer ITA (2-5-8-6) raised some positions and he's ranked now second overall with 13 points. Nicolo Villa ITA (5-2-24-7) is third and just one point behind with 14. Daniil Krutskikh RUS (3-3-16-UFD) is fourth overall and first U21 sailor with 22 units.
2019 Laser Europa Cup Italy – Full results
Don't miss the action and follow the 2019 Laser Europa Cup with us on Facebook, Twitter and Instagram.
2019 Laser Europa Cup – Previous events
#LaserEuropaCup #EuropaCup2019 #HaveFun #KeepSmilingKeepSailing
By Agustín Argüelles – EurILCA | Photos: Thom Touw.