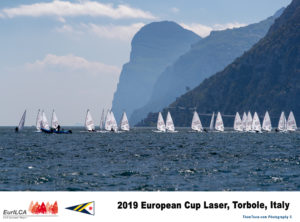 The 2019 Laser Europa Cup Italy started today at Circolo Vela Torbole with almost 300 boats filling Lake Garda.
Sailing day couldn't be better, with nice weather and wind arriving around 14:00. One course for the Laser 4.7 and Laser Standard, and another one for the Laser Radial allowed two first races per fleet as scheduled.
2019 Laser Europa Cup Italy – Day 1 results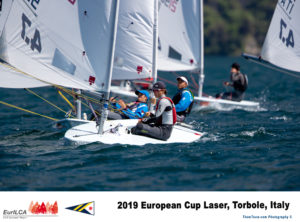 Eliott Raison SUI (2-1) and Roko Stipanovic CRO (1-2)  are draw in 3 points on top of Laser 4.7 competition, closely followed by Domenico Lamante ITA (3-1) just one point behind.
Valerio Palamara ITA (1-5) is leading Radial Men's fleet with 6 points, followed by Tom Higgins IRL (1-8) with 9. Julian Hoffmann GER (9-1), Alessandro Maisano SUI (2-8) and Teun In Der Maur NED (7-3) are all draw with 10 units.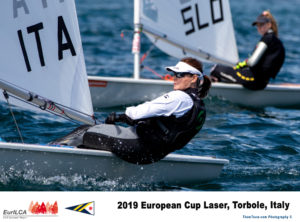 The Radial Women's fleet is headed by Eve McMahon IRL (1-1) with perfect score, followed by Marta Zattoni ITA (3-6) and Giorgia Cingolani ITA (8-2) with 9 and 10 points respectively.
Finally the Laser Standard fleet is led by Giovanni Coccoluto ITA (1-1), who's warming up for the last days in Garda before moving to Porto for the 2019 Laser Senior Europeans starting next week. Daniil Krutskikh RUS (3-3) is second overall with 6 points. Nicolo Villa ITA (5-2) and Gianmarco Planchestainer ITA (2-5) run third and fourth with 7 units.
Don't miss the action and follow the 2019 Laser Europa Cup with us on Facebook, Twitter and Instagram.
2019 Laser Europa Cup Italy – Full results
2019 Laser Europa Cup – Previous events
#LaserEuropaCup #EuropaCup2019 #HaveFun #KeepSmilingKeepSailing
By Agustín Argüelles – EurILCA | Photos: Thom Touw.