Entries for the next 2019 Laser Europa Cup Italy closed yesterday with 330 sailors joining this great sailing party to be held at Circolo Vela Torbole from May 9th to 12th, just one week before the 2019 Laser 4.7 Youth Europeans in Hyeres.
330 sailors joined the next 2019 Laser Europa Cup ITA in Torbole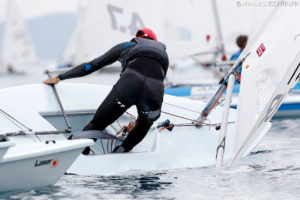 64 Laser Standard, 164 Laser Radial and 102 Laser 4.7 from 32 nations (25 European) were registered to participate of fourth 2019 Laser Europa Cup event.
After the first three events in Slovenia, Switzerland and France, Swiss sailor Noe Herrmann SUI is leading the 4.7 Men's fleet, while Croatian Ursula Balas CRO is first among Women's. Radial Men's are being led by Finish Otto Dahlberg FIN, while Women's are headed by Ukranian sailor Sofiia Naumenko UKR. The Laser Standard championship's first spot is in hands of Croatian Marko Smolic CRO.
Don't miss the action and join the 2019 Laser Europa Cup, the best way to train for the Laser European Championships 😉
2019 Laser Europa Cup Italy – Useful links
2019 Laser Europa Cup – Previous events
#LaserEuropaCup #EuropaCup2019 #HaveFun #KeepSmilingKeepSailing
By Agustín Argüelles – EurILCA | Photos: Pierrick Contin (Archive – 2019 Europa Cup France)