The last two races were held today in Thessaloniki, Greece, to crown our new 2022 EurILCA 6 Youth European champions! This way the event concluded with all 12 scheduled races done.
The wind was a little bit crazy today, with a strong wind coming from the NW in the morning, but afterwards decreasing to 3 knots for the time when the first starts were expected to run at 13:00. The wind completely died then for 1.5 hours, with all the 6 fleets waiting afloat in two different courses. Finally at 14:30 the AP flag was removed, restarting the racing sequence at 14:45 with 10-11 knots of breeze, finally dropping to 6-7 knots for the last set of races.
Would you like to know who were finally the medalists!? Continue reading! 😉
---
Final results – Girl's Overall and Under 17 European champions
The Irish sailor Eve McMahon IRL (1-1) was finally the girl's overall champion, wrapping up the event in the best shape by winning both races and counting only 35 points.
The second place overall was for Emma Mattivi ITA (24-5) with 71. Third place overall for Petra Marendic CRO (4-33) with 86, tied on points with Claudia Adan Lledo ESP (3-54UFD), who was finally fourth.
The girl's Under 17 championship was for Adriana Castro Nuñez ESP (32-8), who dominated the fleet during the whole week and finished 8th overall with 117 points.
Maria Vittoria Arseni ITA and Eva Wiese GER completed the U17 girl's podium on places 17th and 31st respectively.
Roos Wind NED, Tea Peteh CRO, Pia Conradi GER, Thea Lubac FRA and Laura Szulc POL completed the overall Top 10 among 106 competitors.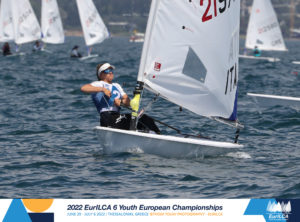 ---
Final results – Boy's Overall and Under 17 European champions
The German sailor Ole Schweckendiek GER (1-19) was finally the boy's overall champion with 93 points, surpassing Alexandros Eleftheriadis GRE (16-31), who was finally second overall and boy's Under 17 champion with 98. The third place overall was for Yogev Alcalay ISR (14-8) with 101 units.
Alexandros Ioannidis ISR and Marios Stathas GRE completed the U17 podium on places 5th and 6th overall with 109 and 116 points respectively.
Guilherme Cavaco POR was fourth overall with 103.
Rem Pulci Magen ISR, Erik Norlen SWE, Willy Bo Sorensen GER and Massimiliano Antoniazzi ITA completed the overall Top 10 among 284 competitors.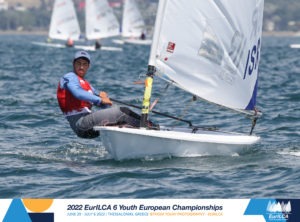 ---
390 youth sailors from 34 nations of all around the World were part of this competition, organised by Nautical Club of Thessaloniki, Hellenic ILCA Class Association EurILCA, City of Kalamaria and Region of Central Macedonia. The event is kindly sponsored by EPT 3, Superfast Ferries, Grohe, Yamaha, Live Media, Interlife and Coral.
The 2023 EurILCA 6 Youth European Championships & Open European Trophy will be held in Gdynia, Poland, from July 12-19 2023, so we hope to meet you all again the next year enjoying of our beloved sport.
Keep smiling, keep sailing!
The EurILCA Team
---
How to relive the 2022 EurILCA 6 Youth European Championships
Live streaming
We were daily streaming all the action and races live through our Instagram account https://www.instagram.com/eurilca/ – You can find all the videos in our feed.
News and reports
A daily report with news and results, photos and videos was published at https://eurilca.org/news-2022-eurilca-6-youth-europeans/
Photo galleries
Photo albums were daily uploaded on our Smugmug account: https://eurilca.smugmug.com/2022-European-Championships/2022-EurILCA-6-Youth-Europeans – They are all free to be downloaded and used for editorial purposes or social media specifically related with this event. For any other purpose or commercial uses please contact the photographer at thomtouw@me.com
Video galleries
Video highlights and interviews were published on our YouTube channel: https://www.youtube.com/eurilcachannel – We suggest you to subscribe to it to receive instant notifications when we upload new contents.
GPS tracking
For the Final Series racing, the Gold fleets were provided with GPS tracking for you to follow them live in the following link: https://www.metasail.it/incoming/307/
Facebook
All these news and contents were also published on our Facebook page: https://www.facebook.com/eurilca
Event website
All these information and contents mentioned before you can also find them at the official event website: https://2022-ilca6youth.eurilca-europeans.org/
---
Report by Agustín Argüelles | Photos by Thom Touw.