Jordi Capella and Pep Campi were finally the Laser Standard and Laser Radial overall champions at the 2019 Euro Master Circuit ESP raced this weekend in Calella de Palafrugell.
Strong winds enlightened event during the three days of competition, testing Laser Master sailors strength and skills.
2019 Euro Master ESP – Laser Standard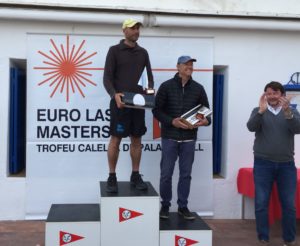 After 5 races local sailor Jordi Capella ESP (1-2-2-3-1) was the Apprentice Master and overall champion with 6 points, closely followed by Master's winner Roger Schulz GER (2-6-1-2-2) and Grand Master's winner Jose Luis Doreste ESP (3-1-3-1-5)with 7 and 8 points respectively.
First Great Grand Master place for Wolfgang Gerz GER, finally ranked 5th overall with 20 units.
2019 Euro Master ESP – Laser Radial
The Laser Radial overall championship was finally for Grand Master sailor Pep Campi ESP (1-5-1-5-6), draw in 12 points with Master's winner Sebastien Baudier FRA (2-4-4-2-5). Third place overall and first Apprentice's for Carlos Edmundo MEX with 13 units.
Jean Philippe Galle FRA was first among the Great Grand Master sailors, finishing championship on 8th place overall.
Jacky Nebrel FRA was first Legend sailor, concluding event on the 20th place.
Alexandra Behrens GER was Women's champion, finishing 24th overall.
2019 Euro Master ESP – Full results here.
Next 2019 Euro Master Circuit event will be later this month at Neuchâtel, Switzerland, from April 26-28. Entries will be open until April 19th. You can register here.
By Agustín Argüelles – EurILCA | Photos: Club Vela Calella.