Sailing conditions changed dramatically today on fourth day of races at the 2020 Laser Master European Championships in Andora, Italy.
Sunny days with light breeze and flat water were over and switched to dark grey sky with 12-16 knots from East (19 on gusts) and a big 2 meters swell.

---
Laser Radial results after 5 races
Apprentice Master Jon Emmett GBR (5-1-1-3-1) is still on top of the Radial championship with 6 points, followed by Master sailors Alessio Marinelli ITA (3-3-12-2-4) and Jean-Christophe Leydet FRA (10-7-4-1-2) with 12 and 14.
Erberto Sibilia ITA (6-14-5-5-3) is fourth overall and 2nd AM with 19.
I had a great time today. I haven't sailed for a while and turning back to the sea was amazing. I will give it my best shot tomorrow. I'm in this fight till the end 😜 – Erberto Sibilia ITA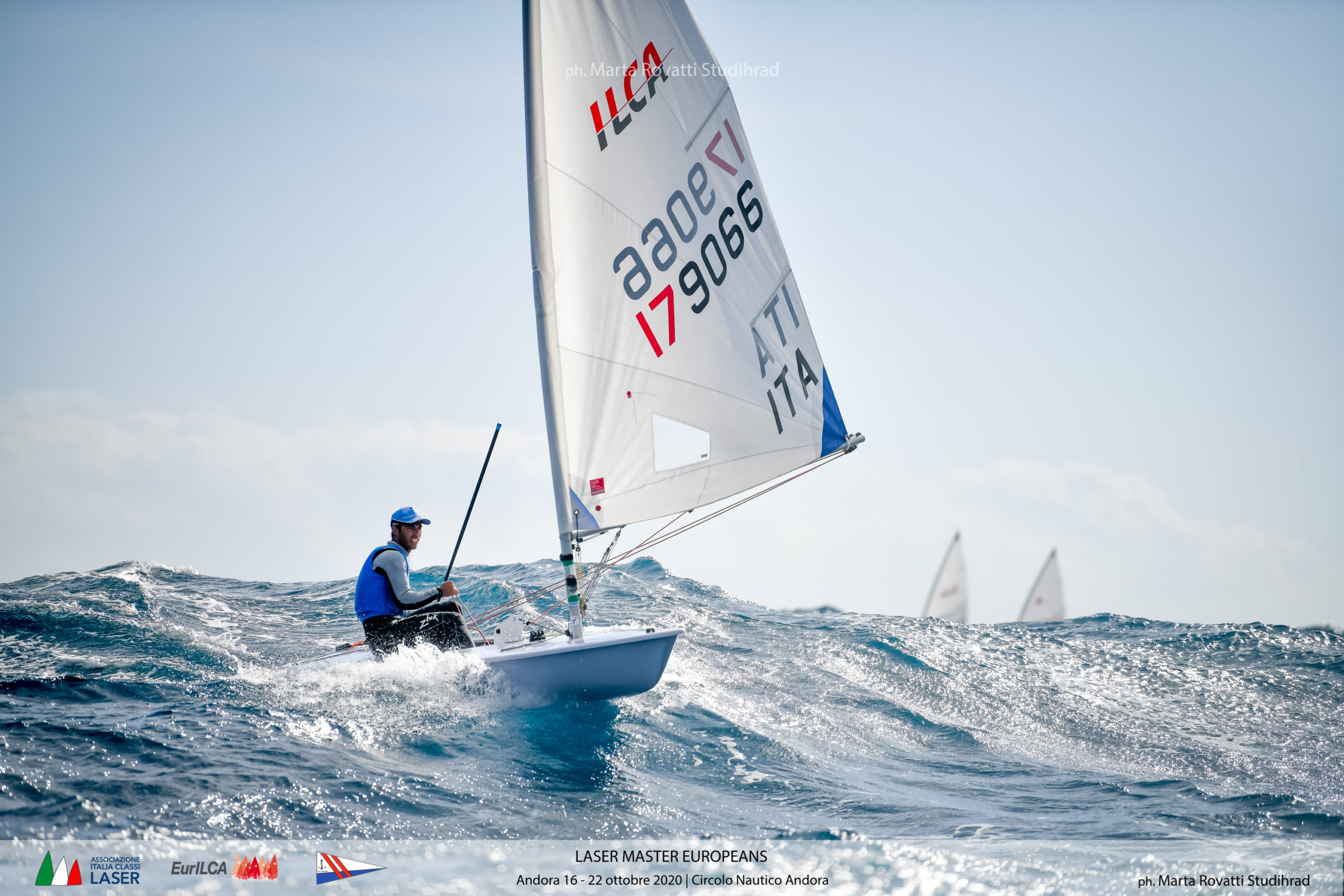 ---
Elisa Boschin ITA (4-2-6-12-15) drops from 2nd to 6th overall but still governing the Women's championship with 24 points.
First Grand Master is Pierrick Amizet FRA (12-5-3-9-11) with 28 and ranked 7th overall.
Great Grand Master's fleet is led by Jean Philippe Galle FRA with 55 and holding the 14th place in the overall ranking.
Marçon Poopy FRA is first among the Legend sailors with 79 points and ranked 19th overall among all 46 competitors.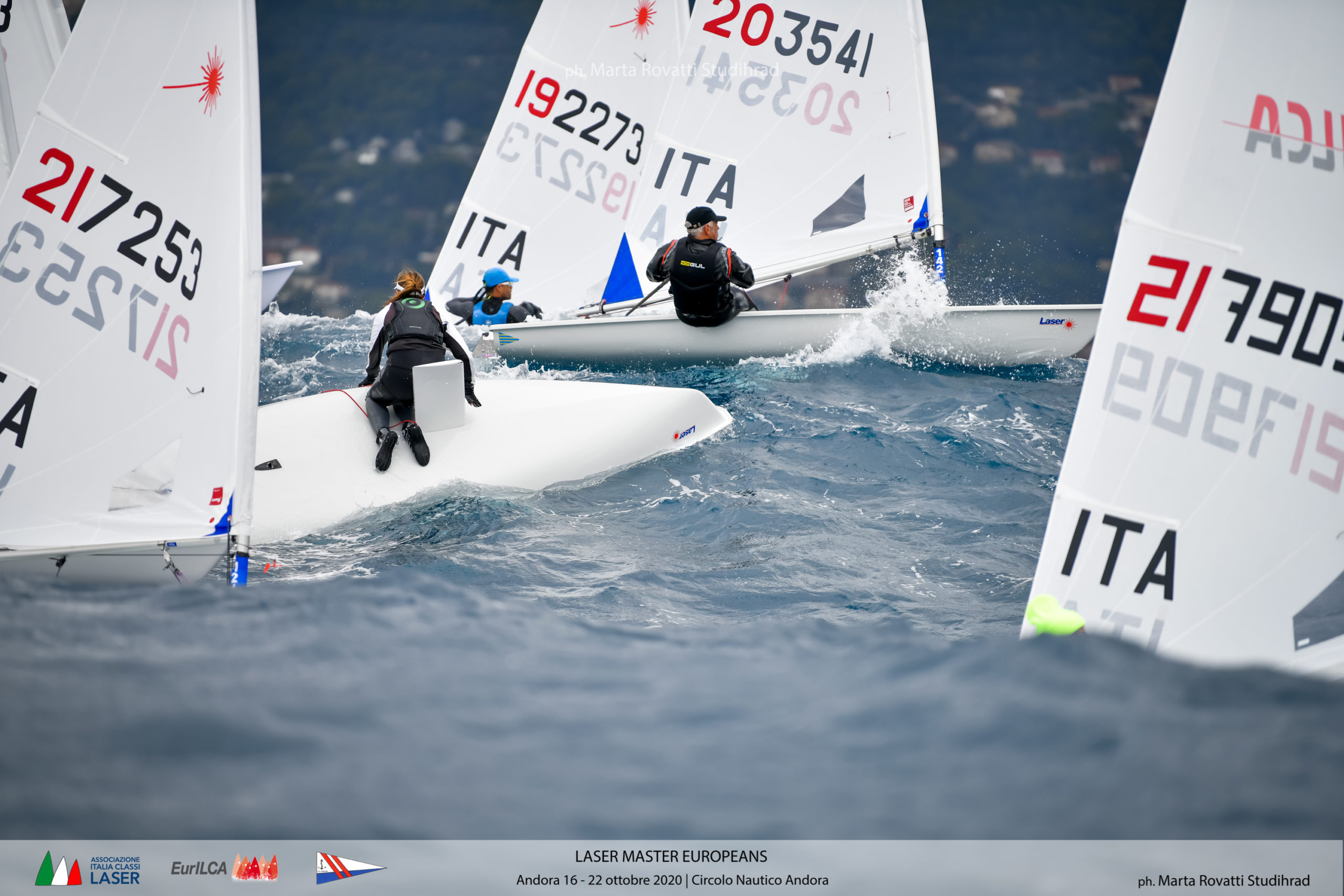 ---
Laser Standard results after 5 races
Master sailor Adonis Bougiouris GRE (3-1-5-1-1) rounded a perfect day on water today and holds the Standard championship leadership with 6 points. Second place for Grand Masters leader Carlos Martinez ESP (4-3-3-7-4) with 14. Third place overall for second Master Roger Schulz GER (19-6-6-3-11) with 26.
At the first 3 days it was disappointing because the wind was really light and difficult to sail. Today was an amazing day with really fantastic conditions! Big waves and strong wind. My favorite conditions. The waves were very big and was a bit difficult to find the mark so I lost the way to n3 mark in the second race. I was lucky I had a secure distance so it didn't cost me any places. I think we should have done one more race today. Last day tomorrow and I think I m very close to win this championship – Adonis Bougiouris GRE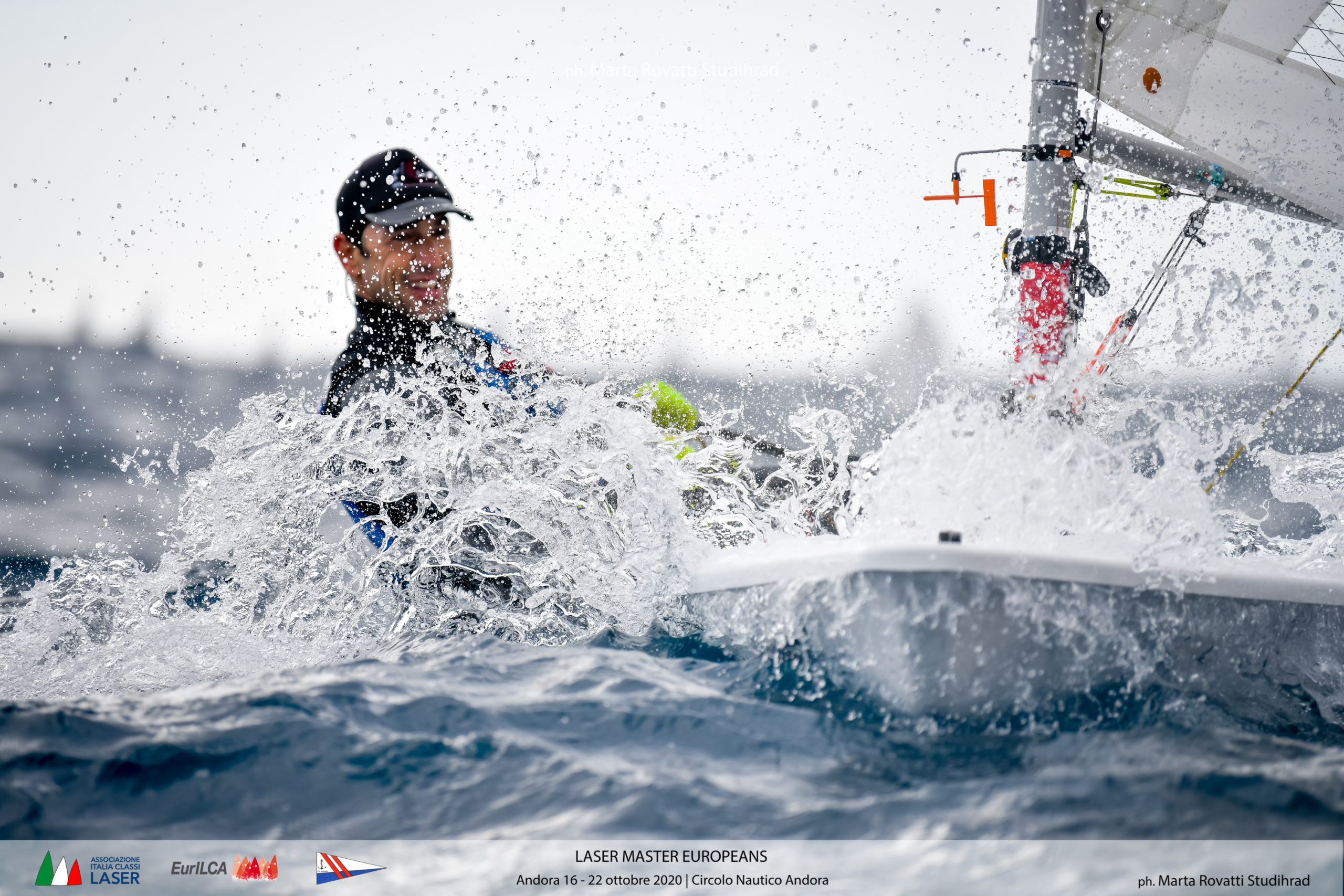 ---
Leandro Rosado ESP (1-RET-23-8-2) is first Apprentice Master and ranked 6th overall with 34 points.
Wolfgang Gerz GER heads the Great Grand Master's competition with 44 units and placed 12th overall.
Forecast announces the sailing conditions tomorrow will be pretty similar to today, may be a little bit less wind, so let's wait for more tough and challenging races to decide our new 2020 Laser Master European champions! 😉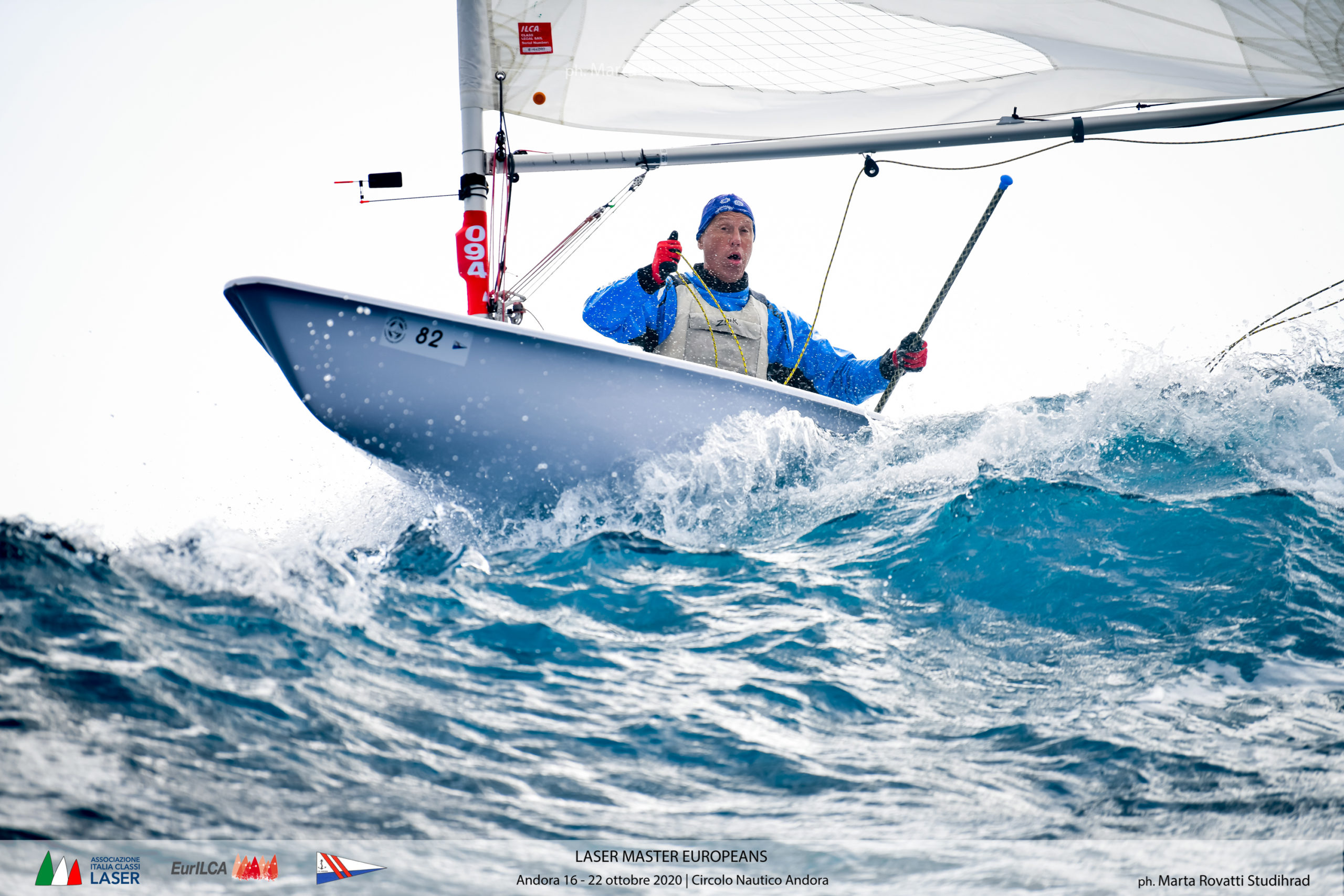 ---
How to follow the 2020 Laser Master Europeans
Check our daily reports, news and results on the Event's Webpage
Follow the races live with the tracking here
Social networks: Facebook – Instagram – Twitter
---
Agustín Argüelles – EurILCA | Photos: Marta Rovatti Studihrad.