One more great day of sailing in Balaton, Hungary, where the 2021 Europa Cup HUN counts now with 6 races on scores for all three fleets. The event is organised by Balatonfüredi Yacht Club, in conjunction with the Hungarian Sailing Federation, and sponsored by Rooster-Monautix.
The Race Committee could early manage to set the course for all 160 sailors to start racing at 10 am. ILCA 6 and ILCA 4 classes were started the 5th race with black flag.
In the 6th race the RC's team had to shorten the course for the ILCA 6 and ILCA 4 classes because the wind had turned and later dropped.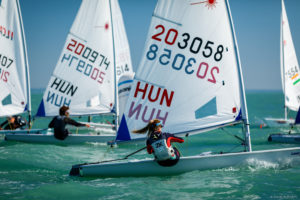 Luca Centazzo ITA (2-1-3-8-1-4) continues to head the ILCA 4 competition with 11 points, now with a greater distance from his first pursuer, the Girl's leader Alenka Valencic SLO (1-5-5-64UFD-2-12) with 25. Daniel Cserveni HUN (3-8-7-7-12-3) and Tedi Leonardelli CRO (20-3-1-14-10-1) are also close with 28 and 29 points respectively. Kurt Borg MLT had a bad day yesterday (28-55) and dropped from the 2nd to the 9th place overall.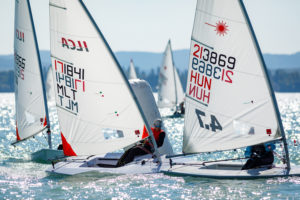 ---
No change also on the ILCA 6 leadership, with the Australian sailor Zoe Thomson AUS (1-1-1-1-1-1) absolutely controlling the 72 sailors fleet with perfect score after winning all 6 races. Rosine Baudet SUI (5-4-7-7-2-2) is her immediate follower now with 20 points. Nethra Kumanan IND (8-6-5-5-19-3) is third with 27. Latvian sailor Estere Kumpina LAT (2-3-2-8-49-13) dropped from 2nd to 4th after a bad 5th race. Oliver Szokody HUN (4-9-9-3-20-4) is first ranked Men with 29 units on the 5th place overall.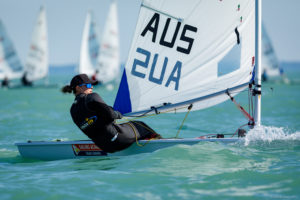 Benjamin Vadnai HUN (1-1-1-1-1-2) is still on top of the ILCA 7 championship with 5 points, closely followed by Stanislav Mulko UKR (3-3-2-2-3-1) with 11. The Ukranian sailor gave himself the pleasure of beating the 18th best Olympic sailor in Tokyo for the first time in this regatta. The third place is now for Thailand Chusitt Punjamala THA (2-4-6-6-2-3) with 17. Ivan Zhukalin UKR (5-2-3-3-5-5) is only one point behind on fourth.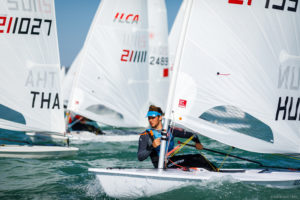 ---
After the races the organisers welcomed the participants with a delicious hot-dog party. Last races coming today so stay tuned!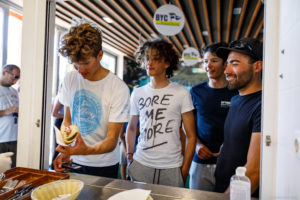 ---
---
Report by Agustín Argüelles – EurILCA | Source: Miklós Rauschenberger (NRO HUN), Race Officer | Photos by Aron Szanto – BYC.
---