Two new races were added to scores yesterday at the 2021 Europa Cup HUN on Lake Balaton, Hungary, organised by Balatonfüredi Yacht Club, in conjunction with the Hungarian Sailing Federation. The event is sponsored by Rooster-Monautix.
All sailors launched their boats at 9 am and by 10 am the Race Committee could set the course and manage the first successful race of the day for all three ILCA 7, ILCA 6 and ILCA 4 classes.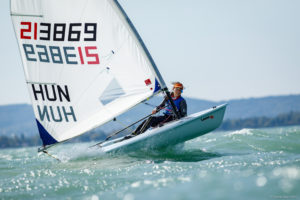 Unfortunately, later the wind changed direction frequently and its strength became also very variable. The RC's team measured between 2 and 20 knots, often with gusts of 25 knots.
After several changes of position the course could be finally managed to organise a last fair race, being 4 now in total after the first two days of competition.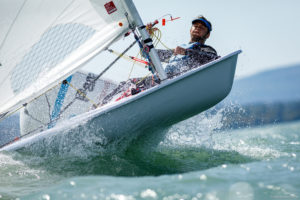 The ILCA 4 fleet is still headed by the Italian sailor Luca Centazzo ITA (2-1-3-8) with 6 points, followed now by Kurt Borg MLT (4-16-2-2) with 8. Third place overall and Girl's leadership for Slovenian Alenka Valencic SLO (1-5-5-64UFD), draw in 11 points with fourth Bohdan Rukhlin UKR (64NSC-2-6-3).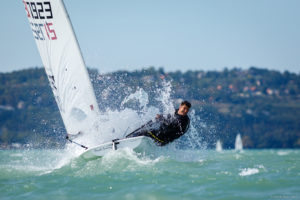 ---
The Australian sailor Zoe Thomson AUS (1-1-1-1) doesn't know about any other places than first on this championship and comfortably leads the ILCA 6 overall and Women's champs with perfect score after 4 races. Latvian Estere Kumpina LAT (2-3-2-8) is second with 7. Third place overall and first Men's position for local sailor Oliver Szokody HUN (4-9-9-3), sharing 16 points with Rosine Baudet SUI (5-4-7-7) and Nethra Kumanan IND (8-6-5-5).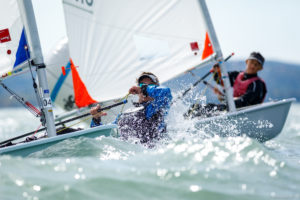 ---
The ILCA 7 fleet is still on hands of Benjamin Vadnai HUN (1-1-1-1) after winning all 4 races held. He was Hungarian's Olympic representative in Tokyo, where he finished 18th. Second place is now for the Ukranian sailor Stanislav Mulko UKR (3-3-2-2) with 7, followed by his compatriot Ivan Zhukalin UKR (5-2-3-3) with 8.
After a long but productive day the organisers welcomed the participants with a delicious pasta dinner and a film screening about the 50th anniversary of our beloved class.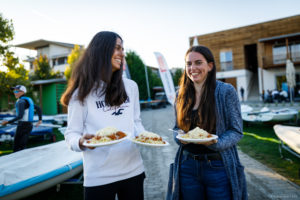 ---
Racing will continue today and until Sunday 26th.
---
Report by Agustín Argüelles – EurILCA | Source: Miklós Rauschenberger (NRO HUN), Race Officer | Photos by Aron Szanto – BYC.
---