The 2021 Europa Cup HUN started yesterday in Baltonfüredi, Hungary, organised by Balatonfüredi Yacht Club, in conjunction with the Hungarian Sailing Federation. The event is sponsored by Rooster-Monautix.
The day started with the team leaders meeting at 8 am and the opening ceremony.
All sailors were sent to the water at 9 am and after a short delay the first race started. The initial average wind of 7 knots blowing from 270-290 degrees shifted shortly after the start of the first race of the ILCA 7 class and later stopped, so this race was cancelled with the November flag.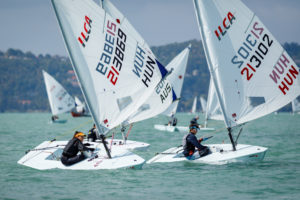 After a short waiting the Race Committee moved to another location and set a new course. Average winds of 8 knots were blowing from 250-260 degrees. Unfortunately, the wind, which was promising at the beginning, shifted and stopped on the inner axis after the start of the ILCA 7 and ILCA 6 classes, which caused the ILCA 4 class to fail to start and the ILCA 6 race to be abandoned.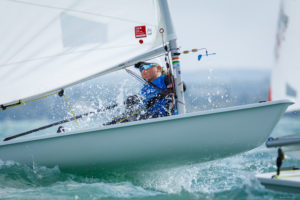 In the new wind of 10-15 knots blowing from 220 degrees, the first race of the ILCA 6 and ILCA 4 classes were started and ran without any problems.
In the meantime, the wind was further freshened and the course was stretched so that the second race of ILCA 7 was started on the new course and ran fine, followed by the second races of ILCA 4 and ILCA 6. All in all, the RC could organize two successful races for the three classes.
In the ILCA 4 fleet, the Italian sailor Luca Centazzo ITA (2-1) is first with 3 points, followed by Slovenian and girl's leader Alenka Valencic SLO (1-5) with 6. Third place overall the local sailor Daniel Cserveni HUN (3-8) with 11. 63 sailors participate of this competition.
ILCA 6, the largest fleet in Hungary with 72 boats, is led by the Australian Zoe Thomson AUS (1-1) with perfect score, followed by Latvian Estere Kumpina LAT with 5. Third place overall for local Bendeguz Nagy HUN, draw in 8 points with Bence Gaborjani-Szabo HUN in fourth.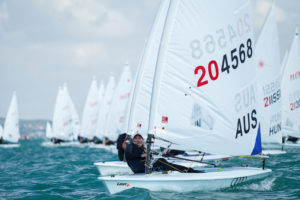 The ILCA 7 fleet is headed by the recent Olympic representative for Hungary –18th in Tokyo– Benjamin Vadnai HUN (1-1) winning both races. Second place for the Thailand sailor Chusitt Punjamala THA (2-4) sharing 6 points with the Ukranian Stanislav Mulko UKR (3-3). 26 sailors participate of this competition.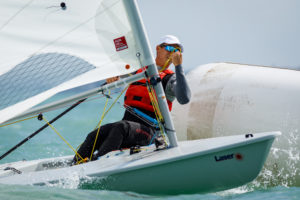 Racing will continue today and until Sunday 26th.
---
Report by Agustín Argüelles – EurILCA | Source: Miklós Rauschenberger (NRO HUN), Race Officer | Photos by Aron Szanto – BYC.
---