The last of the 2021 EurILCA European Championships will start in 10 days in Varna, Bulgaria.
More than 220 Senior sailors will be part of this great and challenging competition, organized by SC Cherno More Briz, Bulgarian Sailing Federation, the Ministry of Youth and Sports and the Municipality of Varna. The event is sponsored by Port of Varna.
This championship was originally planned to be in May, just a few months before the Olympics and serving as last preparation for them. But finally due to the Covid-19 restrictions it had to be rescheduled to October. Various of the recent Olympic representatives are now on a break and will sadly not be part of this 2021 Senior European's edition. But many others failed to turn off their sailing passion inside and will be here in Varna to start their preparation to Paris 2024.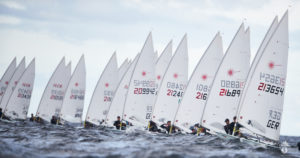 ---
Pavlos Kontides CYP (4th in Tokyo), Sergey Komissarov RUS (11th), Milivoj Dukic MNE (17th), Benjamin Vadnai HUN (18th), Zan Luka Zelko SLO (26th) and Wannes Van Laer BEL (27th) will be part of this group in the ILCA7 fleet. Plus two non-European sailors who will be also joining us after competing in Tokyo. Those are Vishnu Saravanan IND (20th) and Ryan Lo SGP (21st).
The Women's ILCA6 fleet will also count with many of the recent 2021 Olympic representatives such as Line Flem Host NOR (8th in Tokyo), Vasileia Karachaliou GRE (9th), Elena Vorobeva CRO (12th), Ecem Guzel TUR (20th), Tatiana Drozdovskaya BLR (21st), Cristina Pujol ESP (23rd), Viktorija Andrulyte LTU (25th), Shai Kakon ISR (30th) and Marilena Makri CYP (33rd). Plus three non-European Olympic sailors: Mara Stransky AUS (14ht in Tokyo), Nethra Kumanan IND (35th) and Stephanie Norton HKG (39th).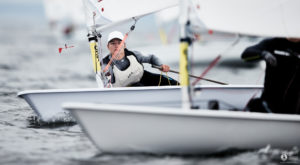 Mirthe Akkerman NED –10th in the last 2020 Senior Europeans in Gdansk– will be also part of the competition.
Returning to the ILCA7 class, in the last year's edition in Poland we had a full British podium, with Elliot Hanson on first and escorted by Michael Beckett GBR and Lorenzo Chiavarini GBR (champion in 2019 in Porto). Elliot won't come this year but Michael and Lorenzo will try to make it three Gold medals in a row for their country. Croatian sailor Filip Jurisic CRO –fourth in 2020– will also be part of the fleet in Varna.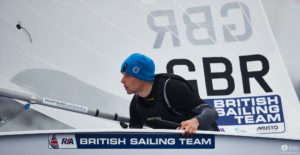 The Men's ILCA6 championship with count with various well known sailors such as Stipe Gaspic CRO or Nicolo Elena ITA, plus some Under 21 promises such as Oskar Madonich UKR –Bronze overall and Silver U21 the last year in Poland– or Nikola Golubovic MNE.
The list of terrific sailors doesn't stops here, with many Youth World and European champions registered in all three classes and aiming to get their first medals in the Senior's circuit. Other well known sailors who missed Tokyo for an inch will be also starting their new Olympic campaigns here in Varna, with Paris 2024 only 3 years in front. Check the entry list here.
The event will start in October 2nd. Racing will start two days later and until October 9th. Notice of Race and other documents here.
Keep smiling, keep sailing!
The EurILCA team
---
Report by Agustín Argüelles | Photos by Robert Hajduk (2020 edition).
---