The 2021 Europa Cup Italy concluded today in Naples, Italy. 201 sailors (150 ILCA 4, 123 ILCA 6 and 28 ILCA 7) were part of this competition at Nisida Island, organized by Associazione Italia Classi Laser and Federazione Italiana de Vela.
After a third day without races yesterday due to lack of wind, the fourth one today changed completely to the opposite. Strong winds of around 20 knots allowed all 5 fleets to complete a new race early in the morning. But unfortunately the wind continued to increased for the second round of races with gusts around 30 knots so the RC decided to send all sailors to shore for their safety. That way the event concluded with 4 races for all fleets and crowning the following champions.
ILCA 4 – Final results
The Yacht Club Olbia's young representatives shone on this championship and conquered the ILCA 4 main podium in full, with Salvatore Falchi ITA on first, sharing 5 points with Nicolo Cassita ITA on second. The third place overall was for Antonio Barabino ITA with 6. All of them are U16 so they were awarded with both of prizes. Congrats boys!
Ginevra Caracciolo ITA was the girl's champion, finishing 4th overall with 8 points. Ludovica Giacalone ITA (23rd overall) and Aurora Mesolella ITA (24th) accompanied her on podium. Ginevra and Ludovica were also awarded with the U16 prizes, while the third U16 medal was for Cecilia Belleti ITA on place 29th in the main ranking.

---
ILCA 6 – Final results
Chiara Benini ITA was the overall and U21 Women's ILCA 6 champion with 3 points, escorted by Carolina Albano with 5. Same points for the Men's and Men's U17 champion Mattia Cesana ITA, finishing third in the overall ranking. Matilda Talluri ITA completed the Women's overall podium with 7 points and ranked 4th in the mixed ranking.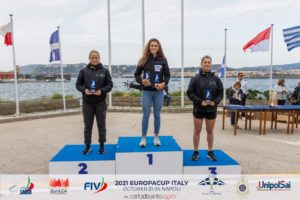 ---
Federico Uricchio ITA was the Men's U19 champion and Men's overall vice champion, finishing 5th with 8 points.
The third Men's overall prize was for Enrico Taferna ITA on 6th with 9 points.
Sara Savelli ITA was the Women's U19 champion, finishing 15th overall.
Emma Mattivi ITA was first among Women's U17 on place 28th.
ILCA 7 – Final results
Attilio Borio ITA was crowned the ILCA 7 overall and U19 champion with 5 points. Andrea Crisi ITA was close to beat him in the last race but finally finished the championship one point behind on second. The third place overall was for Luca Valentino ITA with 11.
Roberto Rinaldi ITA was first among the U21 fleet, wrapping the event on 5th place overall with 14 points.
Report by Agustín Argüelles – EurILCA | Photos by Carlo Di Santo.