Source: Club Náutic L'Escala
Today, Friday, October 7, the 2022 EurILCA Master European Championships has started at the Club Nàutic L'Escala. Most of the fleet, made up of up to 264 sailors from 27 countries around the world, is already in L'Escala and has taken advantage of the rainy day to confirm registrations and pass the inspection of their sailing equipment.
Six days of sailing and fun in the Sea of Empúries await them beginning from tomorrow, Saturday, October 8, with a training race that will take place at 3:00 p.m. After this race, which will allow them to know better the race area, the meeting point for sailors, companions, organization and partners will be the opening of the championship.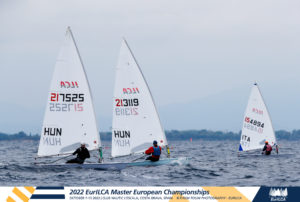 ---
The ceremony will begin at 6 pm in the Village of the 2022 EurILCA Master European Championships and will include speeches by Gerard Marín, Commodore of the Club Nàutic L'Escala; Alan Davis, EurILCA Master Coordinator; Josep Maria Isern, Vice President of the Catalan Sailing Federation; and the Mayor of L'Escala, Josep Bofill.
The highlight of the event will be the hoisting of the ILCA class flag on the regatta signal mast. Later, all attendees will be able to enjoy a taste of anchovies from L'Escala, the best ambassador of the fishing town.
The scoring races will take place between Sunday and Thursday, October 13, with two races scheduled per day, ideal to enjoy the fantastic surroundings of L'Escala, Empúries and the Montgrí Natural Park. The fleet will sail distributed in two regatta areas.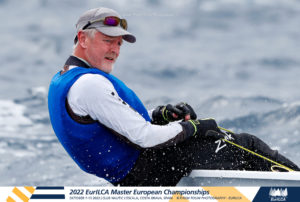 ---
On days 9, 10 and 11, at their return to the marina, the participants will be able to recover their strength with a pasta dish while sharing experiences with other sailors. On Tuesday, October 11, a special day awaits them, with a barbecue and the music of DJ Palma.
The social program will end with the prize giving ceremony, which will be held on Thursday, October 13 around 5:00 p.m. and will reveal the absolute winners and the winners of the different categories of the 2022 EurILCA Master European Championships.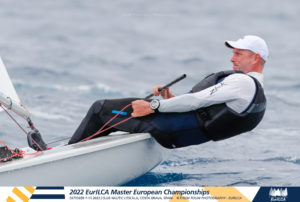 ---
The Club Nàutic l'Escala organizes the 2022 EurILCA Master European Championships after being selected by EurILCA (ILCA European Region) last April.
The regatta has the collaboration of the General Secretariat for Sport and Physical Activity of the Generalitat de Catalunya, the Girona Provincial Council, the Costa Brava Girona Tourist Board, the Royal Spanish Sailing Federation and the City Council of L'Escala, as well as Ports of the Generalitat, the Catalan Sailing Federation and the Spanish Association of the ILCA Class.
It also receives logistical support from Camping La Ballena Alegre, the La Ballena Alegre Sailing Club and the Nautivela nautical service company.
---
Report by Helena Geis Sarrats – Club Nautic L'Escala | Photos by Thom Touw.