The 2022 EurILCA Under 21 European Championships & Open European Trophy concluded today after 6 fantastic days of competition.
The day started with a postponement on shore due to lack of wind. The first warning signal was supposed to be at 13:00 but it was only at 14:20 when the wind arrived and all sailors launched their boats.
There was also some delay on water and an AP flag within the first start, but later on the Race Committee managed to set the course properly in relation to the wind and a last nice race could be sailed by both Gold fleets. The ILCA 7 Silver fleet had also a start, just over the 17:00 time limit, but unfortunately a general recall made them all to return to shore without any new races.
ILCA 6 final results – 2022 EurILCA U21 Europeans
The last Olympic representative for Israel in Tokyo, Shai Kakon ISR, had a 16 points lead today, and after finishing 4th in this last race she crowned new 2022 EurILCA 6 Under 21 Women's European champion with 58 points. The Silver medal was for the Cyprus Olympic representative Marilena Makri CYP with 82. Isabel Hernandez ESP took the Bronze with 105.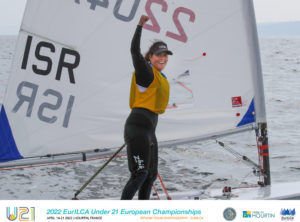 Top 10 Europeans:
Shai Kakon ISR
Marilena Makri CYP
Isabel Hernandez ESP
Giorgia Della Valle ITA
Claudia Sobral ESP
Sara Savelli ITA
Maria Giulia Cicchine ITA
Miriam Sitges ESP
Julia Rogalska POL
Ursula Balas CRO
ILCA 7 final results – 2022 EurILCA U21 Europeans
The Men's overnight leader Paul Hameeteman NED had a 18 points lead over his prosecutors, and although finishing 19th in this last race, he crowned new 2022 EurILCA 7 Under 21 Men's European champion with 62 points, followed by the European Trophy's Silver and Bronze medalists Stefan Elliot AUS and Michael Compton AUS, both from Australia. Cesare Barabino ITA and Theo Peyre FRA were the Silver and Bronze Europeans medalists with 81 and 95 points respectively.
The British sailor Arthur Farley GBR was the 2022 EurILCA 7 Under 19 Men's champion, finishing 7th overall, followed by Lorenzo Mayer FRA and Theodor Middelthon NOR on places 13th and 16th respectively.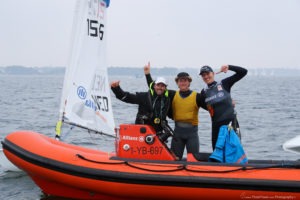 Top 10 U21 Europeans:
Paul Hameeteman NED
Cesare Barabino ITA
Theo Peyre FRA
Willem Wiersema NED
Arthur Farley GBR
Michal Krasodomski POL
Johan Schubert DEN
Till Wanser GER
Thomas Flachon FRA
Ilija Markovic MNE
Top 10 U19 Europeans:
Arthur Farley GBR
Lorenzo Mayer FRA
Theodor Middelthon NOR
Javier Segui ESP
Maxime Thommen POL
Kai Wolgram GBR
Jonas Mager GER
Daan Boekholt NED
Antun Tomasevic CRO
Arthur Peltier FRA
This way the first of the 2022 EurILCA European championships succesfully concluded in Hourtin, France, organised by Club Voile Hourtin Medoc and the support of the Municipality of Hourtin.
The next Europeans this year will be the EurILCA 4 Youth in Dziwnow, Poland, from June 18-25 2022, followed by the EurILCA 6 Youth in Thessaloniki, Greece, from June 29 – July 6 2022.
Keep smiling, keep sailing!
The EurILCA Team
---
How to relive the 2022 EurILCA U21 Europeans
All the live contents we published from the course and shore every day you can find them on our Instagram account's feed and stories: https://www.instagram.com/eurilca/
You can also relive all the racing through the GPS tracking here: https://www.metasail.it/incoming/277/
All daily reports with news and results, link to photos and videos you can find them here: https://eurilca.org/2022-eurilca-u21-europeans-news/
All photo galleries have been daily uploaded to our Smugmug account here: https://eurilca.smugmug.com/2022-European-Championships/2022-EurILCA-U21-Europeans – They are all free to be downloaded and used for editorial purposes specifically related with this event. For any other purpose please contact the photographer at thomtouw@me.com – High res photos here: https://thomtouw.photoshelter.com/gallery-collection
Video highlights and interviews we've published them on our YouTube channel: https://www.youtube.com/eurilcachannel – We suggest you to subscribe to it to receive instant notifications when we upload any new contents.
You can also find much of the mentioned contents on our Facebook page: https://www.facebook.com/eurilca
Official event website here: https://2022-under21.eurilca-europeans.org/
---
Report by Agustín Argüelles | Photos by Thom Touw.