Our youth European representatives started the 2021 Youth Sailing World Championships in great shape, conquering all top positions on both ILCA 6 Men and Women's championships after the first two races.
ILCA 6 Women results
Norwegian Marie Jacobsen NOR (7-5) heads the girl's fleet with 12, followed only 1 point behind by Aleksandra Lukoyanova RUS (12-1), Alessia Palanti CZE (1-12) and Florencia Chiarella PER (6-7). Eve McMahon IRL (11-4) is 15th with 15 units.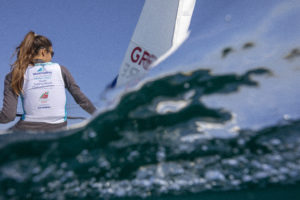 ILCA 6 Men results
Our reigning ILCA 6 Men's Senior European vice champion Oskar Madonich UKR (2-2) leads the male's fleet with 4 points, followed by Jose Gomes POR (3-3) with 6. Przemyslaw Machowski POL (7-1) and Luka Zabukovec SLO (4-4) are also close with 8.
Two new races are coming today and you can follow them live through the tracking system at sapsailing.com
---
Report by Agustín Argüelles – EurILCA | Photos: Sander van der Borch – Lloyd Images – Oman Sail.