Muscat, Oman – Two races were completed on the last day of the 2021 ILCA 6 World Championships, and once again, with varying conditions and strong competition, the leaderboard was shifted around for the final results. Only seven points separated the top five women, and only eight points separated the top four men.
Final results – 2021 ILCA 6 Women's Championship
In the women's fleet, Belgium's Emma Plasschaert BEL took home the title by remaining consistent and steady with two top-ten finishes today and rising to the top from fifth place yesterday. This is the second Senior's World title for her after the one in Aarhus 2018.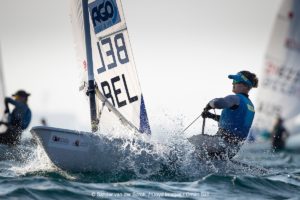 Polish Agata Barwinska POL, who has kept herself at the top of the fleet all week, finished with a 21st and 12th today, which was enough for her to tie in net points with Plasschaert and place second overall. Just two points behind Plasschaert and Barwinska was Lithuania's Viktorija Andrulyte LTU who also had a strong and steady week, given the conditions.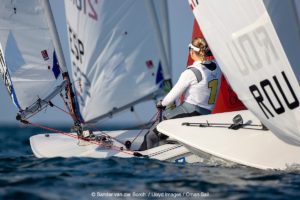 Tokyo's 2021 Gold medalist Anne-Marie Rindom DEN was leading the fleet after yesterday, but finished with a 36th and 19th today dropping her to fourth. German sailor Julia Büsselberg GER had a stellar day, with a second and first in today's races, which pulled her back on the leaderboard to finish in fifth overall.
The European sailor's predominance on this championship was only interrupted by the Australian Mara Stransky AUS, finishing on sixth place overall. Basileia Carahaliou GRE, Monika Mikkola FIN, Maud Jayet SUI and Cristina Pujol ESP completed the World Top 10.
Final results – 2021 ILCA 6 Men's Championship
In the men's division and sailing on a small fleet of only 9 sailors, Slovenian Nik Pletikos SLO secured the title just one point ahead of local Al Muatasem Al Farsi OMA. Al Farsi and Pletikos were battling all week, keeping close together on the scoreboard, but Al Farsi was leading the fleet until Pletikos closed the distance yesterday to sit just one point behind, heading into the final day. Also local competitor Abdul Malik Al Hinai OMA finished in third, just four points behind Al Farsi. Turkish Umut Eyriparmak TUR finished close behind in fourth and Karel Ratnik EST placed fifth overall.