The 2021 ILCA Master World Championships concluded on Saturday after 6 days of competition and all 12 scheduled races completed in Barcelona, Spain.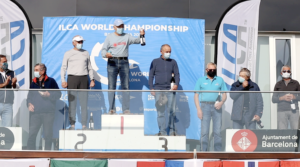 ---
2021 ILCA 7 Master World champions
In the Apprentice division, Belgium's Wannes Van Laer secured gold, with only 14 points, over Polish Maciej Graboswki and Italian Lorenzo Cerretelli.
Great week of sailing for my first participation at the Master worlds. I really enjoyed racing against all those experienced class champions, specially the tight battles with Maciej Grabowski" – Wannes Van Laer BEL
In the Masters division, American Ernesto Rodriguez was named champion, 27 points ahead of fellow countryman Peter Hurley, and France's Bertrand Blanchet rounded out the podium with bronze.
In the Grand Masters division, American Robert Hallawell finished first overall, with a comfortable lead over Argentina's Alejandro Cloos and and Spain's Jose Maria Van Der Ploeg Garcia.
In the Great Grand Masters division, Spain's Jose Luis Doreste claimed gold, German Wolfgang Gerz won silver, and Great Britain's Tim Law finished with bronze.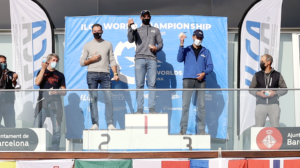 ---
2021 ILCA 6 Master World champions
In the Apprentice division, Jon Emmett was named champion after finishing with only 12 points overall. Spain's Arturo Reina and David Gonzalez secured silver and bronze, respectively. Marina Sanchez Ferrer ESP, Elisa Boschin ITA and Robyn Sadler RSA were the Women's winners.
In the Masters division, Sweden's Stefan Eriksson finished first overall ahead of France's Jean-Christophe Leydet and Spanish Monica Azon.
In the Grand Masters division, Gilles Coadou championed the fleet by 39 points, Spain's Miquel Noguer won silver, and Belgian Pieter Van Laer finished with bronze. Helene Viazzo FRA, Isabelle Viazzo FRA and Silvia Ravetllat ESP conquered the Women's podium.
In the Great Grand Masters division, American Bill Symes also ran away with gold, finishing the event with only 13 points. Canada's Paul Clifford sailed into second place overall and Great Britain's John Reay rounded out the podium in third. Evelyne Ferrat FRA was the Women's champion.
In the Legend's division, Americans Peter Seidenberg and Jaques Kerrest secured gold and silver, and Henk Wittenberg of the Netherlands won bronze. 8 fantastic sailors participated of this +75 age division.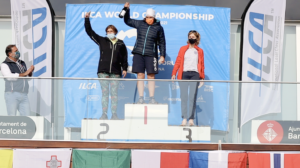 ---
The awards ceremony was presided over by Sergi Cadenas, vice president of the Catalan Sailing Federation, and Andrus Poski, ILCA representative. The championship was held at the facilities of the Barcelona International Sailing Center (BISC) and organized by the Catalan Sailing Federation, the Real Club Náutico de Barcelona, and the Real Club Marítimo de Barcelona, with the collaboration of World Sailing, ILCA, the Royal Spanish Sailing Federation, the Government of Catalonia, the Barcelona City Council, and the Barcelona Provincial Council.