The 2022 EurILCA Under 21 European Championships & Open European Trophy have started today in Hourtin, France, organised by Club Voile Hourtin Medoc.
Almost 180 young sailors from all around the World will be part of this competition: 63 will be the boats at the ILCA 6 Women's championships, while the ILCA 7 Men's competition will have 114 boats on course, divided in two fleets. You can check the Entry list here: https://eurilca.eu/event/240/entry_list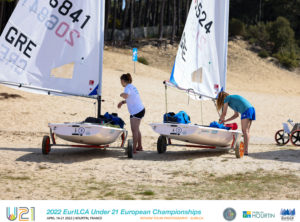 The first two days will be for registering the sailors and inspecting the equipments, followed by a Practice race and the Opening Ceremony.
Racing will start on Saturday 16th with the first two scheduled races. Twelve races are scheduled in total during the 6 days of competition. Thursday 21st will be the last race day followed by the Closing Ceremony, where we'll meet the new 2022 U21 European champions in all the different categories.
How to follow the 2022 EurILCA Under 21 Europeans in Hourtin
We'll be streaming all the action and races live in our Instagram account: https://www.instagram.com/eurilca/ – We suggest you to follow us in order to receive instant notifications when we're live!
Races you can also follow them live through the GPS tracking: https://www.metasail.it/incoming/277/
A daily report with news and results, photos and videos will be published here: https://eurilca.org/2022-eurilca-u21-europeans-news/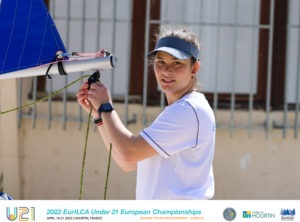 Photos will be daily uploaded to our Smugmug account: https://eurilca.smugmug.com/2022-European-Championships/2022-EurILCA-U21-Europeans – They are all free to be downloaded and used for editorial purposes specifically related with this event. For any other purpose please contact the photographer at thomtouw@me.com
Video highlights and interviews we'll be publishing them on our YouTube channel: https://www.youtube.com/eurilcachannel – We suggest you to subscribe to it to receive instant notifications when we upload them.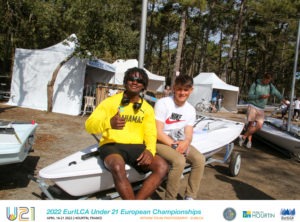 Much more live news and contents will be spread through the our Instagram account mentioned above plus the Facebook page: https://www.facebook.com/eurilca so stay tuned!
For further information about the event you can download the Notice of Race, Sailing Instructions and other documents here: https://eurilca.eu/event/240/documents
All this information and links to the different contents mentioned before you can also find them at the official event website here: https://2022-under21.eurilca-europeans.org/
Let's go sailing!
The EurILCA Team
---
Report by Agustín Argüelles | Cover photo by Thom Touw.