The 2022 EurILCA 4 Youth European Championships & Open European Trophy started today in Dziwnow, Poland, with the first measurement & registration's day.
How to follow – Fleets and schedule
345 young sailors from 34 nations all around the World will be part of this competition, organised by Dziwnów Commune, "Baltic" Dziwnów Water Sports Club and EurILCA. The event is kindly supported by West Pomerania (Pomorze Zachodnie) and sponsored by Amica, Jantar Hotel, Ripper Sailing and Marina Developer.
The boy's fleet will be the largest one with 212 sailors. They will race in three groups these days; Yellow, Blue and Red within the Qualifying series and Gold, Silver and Bronze within the Finals.
The girl's fleet is formed by 133 sailors and they will race in two groups; Yellow and Blue for the Qualifyings and Gold and Silver in the Finals.
The Race Committee have planned two courses for these championships: course A for the girls and course B for the boys. Racing will goes from Monday 20th to Saturday 25th, with 2 scheduled races per day starting at 12:00. Tomorrow Sunday 19th we'll have the Practice Race and Opening Ceremony in the afternoon, followed by a barbecue party in the evening.

---
EurILCA's Solidarity Programme
These 2022 EurILCA 4 Youth Europeans in Dziwnow will also count with the presence of the EurILCA Solidarity Programme's Team, headed by Ms. Burcu Algon Giorgianni. This will be the fifth time we support this action, after the successful experiences lived in Patras 2018, Hyeres 2019, Vilamoura 2020 and Travemunde 2021. This programme is basically intended to help youth sailors from European countries with low participation to join our EurILCA 4 Youth European championships. You can read more about the programme here: https://eurilca.org/solidarity-programme/
How to follow the 2022 EurILCA 4 Youth Europeans in Dziwnow
Live streaming
We'll be streaming all the action and races live in our Instagram https://www.instagram.com/eurilca/ and YouTube account: https://www.youtube.com/eurilcachannel – We suggest you to subscribe and follow us in order to receive instant notifications when we're live!
GPS tracking
For the Final Series racing we'll be also providing GPS tracking. We'll inform about this link on our website and social networks soon.
News and reports
A daily report with news and results, photos and videos will be published at https://eurilca.org/news-2022-eurilca-4-youth-europeans/
Instant notifications
There's a Telegram group you can join for instant notifications scanning the QR code below or clicking in the following link: https://t.me/+7jvqu216rPgyYjk0
Photo galleries
Photos will be daily uploaded on our Smugmug account: https://eurilca.smugmug.com/2022-European-Championships/2022-EurILCA-4-Youth-Europeans – They are all free to be downloaded and used for editorial purposes specifically related with this event. For any other purpose please contact the photographer at thomtouw@me.com
---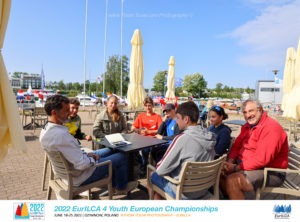 Videos galleries
Video highlights and interviews we'll be publishing them on our YouTube channel: https://www.youtube.com/eurilcachannel – We suggest you to subscribe to it to receive instant notifications when we upload them.
Facebook
Much more live news and contents will be spread through our Instagram account mentioned above plus the Facebook page: https://www.facebook.com/eurilca so stay tuned!
Race documents
For further information about the event you can download the Notice of Race, Sailing Instructions and other documents here: https://eurilca.eu/event/241/documents
Event website
All this information and links to the different contents mentioned before you can also find them at the official event website: https://2022-ilca4youth.eurilca-europeans.org/
Let's go sailing!
The EurILCA Team
---
Report by Agustín Argüelles | Photos by Thom Touw.