The 2023 Allianz World Sailing Championships concluded today for the ILCA 6 and ILCA 7 classes in The Hague, Netherlands.
Following 10 races, along with a Medal Race, Maria Erdi from Hungary and Matthew Wearn from Australia claimed their maiden ILCA World Championship titles.
This victory not only marks Maria's first-ever Gold medal at an ILCA Women's World Championship but also a historic achievement for Hungary, being in podium for the first time ever.
Maria's consistent performance over the past years was evident. Early this year we saw her taking a significant leap forward by securing Bronze medal at the 2023 ILCA Senior Europeans in Italy, so we're not surprised. As she declared today after winning, she's working hard to be a strong contender next year at the Olympics. With this remarkable accomplishment underscoring her journey, her aspirations gain even greater credibility among a wider audience.
"I'm a world champion, which sounds pretty amazing. I'm very happy for my family, my friends and for my small support staff that I have back in Hungary. I'm just very proud of the work we have been doing with my coach. I was hoping and believing that I will get here one day. The day has finally arrived and I'm just over the moon.

"It hasn't been easy. I became quite good in the senior fleet when I was quite young. When I was 18, I was able to deliver top 10 results and things were happening for me quite easily in the early stages of my career but it all started getting real, I got an injury and I realised that you need to put in a lot of work to deliver a World Championship title in the senior fleet." Maria Erdi HUN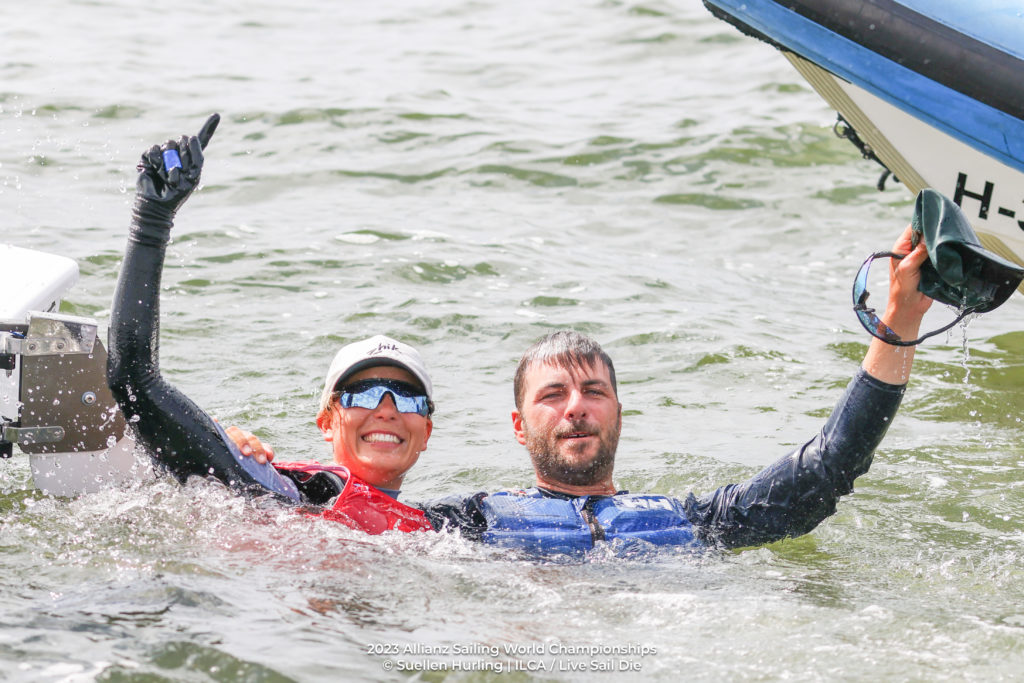 ---
Matthew Wearn, on the other hand, is no stranger to the top-tier podiums. He notably holds the title of reigning Olympic champion, having clinched the Gold medal in Tokyo 2021. However, remarkably, this win in The Hague marked his first World Championship victory. Despite coming close in previous years with Silver medals in 2018, 2019, and 2020, and a Bronze in 2017, this achievement has now solidified his position among the elite.
This fifth medal places him as the 5th best-performing sailor in ILCA Men's Worlds history, surpassing his current coach Michael Blackburn, who now ranks 6th with his record of 1-2-2. The all-time leader is Brazilian sailor Robert Scheidt with an impressive 12 medals, 9 of which are Gold.
"It feels great. It feels like it's been a long time coming. Not that I started to doubt that the performance was there but it's always a shame to just miss out on the top step. So there is a bit of relief, I'm ecstatic to have won a World Championship now.

"We have been so close so many times. I probably haven't grabbed every opportunity that I've had on the water and other people have been better on the week. I can't say I've been unlucky. But it feels great to finally get it." Matthew Wearn AUS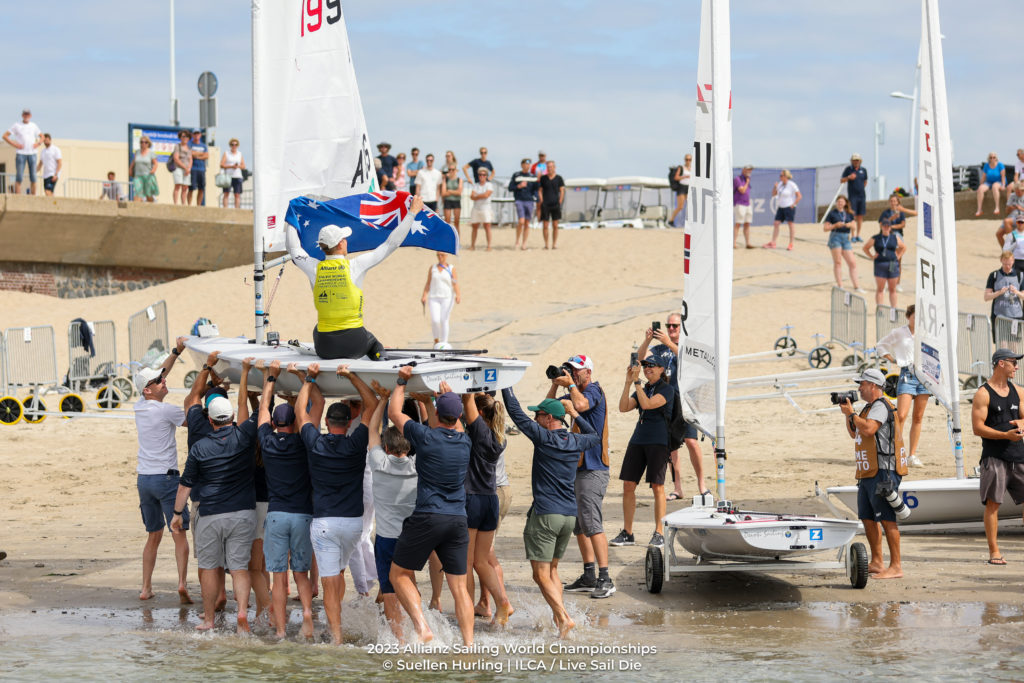 ---
Maud Jayet from Switzerland and the reigning Olympic champion Anne Marie Rindom were 1st and 2nd overall this morning prior to the start. However, due to penalties imposed by the Jury during the Medal race, they were relegated to the back of the fleet. Their strong minds and great skills helped them however to finish in 7th and 6th to secure the Silver and Bronze medals respectively.
In the ILCA 7 class, Michael Beckett from Great Britain and George Gautrey from New Zealand accompanied Matthew Wearn on podium.
The following is the final Top 10 in both the ILCA 6 and ILCA 7 World Championships 2023:
---
Top 10 – 2023 ILCA 6 World Championships
Maria Erdi HUN 75 pt
Maud Jayet SUI 79 pt
Anne Marie Rindom DEN 81 pt
Marit Bouwmeester NED 84 pt
Charlotte Rose USA 96 pt
Emma Plasschaert BEL
Josefin Olsson SWE
Vasileia Karachaliou POR
Carolina Albano ITA
Mara Stransky AUS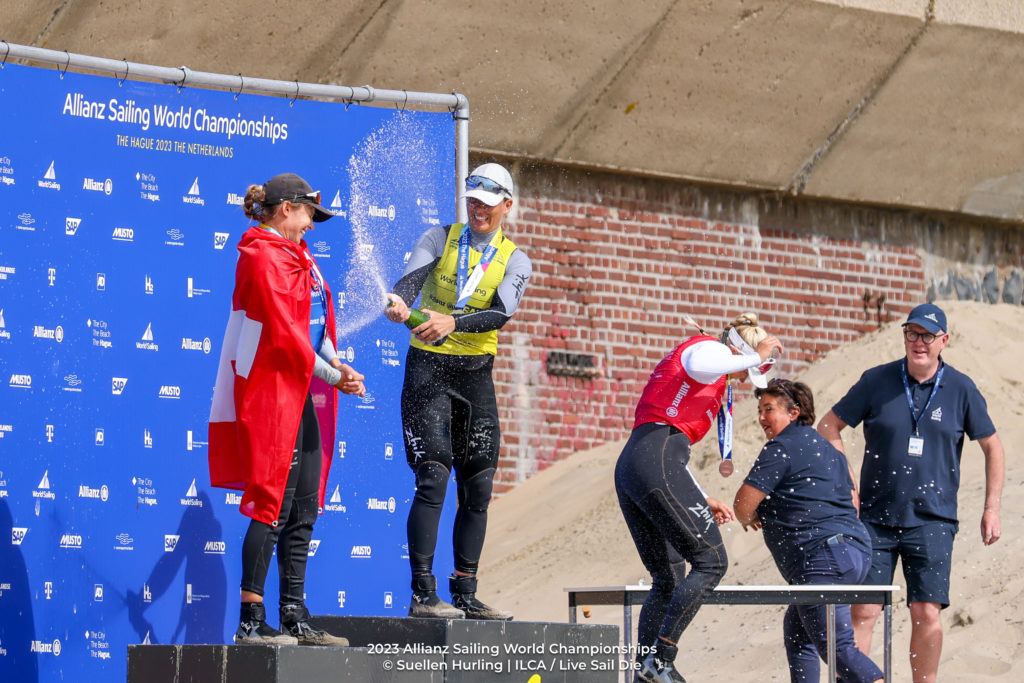 ---
Top 10 – 2023 ILCA 7 World Championships
Matthew Wearn AUS 83 pt
Michael Beckett GRB 96 pt
George Gautrey NZL 101 pt
Jean Baptiste Bernaz FRA 113 pt
Lorenzo Chiavarini ITA 125 pt
Pavlos Kontides CYP
Duko Bos NED
Joaquin Blanco ESP
Hermann Tomasgaard NOR
Elliot Hanson GBR
---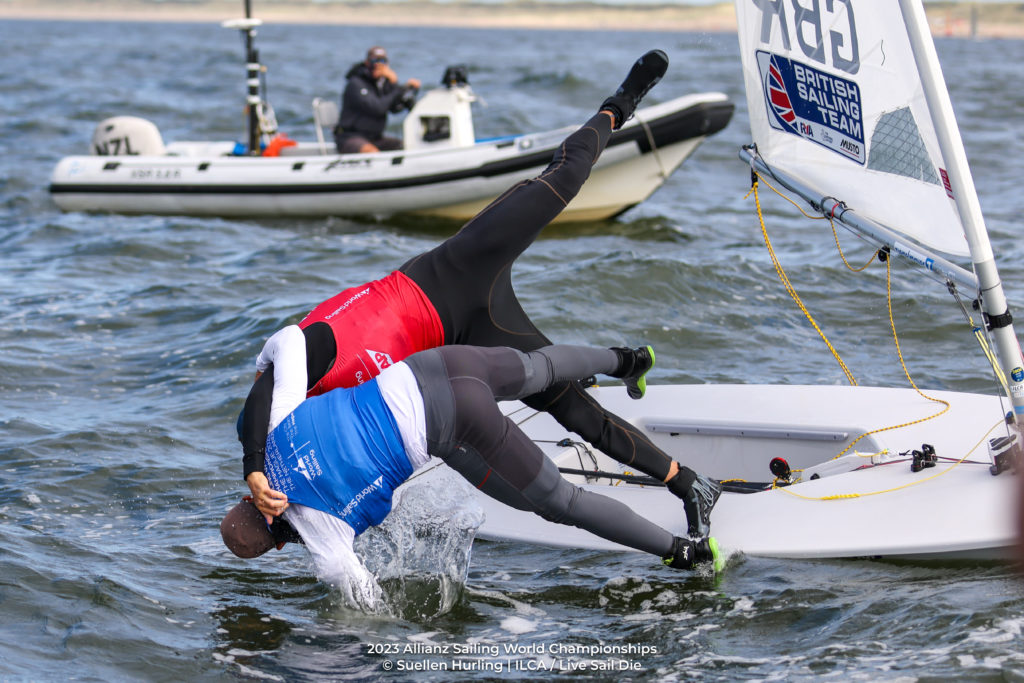 ---
This Worlds also served as first Olympics qualifyer, delivering the first 32 spots (16 ILCA 6 / 16 ILCA 7) for Paris 2024. Discover the nations that secured their Olympic places here;
Meet the first countries qualified for Paris 2024 in The Hague
Next stop for the Women will be the 2024 ILCA 6 Worlds in Mar del Plata, Argentina, from 3-10 January 2024.
Two weeks later will be time for the Men with the 2024 ILCA 7 Worlds in Adelaide, Australia, from 24-31 January 2024.
Both events will deliver 7 new places for Paris 2024.
Later on in February, the best 2 European nations at the 2024 ILCA Senior European Championships in Athens, Greece, will also be granted with a spot in ILCA 6 and ILCA 7.
Finally, the last chance for non-qualified nations to get a ticket for Paris 2024 will be in April in Hyeres at the Semaine Olympique Francaise, where sailors of those countries will compete in a separate fleet to fight for the last 2 places.
---
If you enjoy EurILCA's reports and wish to receive them in your email, you can choose to subscribe to our newsletter by using the link provided below:
Newsletter subscription – EurILCA
#ilcasailing #olympicsailing #keepsmilingkeepsailing
The EurILCA Team
---
Report by Agustín Argüelles – EurILCA | Photos by Suellen Hurling.