The 2021 Europa Cup POL started today in Dziwnow, Poland. Great sailing conditions allowed the first three scheduled races to be completed.
161 competitors from 11 countries (Czech Republic, Denmark, Germany, Lithuania, Poland, Ukraine, Croatia, Spain, Italy, Sweden and Hungary) are taking part of this competition. The plan of this three-days regatta includes 8 races: three on Monday and Tuesday, and the last two on Wednesday.
The beginning of the competition was very successful. Despite the cloudy weather, the wind was good, which for the first two races was almost perfect for the competition (in the range of 12-15 knots). The third race was already more difficult, because the wind gusts were stronger. Nevertheless, the first day of the competition was completed as planned – three races were completed. There were also no protests.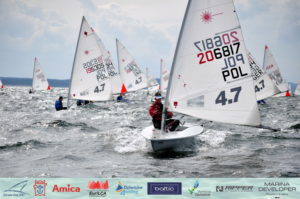 ---
After the first day of the regatta, Aleksandra Borucka POL is leading the 4.7 fleet with 7 points, followed by Jakub Rusiniak POL with 9. Third place overall for Weronika Folmer POL with 15.
Danish sailor Anna Munch DEN is leading the Radial fleet with 4 points, followed by Przemysław Machowski POL with 5. Stanisław Konarzewski POL is third overall with 12.
Kuba Rodziewicz POL heads the Standard fleet with 4 points, escorted on provisional podium by Maciej Garbowski POL and Wojciech Klimaszewski POL with 6 and 13 respectively.
The forecasts for Tuesday are less promising. The wind is supposed to be very strong, but everything will be clear tomorrow.
Full results here: http://2021.sailingnet.pl/europa-cup/
Photos here: https://eurilca.smugmug.com/2021-Europa-Cup-Trophy/2021-Europa-Cup-POL
---
Report by Agustín Argüelles – EurILCA | Photos by SailingNet | Source: Krzysztof – Dziwnow4sailing.