The day started with a heavy rain today at the 2021 EurILCA 4.7 Youth European Championships & Open European Trophy in Travemünde, Germany.
Sailors were sent to water for the first races starting at 11:00 as per scheduled. Rain was not heavy then but also the wind was light.
The Race Committee managed to start all races though but only after several General recalls that finally meant loosing a precious time for racing, cause after the first legs the wind dropped dramatically and all races had to be abandoned, and all fleets were sent to shore to wait for better conditions.
Finally at 17:00 the RC called sailors to return to their courses to try some races. Starting procedures started at 18:00 on both fields and all fleets started racing but a new wind drop made all of them to be abandoned for a second time. So there were finally no scoring news unfortunately.
Three races are scheduled for tomorrow, with first warning at 11:00. We hope we have better luck.
12 races are expected to be sailed until Friday 30th when the event will conclude and we'll meet the new 2021 4.7 Youth European champions!
Check the information below to see how to follow the races!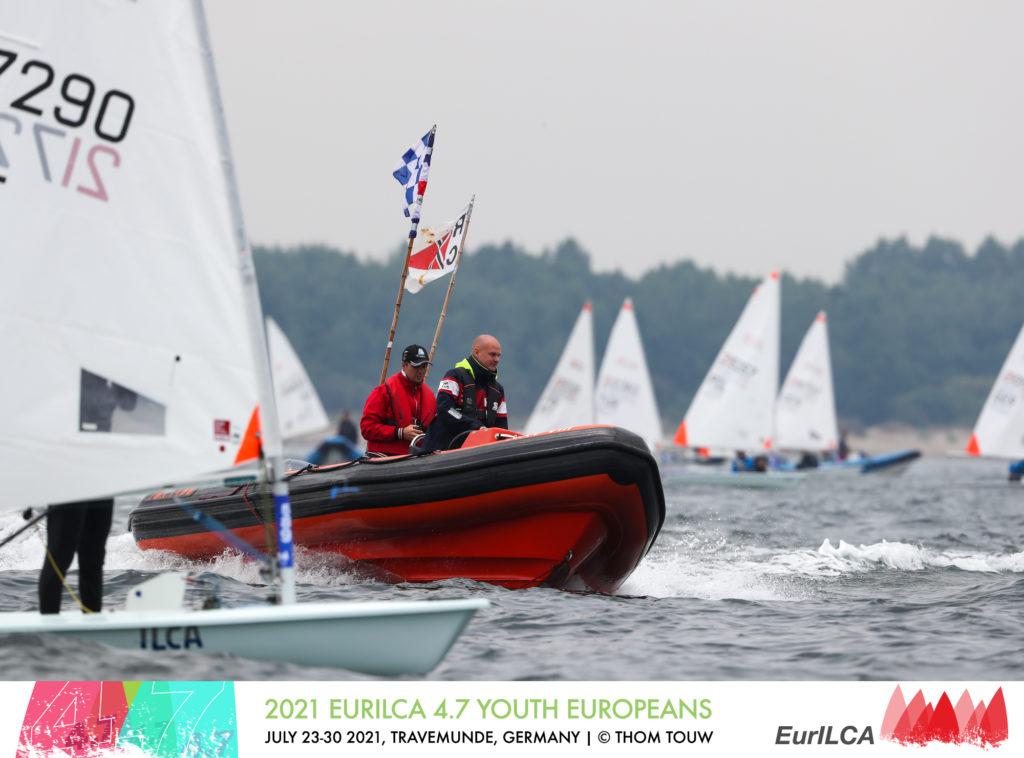 ---
How to follow the action at the 2021 4.7 Youth Europeans
LIVE STREAMING
When the conditions allows it we'll be streaming live from courses on our Instagram account; https://www.instagram.com/eurilca/ – BTW, we were live today! Have you seen it!?
REPORTS
Daily reports you'll find them all on our event webpage; https://eurilca.org/2021-47-youth-european-championships/
PHOTOS
Daily photo galleries are being published on our Smugmug account; https://eurilca.smugmug.com/2021-European-Championships/2021-EurILCA-47-Youth-Championships  – They are all free to be used for editorial purposes related with the event. For commercial use or others you must contact the photographer through his website.
VIDEOS
Video highlights and interviews are also being published on our YouTube channel; https://www.youtube.com/eurilcachannel
RACING / RESULTS
Online Notice Board and Results you can find them on Travemunde Woche's website; https://www.travemuender-woche.com/home.html – Here you can also find a useful virtual flagpole and other racing features.
---
Report by Agustín Argüelles – EurILCA | Photos by Thom Touw Photography.