The 2021 EurILCA Senior European Championships & Open European Trophy started today in Varna with the first two races for all the three classes.
Light to medium shifty winds and a big swell were the predominant sailing conditions today all along the afternoon.
The first turn on water was for the ILCA 7 fleet, where the 115 sailors were divided in two groups. First warning signal was at 12:00 as per scheduled, with the yellow group starting and followed then by the blue one.
After the second start for both ILCA 7 groups it was ILCA 6 Women's turn, with 78 boats racing on a single fleet. The ILCA 6 Men's class start immediately after them, with 25 sailors on the start line.
Day 1 results – 2021 EurILCA Senior Europeans
Michael Beckett GBR started the ILCA 7 championship with perfect score on the blue fleet and leads the competition with 2 units. Zan Luka Zelko SLO is second and just one point behind after a 1-2 in the yellow group. Pavlos Kontides CYP is third with 5 points after scoring a 2-3 on Michael's fleet.
Dimitris Papadimitriou GRE was the winner on last yellow's race and holds the 17th place with 24 units.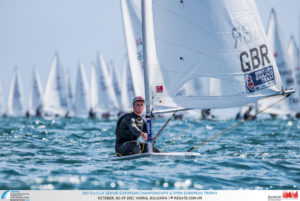 The Women's competition is led by Line Flem Host NOR (3-3) with 6, escorted on provisional podium by Chiara Benini ITA (2-6) and Shai Kakon (9-2).
The first race was won by Ursula Balas CRO, but a 37th on the second one dropped her to the 17th place overall. Basileia Carahaliou GRE was the winner of the second race and raised to the 4th place on ranking with 15 units.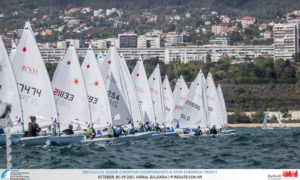 Umut Eyriparmak TUR also won both races today and heads both the ILCA 6 Men's Overall and Under 21 championships with 2 points, followed by Stipe Gaspic CRO and Oskar Madonich UKR (2nd U21). Third U21 place for Vasileios Boumpis GRE on the fourth place overall.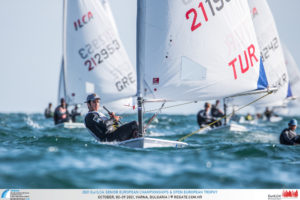 The event will run until Saturday 9th, with 10 more races scheduled along the next 5 days of competition.
---
How to follow the 2021 EurILCA Senior Europeans
Daily reports with news and results you will find them at the event's webpage.
We're also producing daily videos and photos you can watch on our YouTube channel and Smugmug photo galleries.
For live news and contents you can follow us on Instagram and Facebook.
---
Report by Agustín Argüelles – EurILCA | Cover photo: Hrvoje Duvancic.