The 2022 EurILCA 6 Youth European Championships & Open European Trophy started today in Thessaloniki, Greece, with the first two scheduled races for all 6 fleets.
The day started at 12:00 with the coaches meeting, followed by the boats launching at 13:00.
The first races started around 14:15 in both courses, with 7 knots of wind and a small swell. Course A was assigned for the girl's yellow and blue groups, plus the boy's white group. Course B was for the boy's yellow, blue and red groups.
The weather conditions were pretty stable along the afternoon, with the wind varying from 6 to 9 knots.
Race day 1 results – Girls
After the first two races, the 109 girl's championship is led by Roos Wind NED (1-1) with perfect score, followed by Claudia Adan Lledo ESP (1-7) and Petra Marendic CRO (7-2) with 8 and 9 points respectively.
Girl's Under 17 competition is led by Adriana Castro Nuñez ESP in the fifth place overall with 13 points. Maria Vittoria Arseni ITA and Signe Brinkert NED complete the provisional U17 podium on places 22nd and 23rd in the overall ranking.

---
Race day 1 results – Boys
289 sailors are being part of this championships, sailing in 4 different fleets. After the first two races, the first 5 spots are extremely tight and mostly held by Under 17 sailors, so leading both boy's championships. Alexandros Eleftheriadis GRE (1-1) and Rem Pulci Magen ISR (1-1) are the overall and U17 leaders with perfect score, followed by Tedi Leonardelli ITA (2-2), Ole Schweckendiek GER (2-2) and Jacek Kalinowski POL (2-2) with 4 points. Tedi and Jacek are also Under 17 sailors.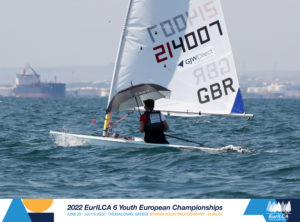 ---
395 youth sailors from 34 nations of all around the World are being part of this competition, organised by Nautical Club of Thessaloniki, Hellenic ILCA Class Association EurILCA, City of Kalamaria and Region of Central Macedonia. The event is kindly sponsored by EPT 3, Superfast Ferries, Grohe, Yamaha, Live Media, Interlife and Coral.
Racing will goes from July 1st to 6th, with 2 scheduled races per day. The first warning signal tomorrow will be at 15:00, with the coaches meeting at 13:00.
How to follow the 2022 EurILCA 6 Youth Europeans in Thessaloniki
Live streaming
We'll be streaming all the action and races live on our Instagram https://www.instagram.com/eurilca/ and YouTube accounts: https://www.youtube.com/eurilcachannel – We suggest you to subscribe and follow us in order to receive instant notifications when we're live!
News and reports
A daily report with news and results, photos and videos will be published at https://eurilca.org/news-2022-eurilca-6-youth-europeans/
Instant notifications
We have created a Telegram group that everyone can join to receive instant communications about the event, scanning the following QR code;
Photo galleries
Photos will be daily uploaded on our Smugmug account: https://eurilca.smugmug.com/2022-European-Championships/2022-EurILCA-6-Youth-Europeans – They are all free to be downloaded and used for editorial purposes or social media specifically related with this event. For any other purpose or commercial uses please contact the photographer at thomtouw@me.com
Video galleries
Video highlights and interviews we'll be publishing them on our YouTube channel: https://www.youtube.com/eurilcachannel – We suggest you to subscribe to it to receive instant notifications when we upload them.
GPS tracking
For the Final Series racing, the Gold fleets will be provided with GPS tracking for you to follow their races live in the following link: https://www.metasail.it/incoming/307/
Facebook
Much more live news and contents will be spread through our Instagram account mentioned before plus the Facebook page: https://www.facebook.com/eurilca so stay tuned!
Race documents
For further information about the event you can download the Notice of Race, Sailing Instructions and other documents here: https://eurilca.eu/event/244/documents
Event website
All the information and links to the different contents mentioned before you can also find them at the official event website: https://2022-ilca6youth.eurilca-europeans.org/
Let's go sailing!
The EurILCA Team
---
Report by Agustín Argüelles | Photos by Thom Touw.