Light breeze dominated the first Final series day at the 2020 Laser Senior European Championships & Open European Trophy in Gdansk, Poland.
Tricky sailing conditions with the wind dropping or shifting and literally vanishing on some of courses areas, rewarding or punishing the sailors regarding the sides chosen.
Race Day 4 – Laser Standard
Two new races were added to scores in the Laser Men's Gold competition, with a nice day for the British sailor Michael Beckett GBR (4-15-4-1-2-7-4) reinforcing now leadership with 22 points, getting a nice gap to second Elliot Hanson GBR (3-8-1-7.3RDGq-17-17-2) with 38.3. Third place is still on hands of Pavlos Kontides CYP (2-21-2-9-4-37-7), although with a worst discard and counting 45 units.
Bad day for the overnight co-leader Filip Jurisic CRO (1-4-3-3-40-32-28), adding 60 points to his score and dropping to the 12th place.
Sergey Komissarov RUS and Lorenzo Chiavarini GBR are close to the podium positions in fourth and fifth, with 50 and 52 points respectively.
Ascendant William De Smet BEL is now sixth on ranking with 57 points, based on a great consistency work. Alessio Spadoni ITA is also climbing positions and ranked now seventh with 64.
So far, so good. Today the bar has been raised in the gold fleet. The wind was very challenging so I'm very happy with my position – William De Smet BEL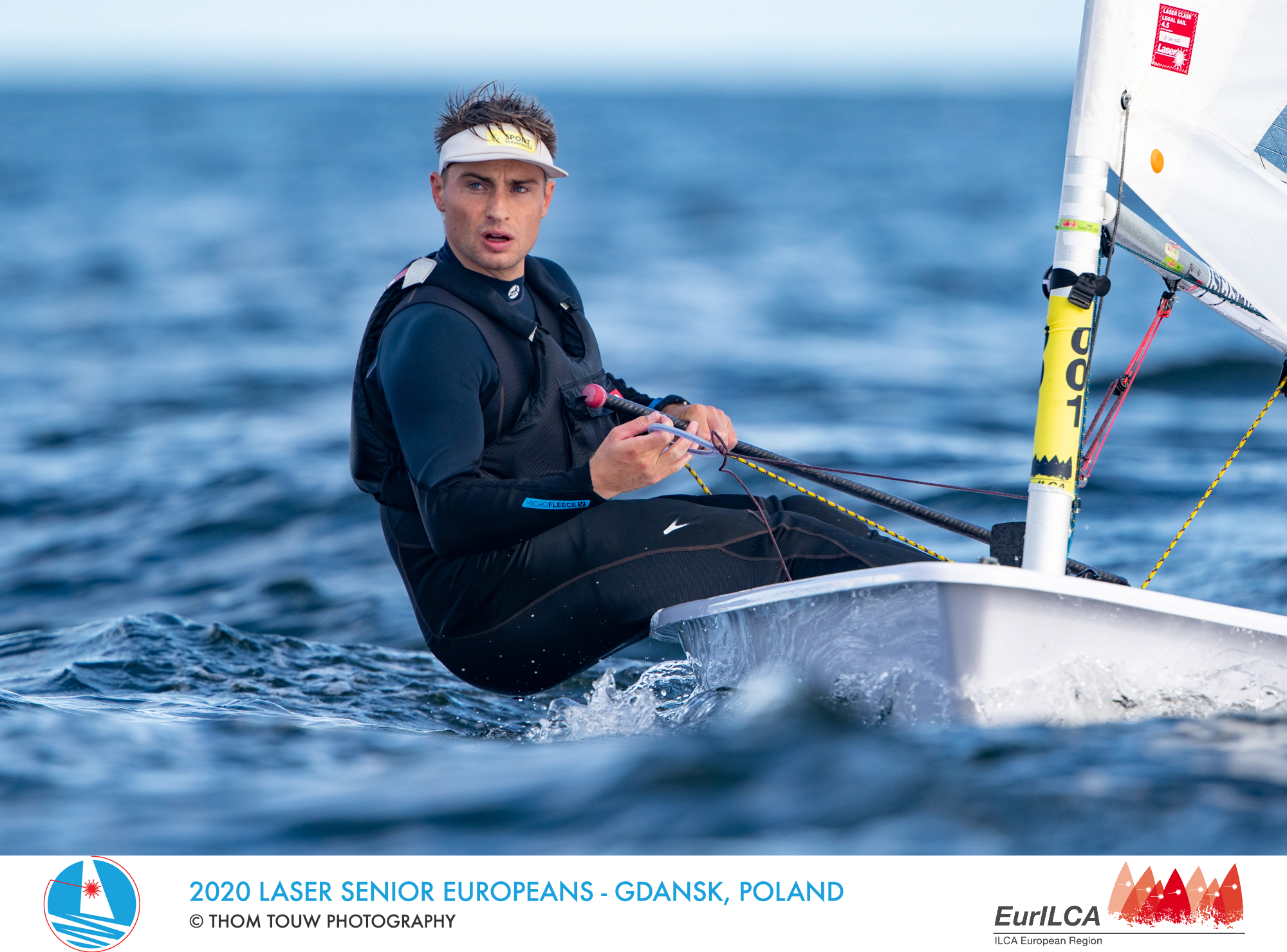 ---
Eighth place for Joaquin Blanco ESP with 66. Same score for Dimitris Papadimitriou GRE, entering the top 10 list for the first time in the event. Giovanni Coccoluto ITA holds the last of awarded positions on tenth with 69 points.
Its going good, I'm trying to sail easy and have fun out of every race, hope I can keep doing it till the last meter 😉 – Giovanni Coccoluto ITA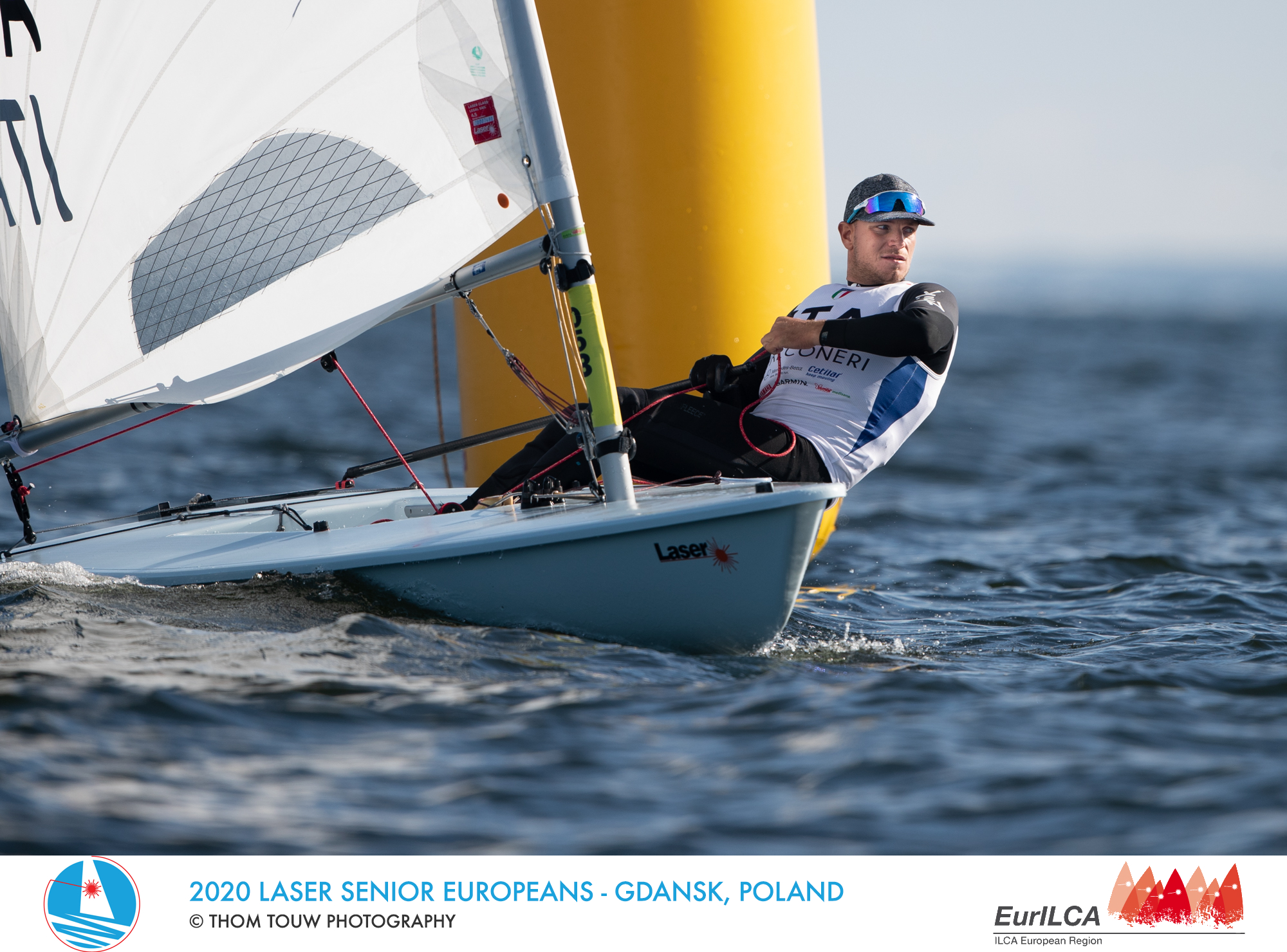 ---
Charlie Buckingham USA is best of non-European sailors participating of this competition, holding the 8th place overall with 64 units.
Race Day 4 – Laser Radial Women
Reigning 2019 European champion Anne Marie Rindom DEN (1-4-1-1-2-2-7) shows determined to repeat the title, although scoring her worst race today on the single race contested, leading the Radial Women's championship with 11 points.
Polish sailor Agata Barwinska POL (22-1-3-4-2-8-2) is also determined to fight for that Gold medal, scoring a great result today on very difficult conditions and following the leader just 9 points behind.
Third place is now for consistent 2018 World champion Emma Plasschaert BEL (7-5-4-5-11-4-6) with 31.
2020 World champion and overnight second Marit Bouwmeester NED (2-3-2-7-23-3-20) is fourth now with 37, escorted by her team mates Maxime Jonker NED –41 pt– and Mirthe Akkerman NED –44 pt– on 5th and 6th.
Greek sailor Vasileia Karachaliou GRE has enter the top 10 now after winning the race today and holds the seventh position with 45.
Happy with everything! The beginning of the regatta didn't go very well for me since we have never sailed in this place so it was very easy to get it wrong. Learning day by day I am getting familiar with the conditions. We had a bit of hiking the first days and today a bit lighter but very tricky conditions. Still very long way to go – Vasileia Karachaliou GRE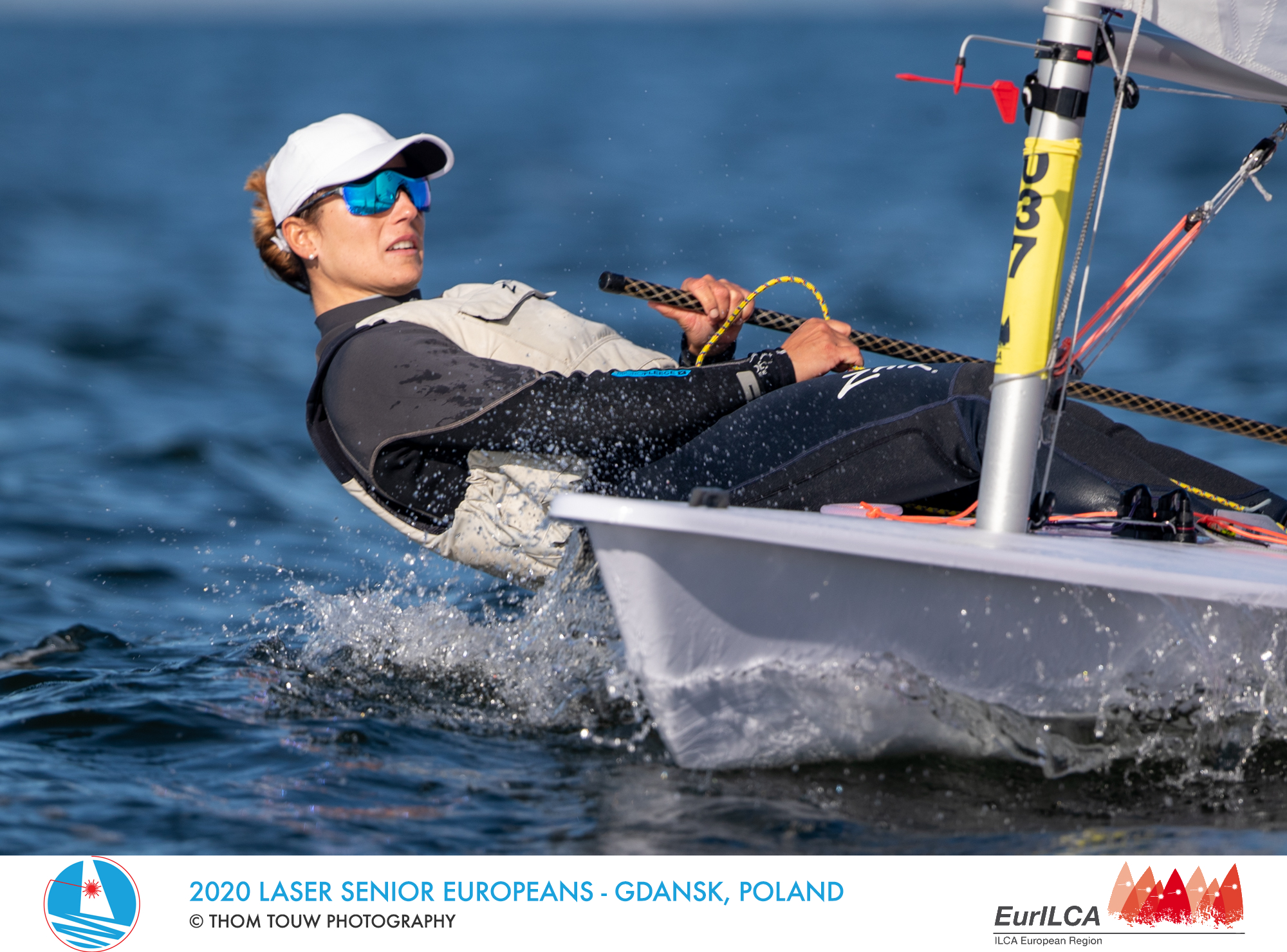 ---
Maud Jayet SUI –50 pt–,  Svenja Weger GER –52 pt– and Ecem Guzel TUR –55 pt– are also close to the leaders and wrapping the top 10 on 8th, 9th and 10th respectively.
Race Day 4 – Laser Radial Men
The Radial Men's championships added to new races to scores today, with Dutch sailor Paul Hameeteman NED (7-3-1-1-2-6-3-7) dominating the overall and U21 fleets with 23 points, although closely chased by Polish Filip Ciszkiewicz POL (6-1-2-2-7-8-31 BFD-6) with 32. Ukranian sailor Oskar Madonich UKR (16-2-5-8-1-21-1-2) is also close to the leaders with 35, after showing a great performance today, holding the third place overall and second U21.
"It's my first competition after a while. I haven't been training for one year and a half, so thought it would be great to take part here in European Championships. During first two days we had various but great condition. Even thought there are only 30 sailors competing in Laser Radial, I think that the fleet is tight and racing is full of ups and downs. It's good cause it is not boring and because of that I am really enjoying my time here" – Filip Ciszkiewicz POL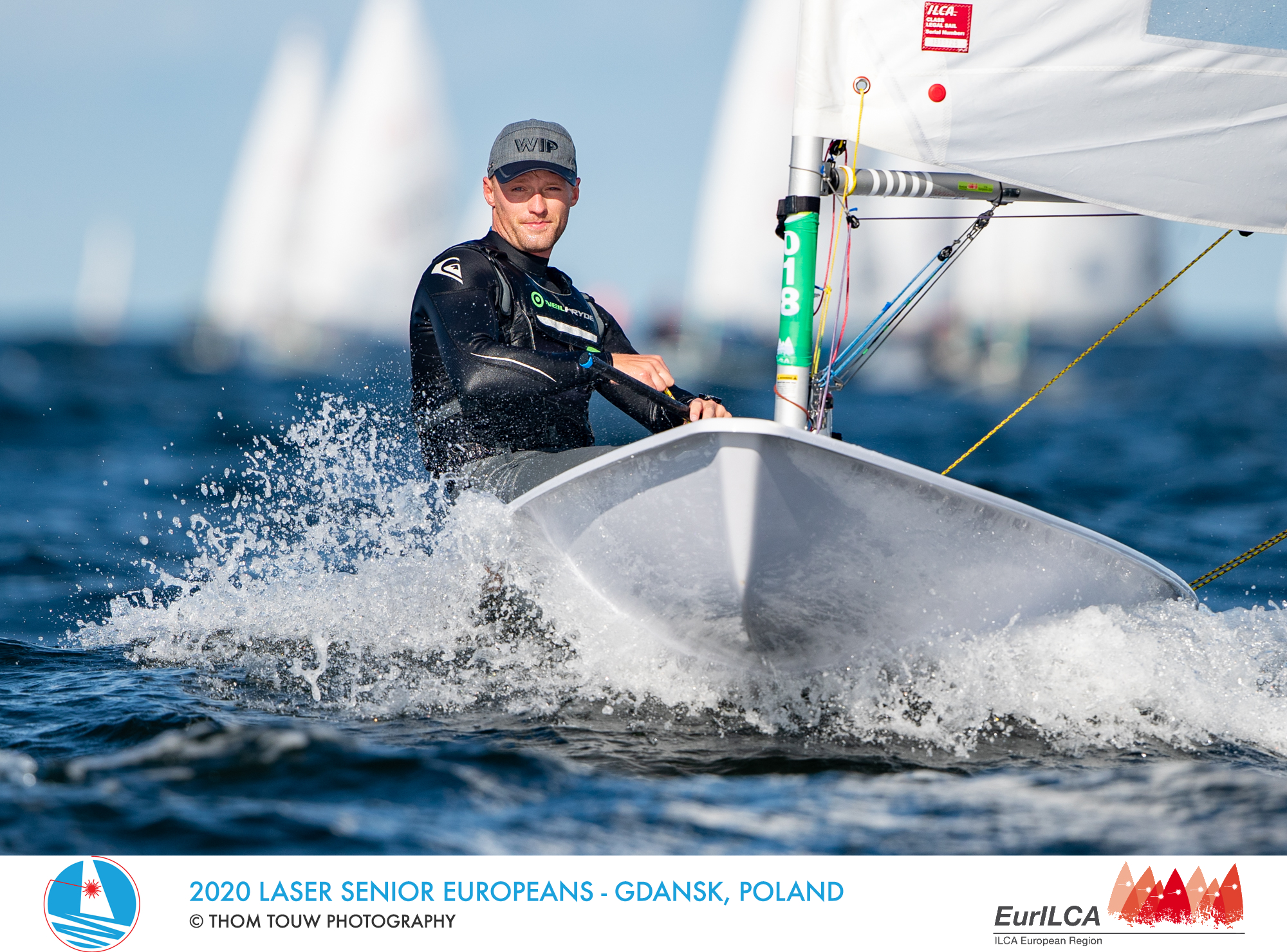 ---
Fourth place overall and third U21 for recent 2020 Laser 4.7 Youth European vice-champion Przemysław Machowski POL (1-18-20-5-4-1-31DNF-1) with 50 units.
I have had some adventures so far. I capsized and got two yellow flags so it's not as well as I expected. I am quite pleased with my sailing though – Przemysław Machowski POL
---
The Final series will continue tomorrow with 2 scheduled races for the Laser Standard –first warning signal at 11:30–, 3 races for the Radial Women's fleets and 2 races for the Radial Men's –first warning signal at 11:00–. The day will start with Coaches/Team Leaders online meeting at 09:00.
How to follow the event
Daily news and reports
Results / Host venue website
Social networks: IG, FB, TW
Photo galleries
Video gallery
Event Overview
Report by Agustín Argüelles – EurILCA | Cover photo: Thom Touw.