Light wind conditions for the first time today at the 2020 Laser Senior European Championships & Open European Trophy in Gdansk, Poland.
First set of races started with 7-8 knots on this third day of competition, finally dropping to 5 knots in the end. The Radial fleets could manage though to complete a second race under very light breeze condition. The Standard fleets headed back to shore with a single race.
Race Day 3 – Laser Radial Men
No major changes on top Radial Men's positions today, with U21 sailor Paul Hameeteman NED (7-3-1-1-2-6) controlling the fleet, 5 points ahead of Polish Filip Ciszkiewicz POL (6-1-2-2-7-8). Third place overall and second U21 is now for Przemysław Machowski POL (1-18-20-5-4-1), 16 points behind the leader.
Ukranian sailor Oskar Madonich UKR dropped one position today, being now fourth overall and third U21 with 32 points, sharing score with fifth Lukasz Machowski POL.
Racing in Gdansk is very difficult and emotional for me, because the wind was very shifty. I'm not very happy with the result, but all these races are a very good experience for me, let's hope that at the end of the regatta we will see all 12 races held, since the forecast is not very good – Oskar Madonich UKR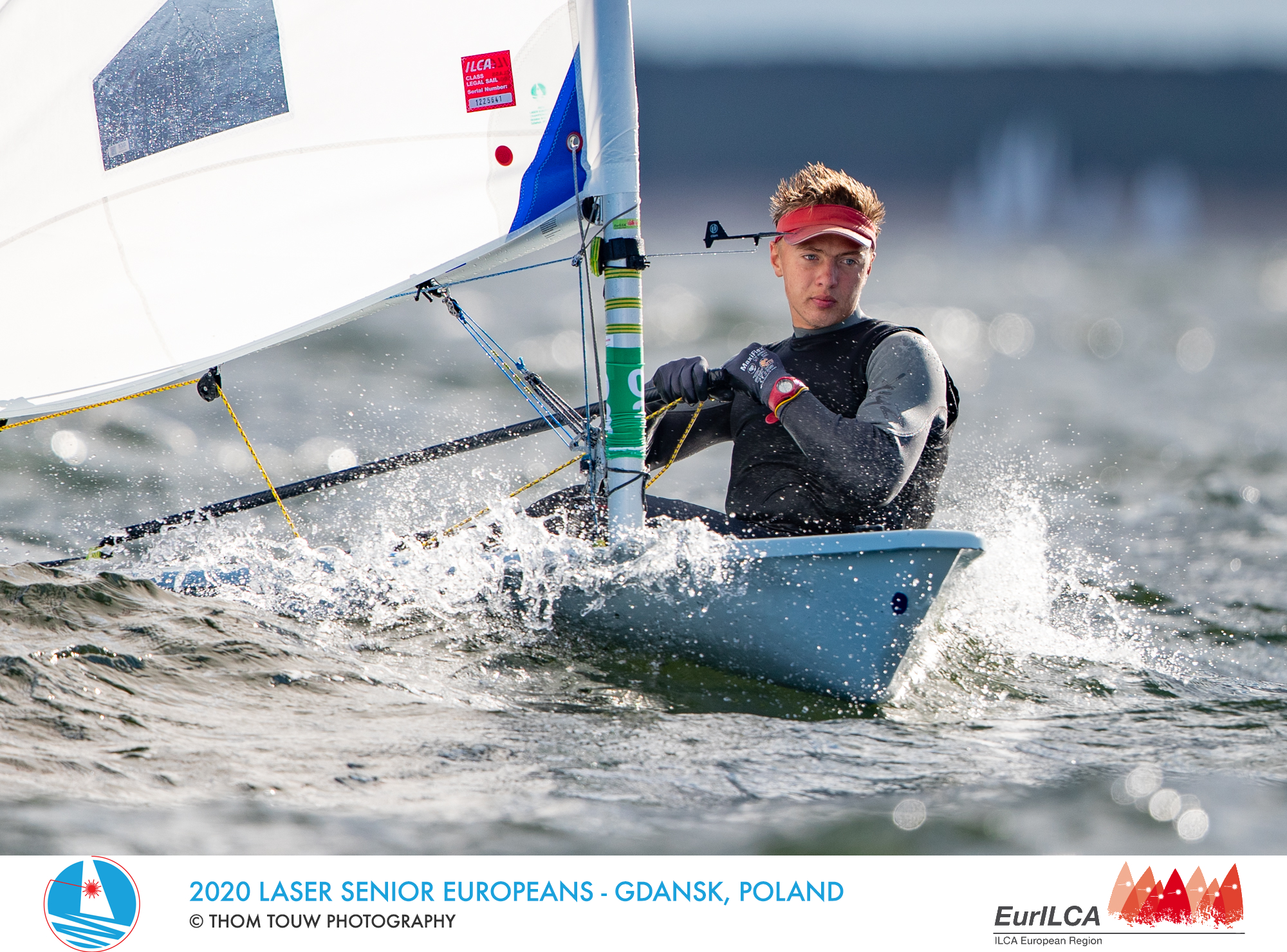 ---
Light wind ruined today our 85 kg Master sailor Adonis Bougiouris GRE (13-31 DNF), placed now 6th. He was supposed to sail on Standard as usual but a last minute back injury made him decided to switch rig.
Our 2019 Laser 4.7 Youth champion Yogev Alcalay ISR appears on 7th place overall and 6th U21 with 45 units.
I'm very happy with my sailing today, my speed boat was very good and my tactics as well. Looking forward to the races tomorrow – Yogev Alcalay ISR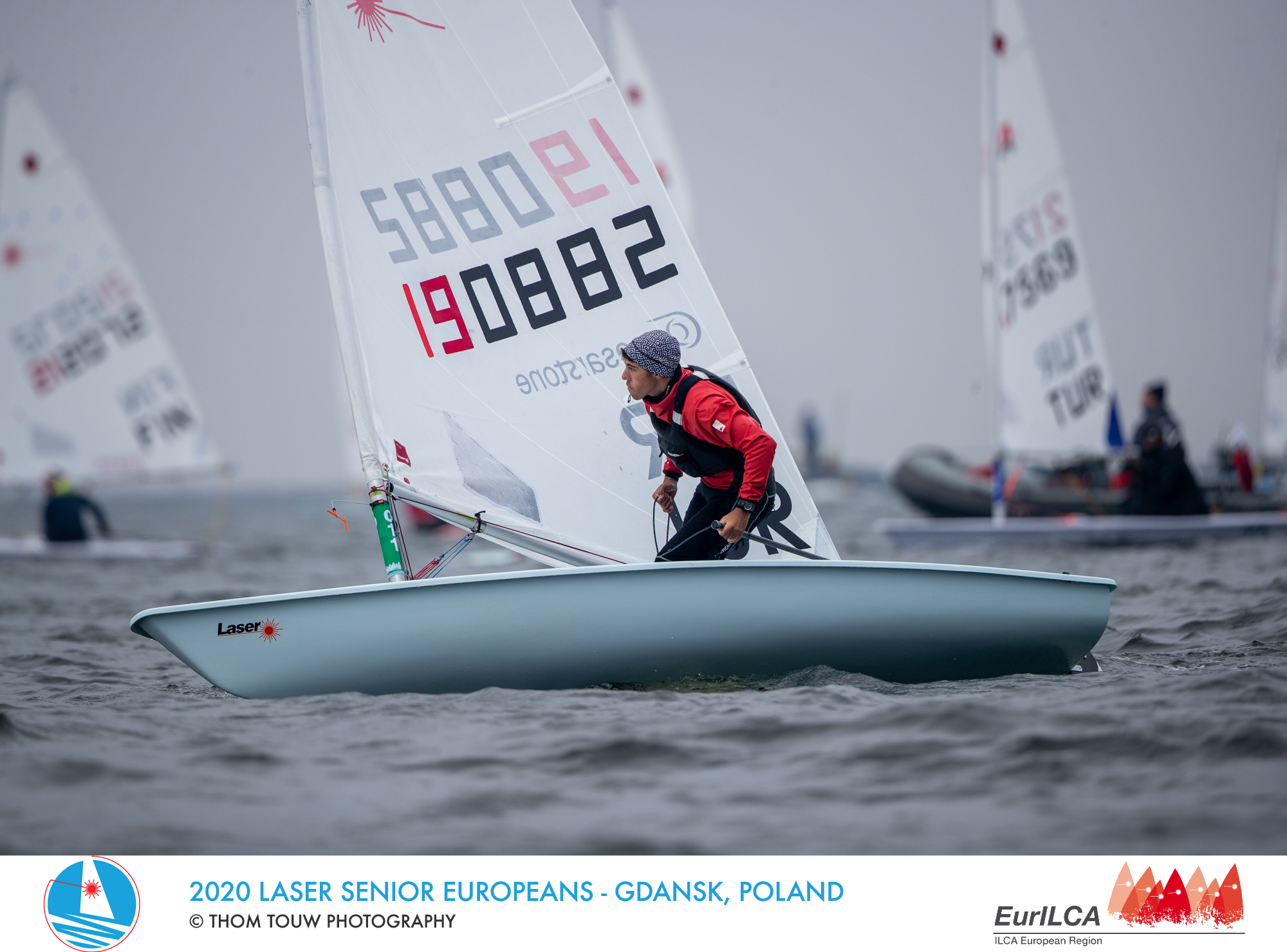 ---
Race Day 3 – Laser Radial Women
Reigning 2019 European champion Anne Marie Rindom DEN (1-4-1-1-2-2) conquered an interesting gap today for wrapping the Qualifying series, leading the Radial Women's championship now 10 points ahead of 2020 World champion Marit Bouwmeester NED (2-3-2-7-23-3). Polish sailor Agata Barwinska POL (22-1-3-4-2-8) is still on third and only 1 point behind Marit, based on great consistency showed in her last 5 races.
"It was tricky and especially the second race was very interesting with huge pressure differences. I had a good strategy and was able to exude it so it turned out pretty well for me" declared Anne Marie after the races.
At the end, it was a very tricky day. Glad to come away with another 2 good results. Tomorrow a new day and a new challenge – Agata Barwinska POL
Talking about consistency, there it comes 2018 World champion Emma Plasschaert BEL (7-5-4-5-11-4) raising on ranking and placed now fourth with 25 points. Maxime Jonker NED is fifth with 27.
I've really been enjoying the racing, has been challenging so far but I'm happy with my consistency! Hopefully the wind keeps up for the finals! – Emma Plasschaert BEL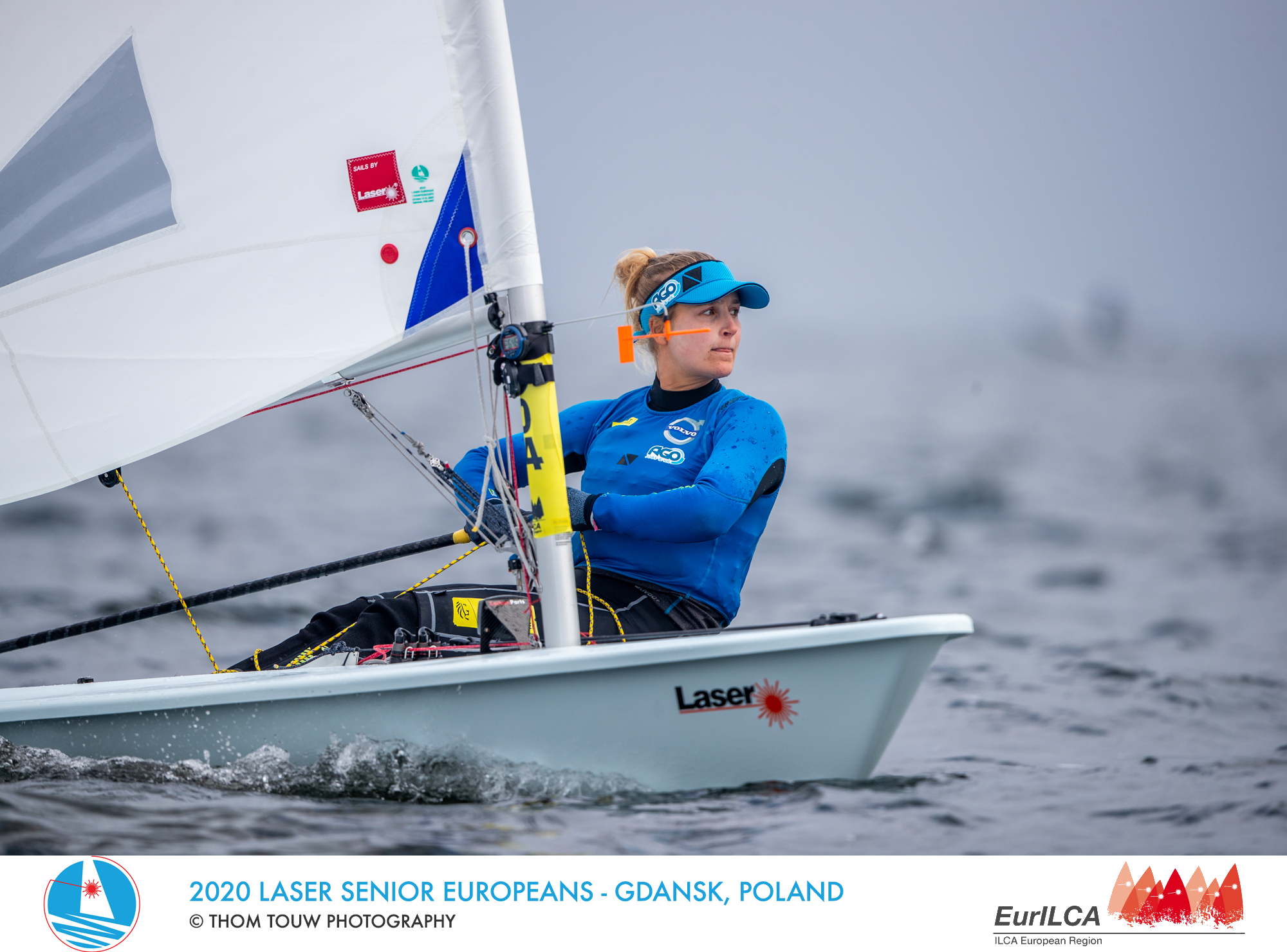 ---
Mirthe Akkerman NED –32 pt–, Maud Jayet SUI –33 pt–, Ecem Guzel TUR –33 pt–, Svenja Weger GER –36 pt– and Wiktoria Golebiowska POL –41 pt– complete the top 10 list.
---
Race Day 3 – Laser Standard
Laser Men's leadership changed hands today after the single race contested with light wind. British sailor Michael Beckett GBR (4-15-4-1-2) is heading now the fleet with 11 points, sharing score with overnight leader Filip Jurisic CRO (1-4-3-3-41). Third place belongs now to multi-champion Pavlos Kontides CYP (2-21-2-9-4) with 17 points.
Tricky and variable conditions so far which is visible from the results of the fleet. Tomorrow the real war begins in the gold fleet with the top 50% of the competitors battling it out in the 6 remaining races – Pavlos Kontides CYP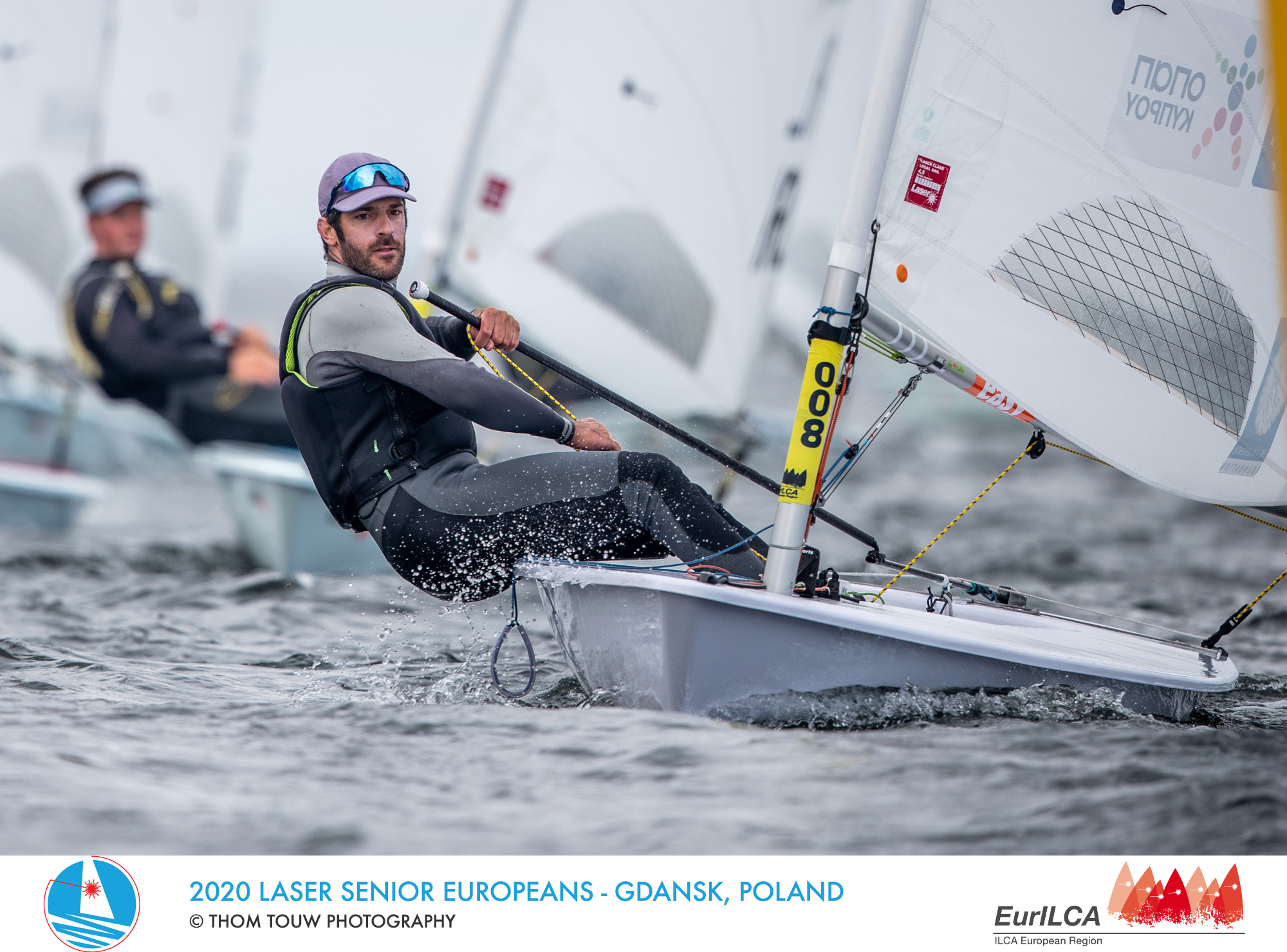 ---
Brits Lorenzo Chiavarini GBR (1-1-20-11-5) and Elliot Hanson GBR (3-8-1-7.3RDGq-17) are also close with 18 and 19.3 points respectively.
Joaquin Blanco ESP –26 pt–, Sergey Komissarov RUS –26 pt–, Alessio Spadoni ITA –33 pt–, William De Smet BEL –33 pt– and Jean Baptiste Bernaz FRA –37 pt– also wrapped the Qualifying series among the European top 10.
Juan Maegli GUA and Ryan Lo SGP are best non-European sailors, holding the 8th and 10th places in the overall ranking.
---
The Final series will start tomorrow, where the Standard and Radial Women's fleets will be split in Gold and Silver. The day will start with Coaches/Team Leaders online meeting at 09:00. First warning signal for the Standard will be at 11:00 / 11:30 for the Radial.
How to follow the event
Daily news and reports
Results / Host venue website
Social networks: IG, FB, TW
Photo galleries
Video gallery
Event Overview
Report by Agustín Argüelles – EurILCA | Cover photo: Thom Touw.