Nice weather and sailing conditions on this second day of races in Gdansk, Poland, where the 2020 Laser Senior European Championships & Open European Trophy are being held.
Full sunshine enlightened the sailing party, although the day started with rain in the morning. A shifty NW breeze varying from 8-15 knots brought much longer waves than yesterday, although water conditions were still choppy due to the unsteady wind.
Race Day 2 – Laser Radial Men
Dutch sailor Paul Hameeteman NED (7-3-1-1) rounded a perfect score today and took the Radial Men's overall and U21 leadership, draw in 5 points with the overnight leader Filip Ciszkiewicz POL (6-1-2-2). Third place overall and second U21 for Oskar Madonich UKR, sharing 15 points with Master sailor Adonis Bougiouris GRE and third U21 Tom Higgins IRL.
I'm quite happy with how today went. Still pretty tricky racing, but the stronger wind and waves made boat speed a bit more important. Looking forward to the upcoming days! – Paul Hameeteman NED
---
"I hadn't sailed an International Laser Radial event since the 1999 Radial Worlds in La Rochelle where I won the first place. I decided to sail Radial the last day because I had a small accident in my back when we were trying to put the rubber boat in the water so I didn't want to press my back more by sailing Standard. I am 85 kilos now so I have some speed problems if wind is dropping down of 15 kn. Some of the kids are really talented as they showed and make my race difficult!!" – Adonis Bougiouris GRE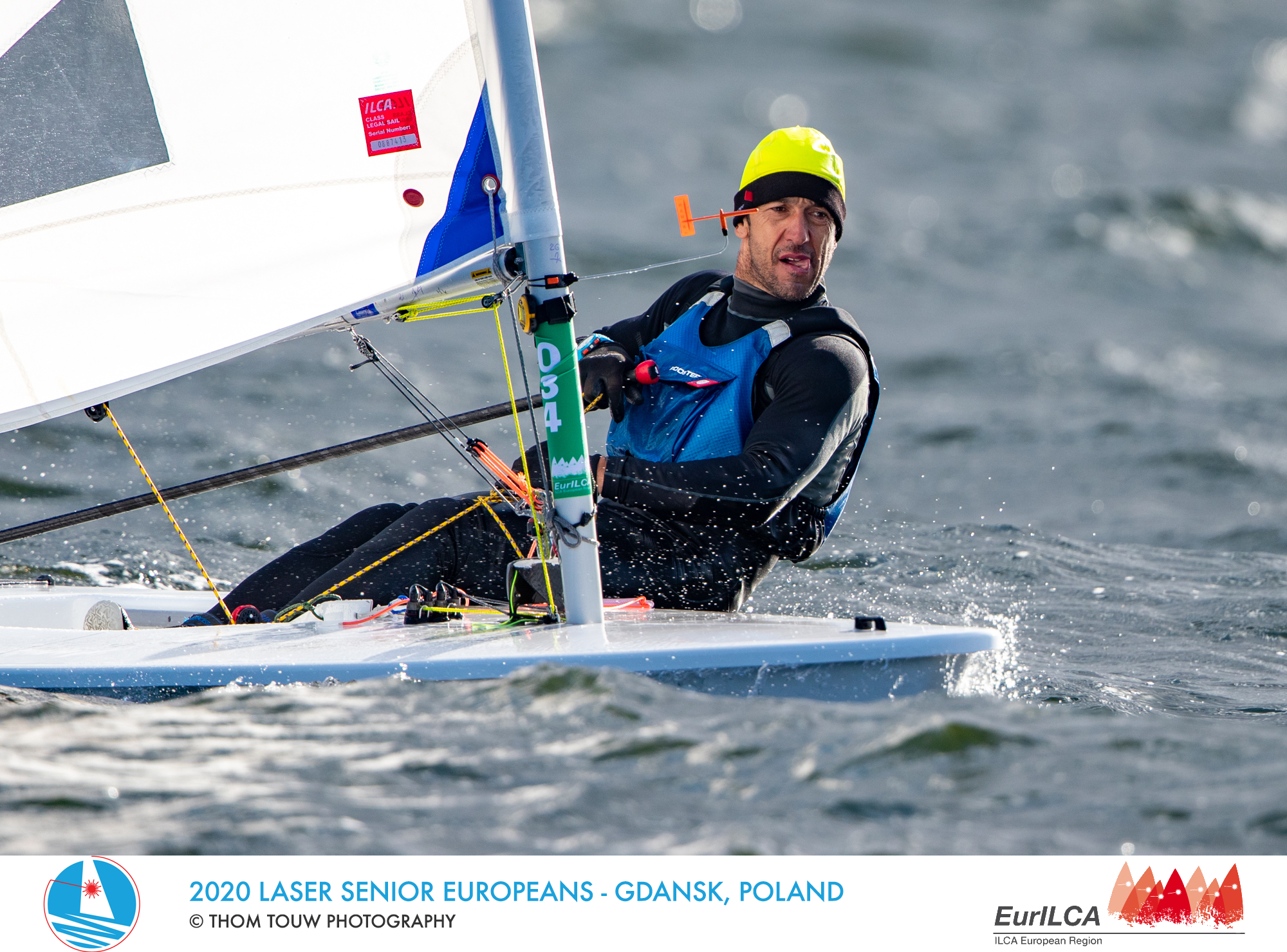 ---
Race Day 2 – Laser Radial Women
Reigning 2019 European champion Anne Marie Rindom DEN (1-4-1-1) scored a perfect punctuation today, lonely leading now the Radial Women's championship with 3 points.
I sailed fast and made some good decisions during the race. It wasn't just first from the beginning, but solid racing made it good in the end – Anne Marie Rindom DEN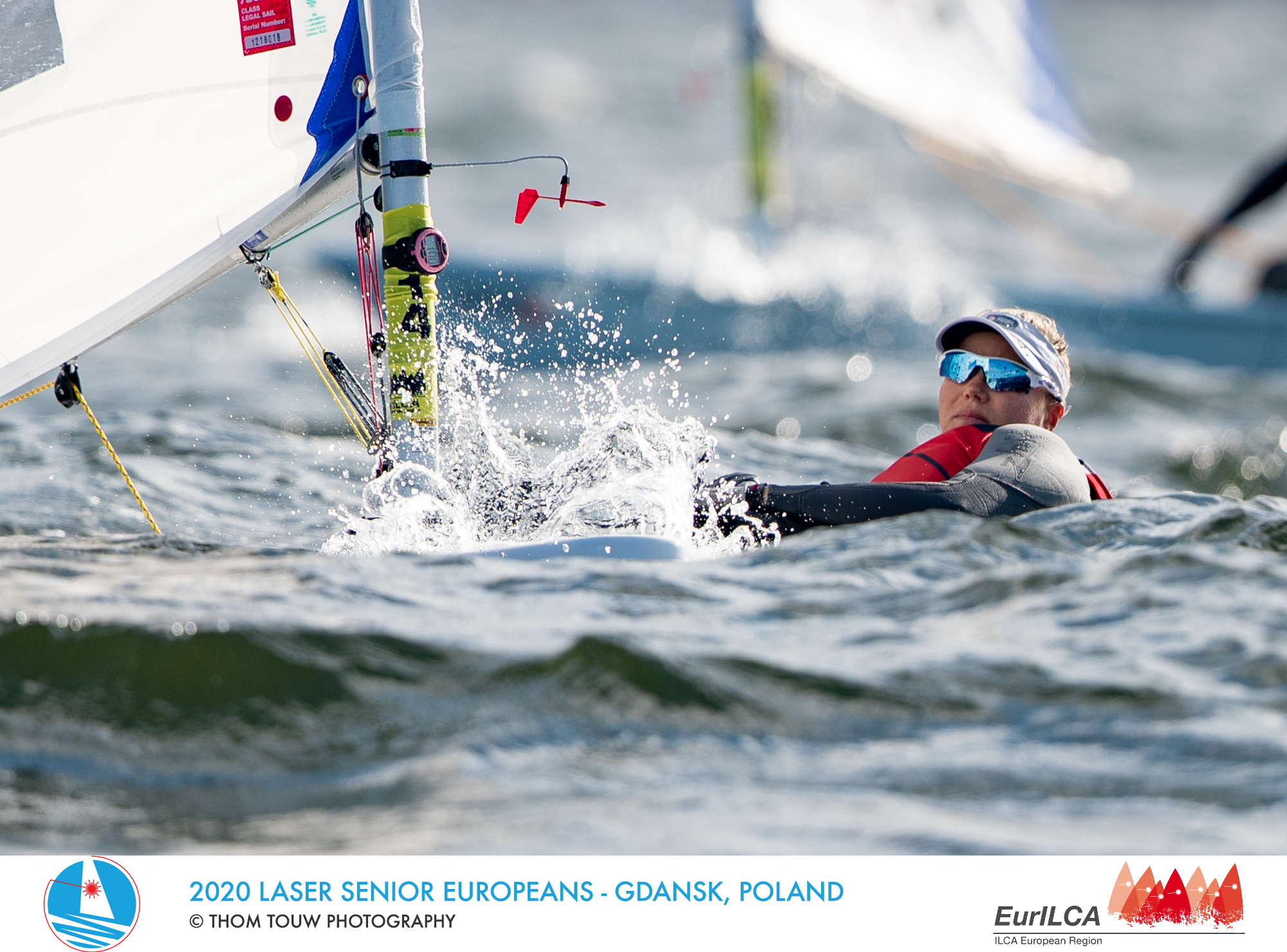 ---
Second place for the reigning 2020 World champion Marit Bouwmeester NED (2-3-2-7) with 7. One point behind her is now Polish Agata Barwinska POL (22-1-3-4) on third place with 8 units.
Very happy with my performance. My tactical decisions were on point today and looking forward to more races tomorrow – Agata Barwinska POL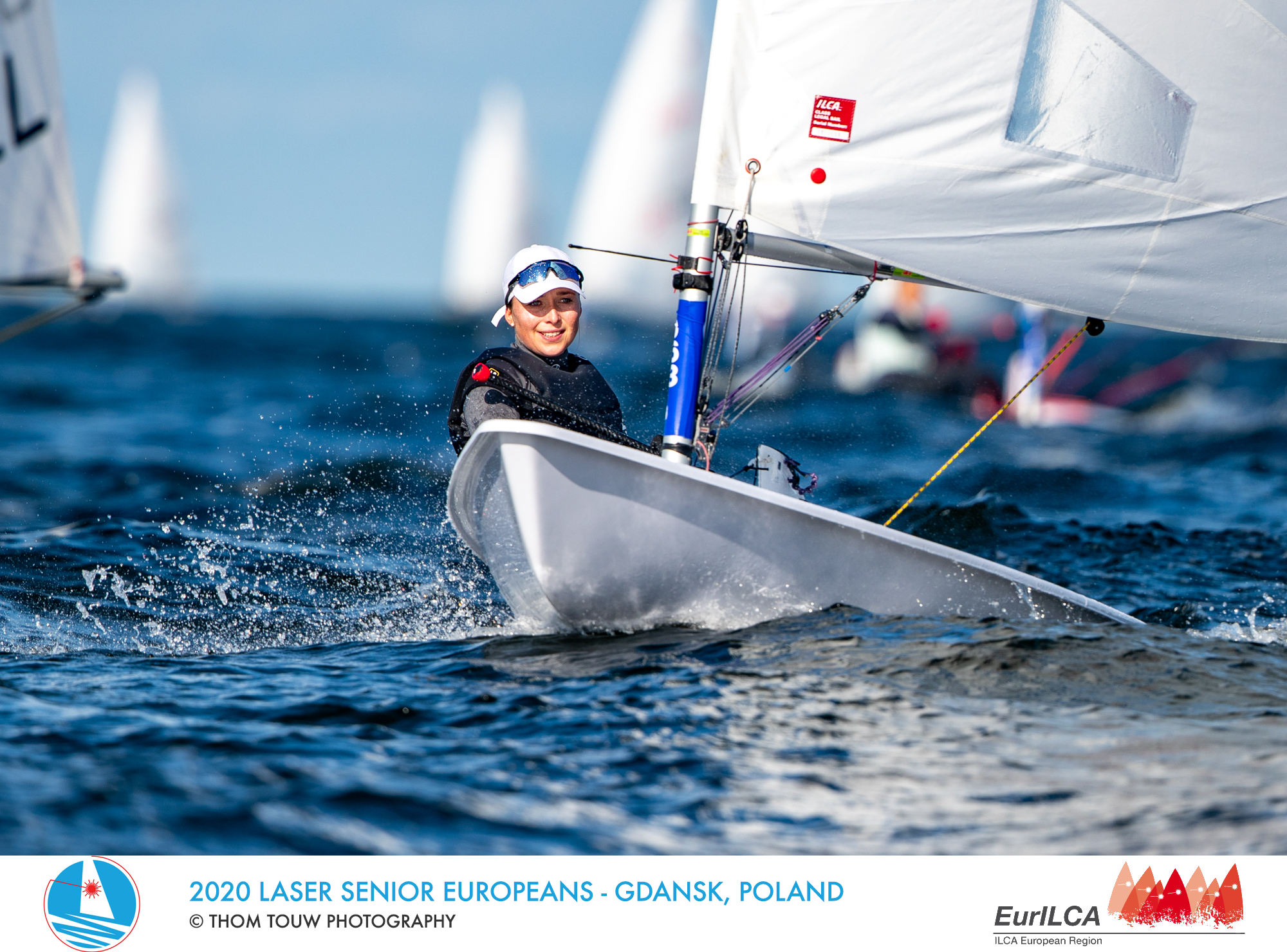 ---
Third of overnight leaders Line Flem Host NOR (2-3-7-17) dropped to 7th overall (6th European) with 12 points.
Fourth and fifth places for Maxime Jonker NED and Maud Jayet SUI with 10.
Mirthe Akkerman NED and Emma Plasschaert BEL –both with 14 points–, Wiktoria Golebiowska POL –15 pt– and Ecem Guzel TUR –17 pt– complete the European top 10 list.
Sarah Douglas CAN is ranked 6th overall with 11 units.
Race Day 2 – Laser Standard
Consistency is paying off for Croatian Filip Jurisic CRO (1-4-3-3) leading now the Standard championship with 7 points, chased in full by the British quad: Elliot Hanson GBR (3-8-1-4RDGa) and Michael Beckett GBR (4-15-4-1) complete the provisional podium with 8 and 9 points respectively.
---
"It was another tricky day in Poland. Bravo course is closer to the land than we'd been training, but there was also a lot of clouds causing big and often unpredictable changes. I won the first race in 5-15 knots where there was never a dull moment. I was then marked bfd for race 2; thankfully the race committee admitted their error and I now have average points. I feel like I'm racing well so far so I'm excited for what's to come!" – Elliot Hanson GBR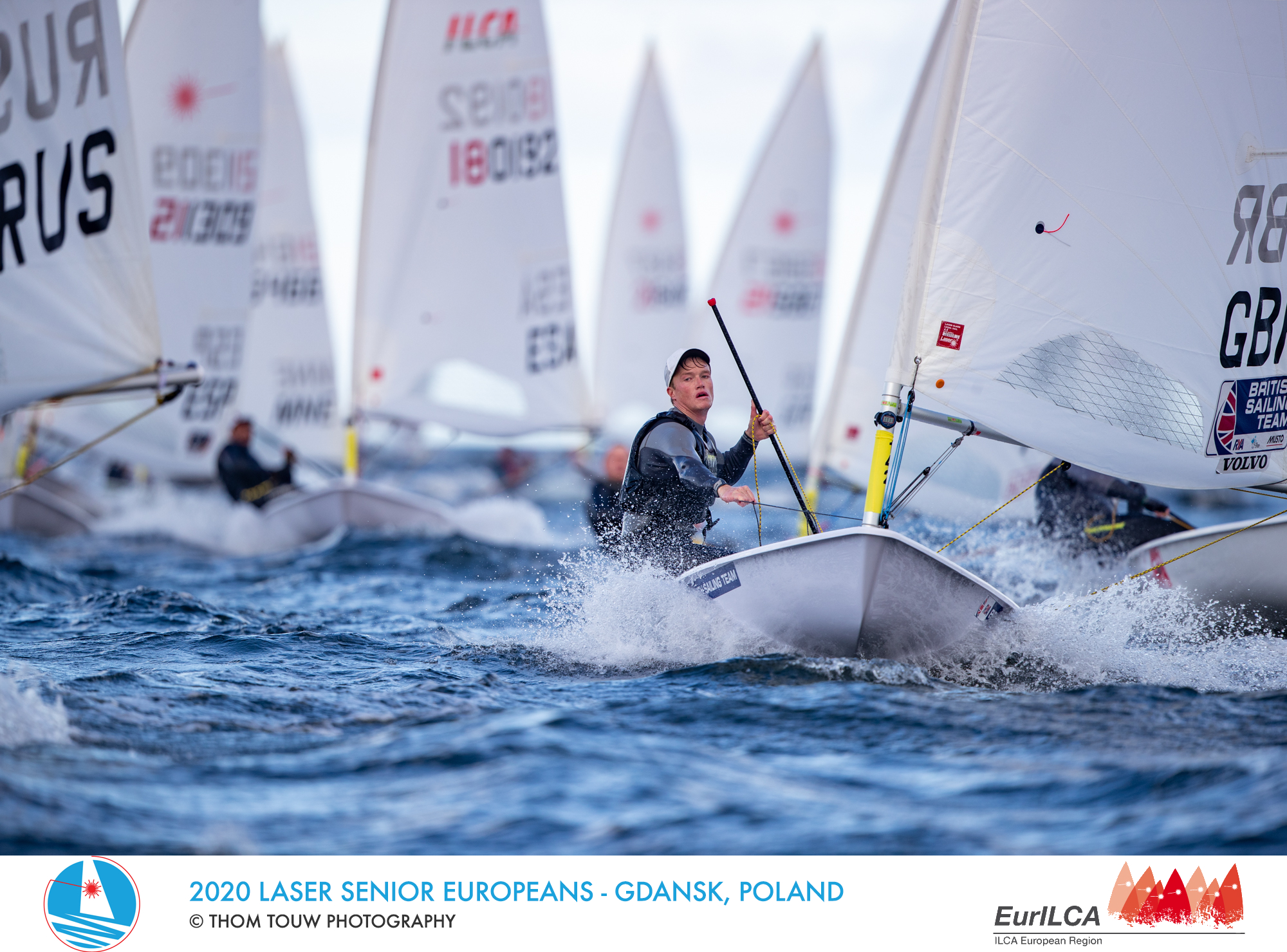 ---
The overnight leader Lorenzo Chiavarini GBR (1-1-20-11) is now fourth overall and sharing 13 points with Pavlos Kontides CYP and Joel Rodriguez ESP on 5th and 6th. Seventh place for another Spanish sailor, Joaquin Blanco ESP, only one point behind them.
"We had 4 races with unstable wind, at the moment I'm doing well, I'm having good feelings but there is a lot of championship and points at stake. With unstable winds like the ones we are having, you can do better or worse but the important thing is to give your best 100% of the race, that at the end of the championship adds up to many points" – Joel Rodriguez ESP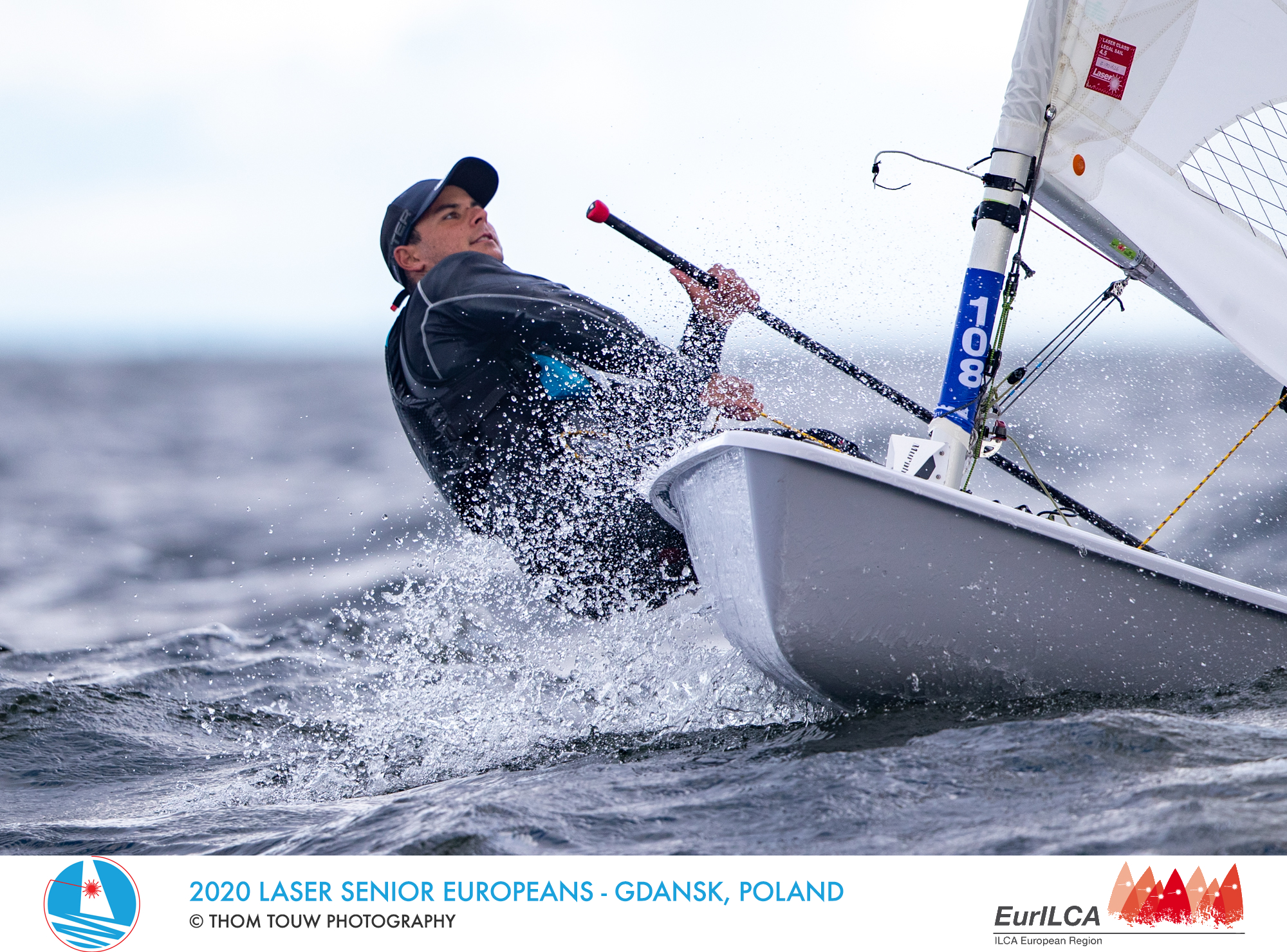 ---
We have had quite difficult conditions with shifty winds and changes in intensity. So you have to try to be regular and make few mistakes. At the moment I'm getting it, so I'm happy – Joaquin Blanco ESP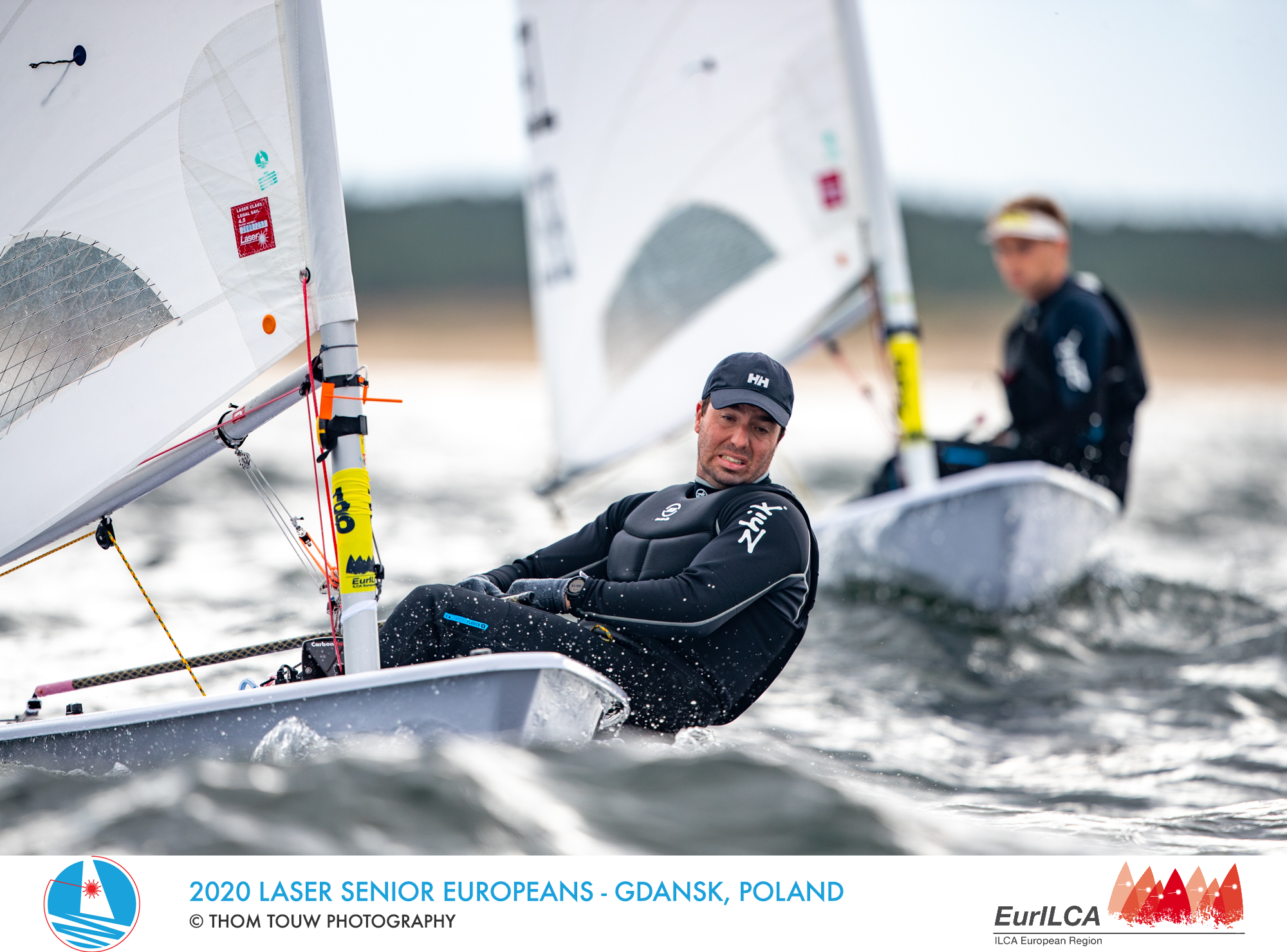 ---
Jean Baptiste Bernaz FRA, Alessio Spadoni ITA and Sergey Komissarov RUS complete the top 10 rank with 17, 19 and 20 points respectively.
"After the lockdown and those month without any regatta, this Euro is just so good. No matter the cold and the tricky wind. I am enjoying the moment, every little moment. I can see that my friends are in good condition and also ready to fight!
I am looking forward the final series to compete against those amazing sailor together in the same fleet! Will be a nice fight for sure" – Jean Baptiste Bernaz FRA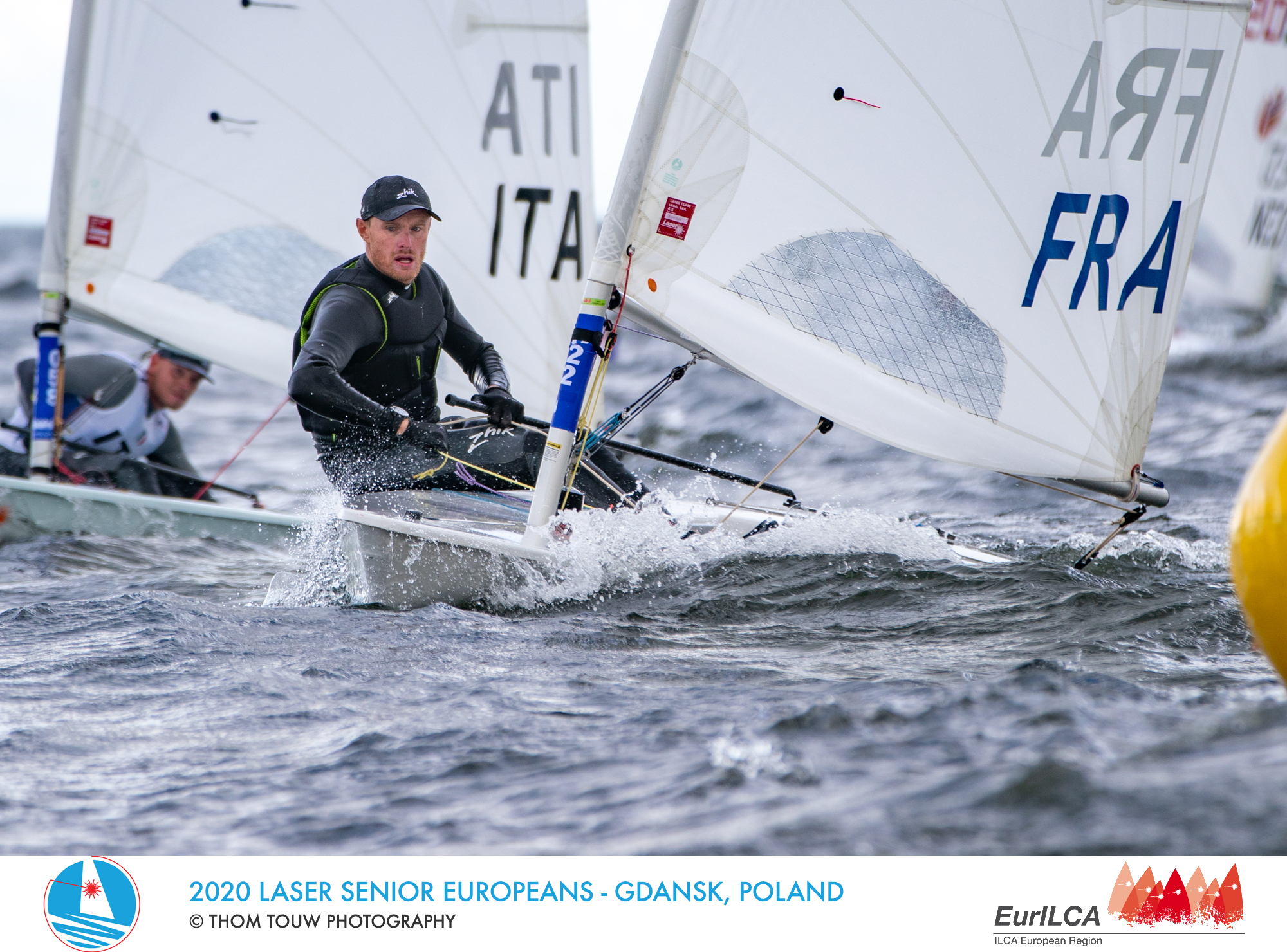 ---
Sailing will continue tomorrow with two new scheduled races. The day will start with Coaches/Team Leaders meeting at 09:00. First warning signal for the Radial will be at 11:00 / 11:45 for the Standard.
How to follow the event
Daily news and reports
Results / Host venue website
Social networks: IG, FB, TW
Photo galleries
Video gallery
Event Overview
Report by Agustín Argüelles – EurILCA | Cover photo: Thom Touw.