Who has missed big fleet racing!? ✋😁 After all this hectic times we're finally back on water enjoying of premium sailing in Gdansk, Poland, where the 2020 Laser Senior European Championships & Open European Trophy are being held.
The day started with a 30 minutes postponement for the Laser Standard to better free the ramp for all Radials to launch first.
Flat water and shifty medium breeze blowing from land marked the sailing conditions on this first day of competition. First bunch of races were held with around 10 knots from SW, while on the second ones the wind raised up to 15 knots from same direction.
Race Day 1 – Laser Standard
The reigning 2019 European champion Lorenzo Chiavarini GBR (1-1) refreshed his supremacy showed the last year in Porto and started the championship with perfect score, leading the fleet with 2 points. Filip Jurisic CRO (1-4) is second with 5. Italians Marco Gallo ITA (6-2) and Nicolo Villa ITA (6-3) are third and fourth respectively.
Strategy wise, hard day on the water. Definitely I can be happy with my sailing for today. I managed to stay in good rhythm on both races – Filip Jurisic CRO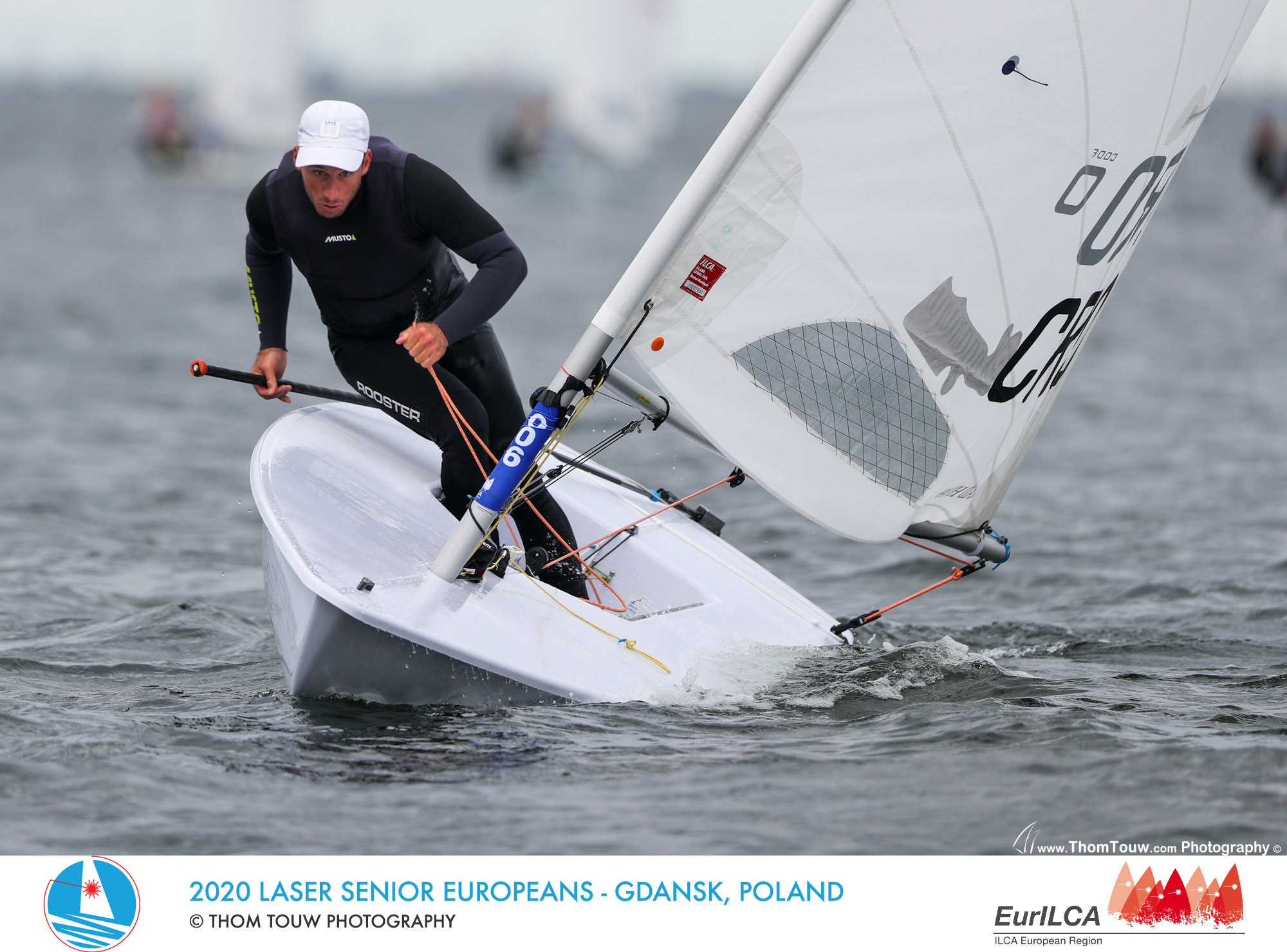 I'm happy about today's races because there were tricky conditions. I felt very fast in downwind and confident about my tactical choices. Looking forward to race again tomorrow! – Marco Gallo ITA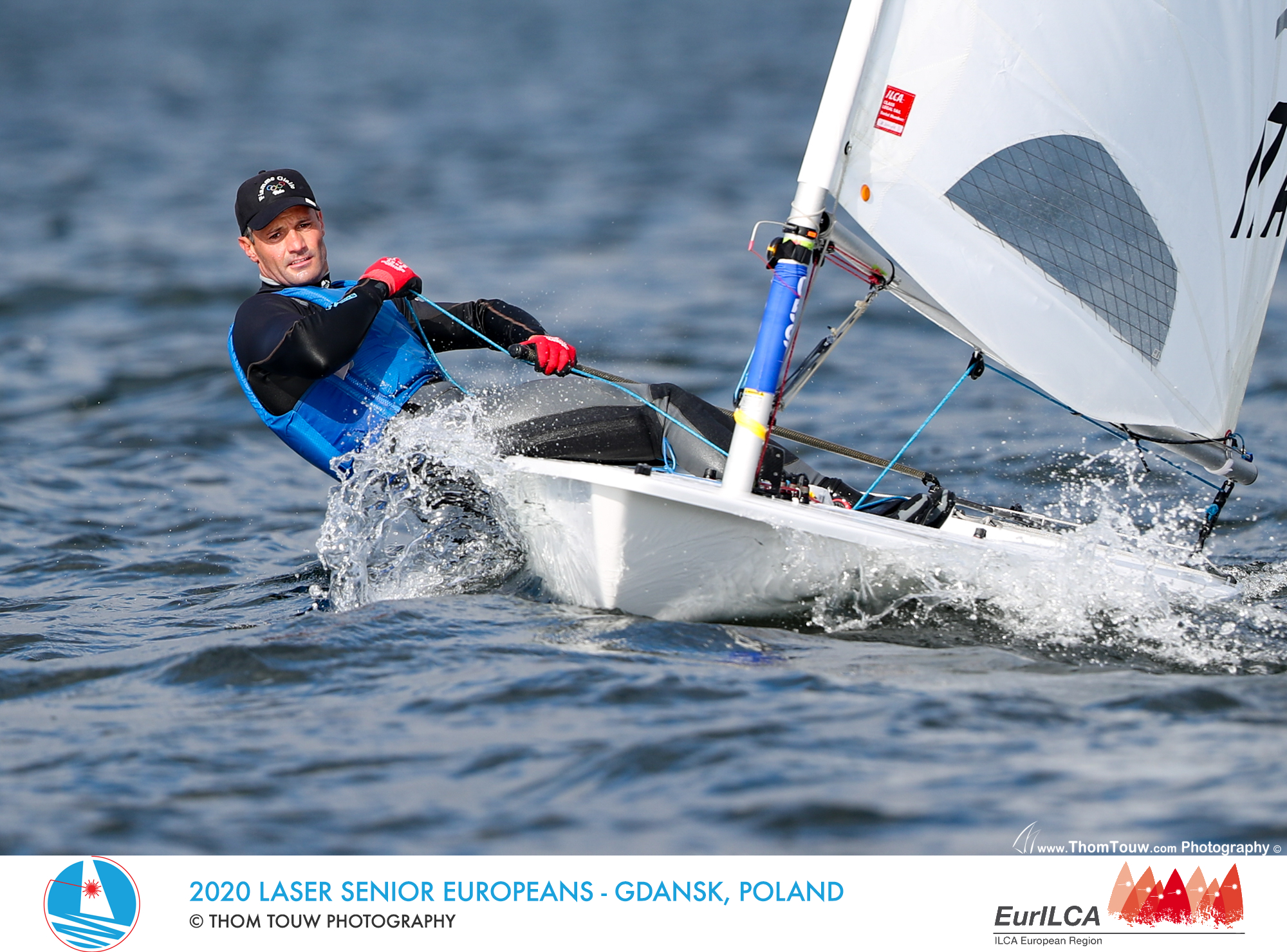 The British squad positioned two other sailors among this initial top 10, with Elliot Hanson GBR (3-8) on fifth and Michael Beckett GBR (4-15) on sixth (9th overall).
Seventh place (8th overall) for Russian Sergey Komissarov RUS (13-5).
Places 6th, 7th and 10th overall for non-European sailors Clemente Seguel CHI, Juan Maegli GUA and Ryan Lo SGP.
The reigning 2020 World champion Philipp Buhl GER (22-6) is 18th among 126 competitors.
---
---
Race Day 1 – Laser Radial Women
Tight start on the Women's championship, with 3 sailors sharing the top positions with 5 points: Anne Marie Rindom DEN (1-4), Line Flem Host NOR (2-3) and Marit Bouwmeester NED (2-3). Mirthe Akkerman NED (6-1) is also close with 7 points and ranked fourth overall. Fifth European place and sixth overall for Emma Plasschaert BEL (7-5).
It was one of those days where you have to look after the pressure and sail shift but still managed to not take to big risks. I finished 1 and 4 and I'm very happy on how it went. I'm coming back after a long time with an injury and just enjoying racing again – Anne Marie Rindom DEN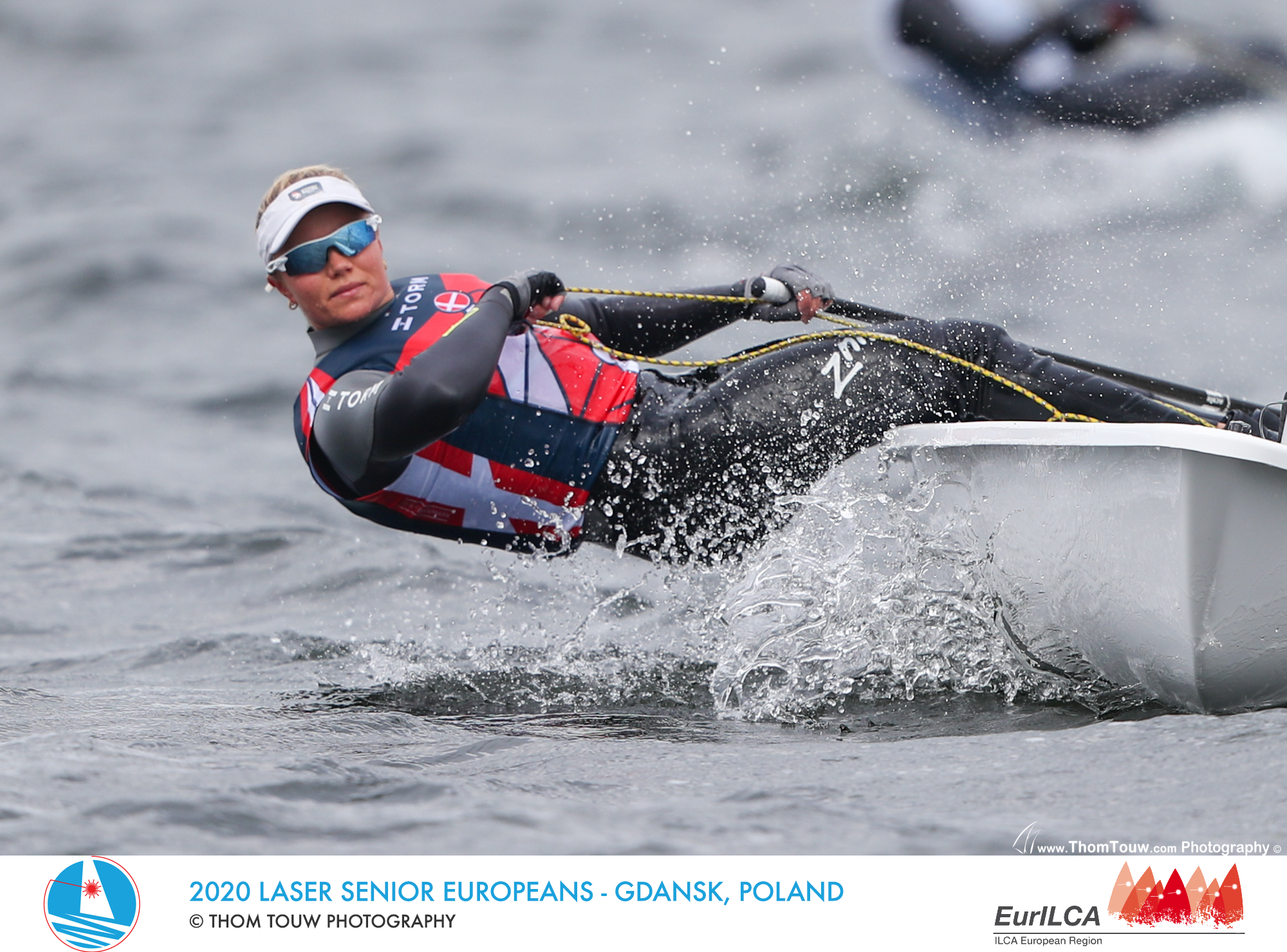 Great start for Marilena Makri CYP (4-9) on her first Senior Europeans! Cyprus sailor is ranked sixth European and 7th overall among 107 competitors.
It was great! Very tight racing as expected. Every mistake costed a lot! Super excited for tomorrow!! – Marilena Makri CYP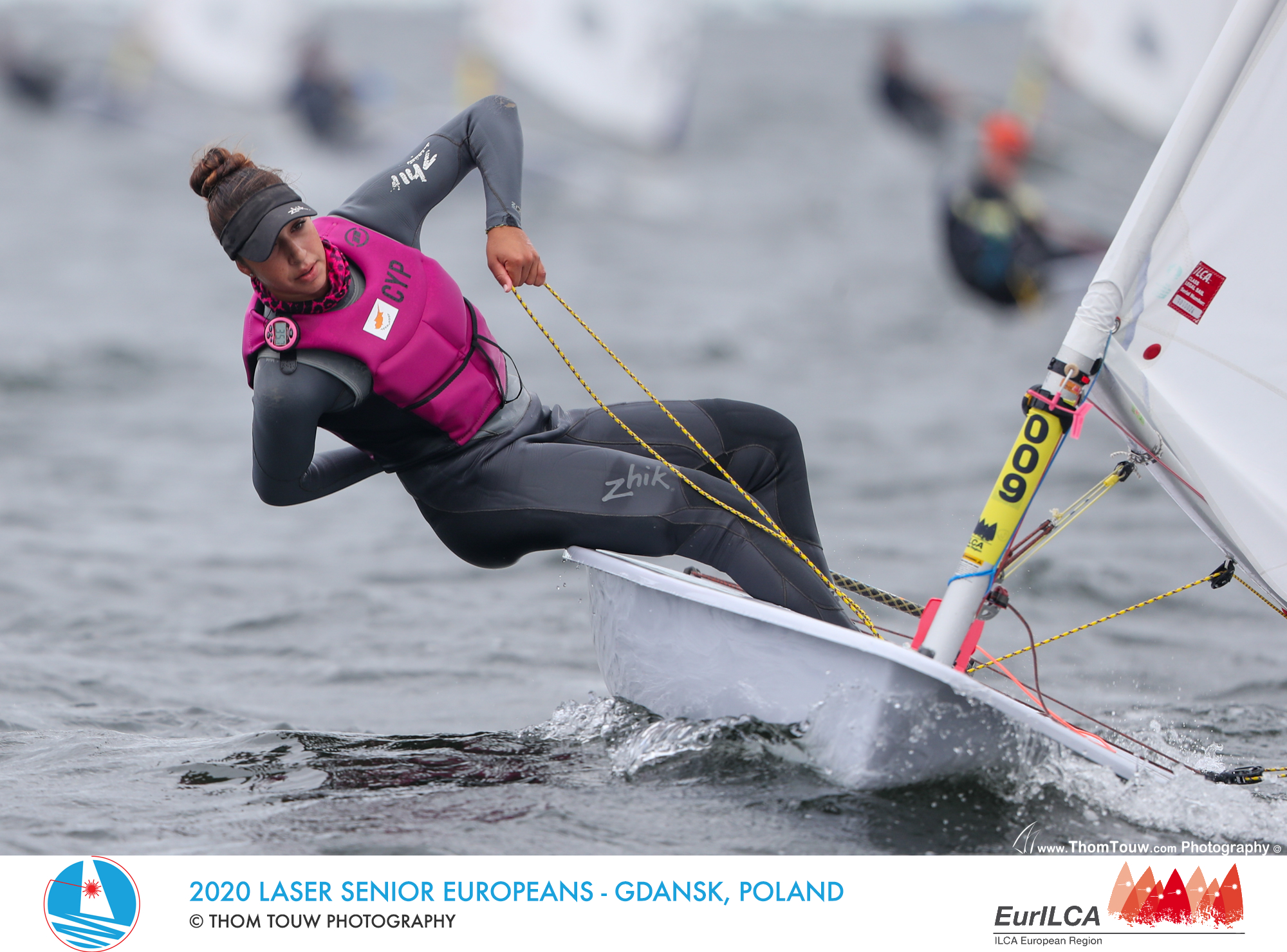 Silvia Zennaro ITA, Annalise Murphy IRL, Ecem Guzel TUR and Pia Kuhlmann GER complete the European provisional top 10.
Sarah Douglas CAN is the only non-European sailor among the first competitors, holding the fifth place on rank.
---
---
Race Day 1 – Laser Radial Men
The Radial Men's championship is led by local sailor Filip Ciszkiewicz POL (6-1) with 7 points, closely followed by Irish Tom Higgins IRL (4-4) and Dutch Paul Hameeteman NED (7-3).
Quite a hard day. Offshore winds made the racing really tricky. I wasn't too happy with the way I was sailing today, but 5 more days to improve and get better in these conditions. I wasn't really planning on going here, but after the U19 Europeans in Hyeres got cancelled last week I still managed to go here to compete. Happy to be racing a big event this year to close of the season! – Paul Hameeteman NED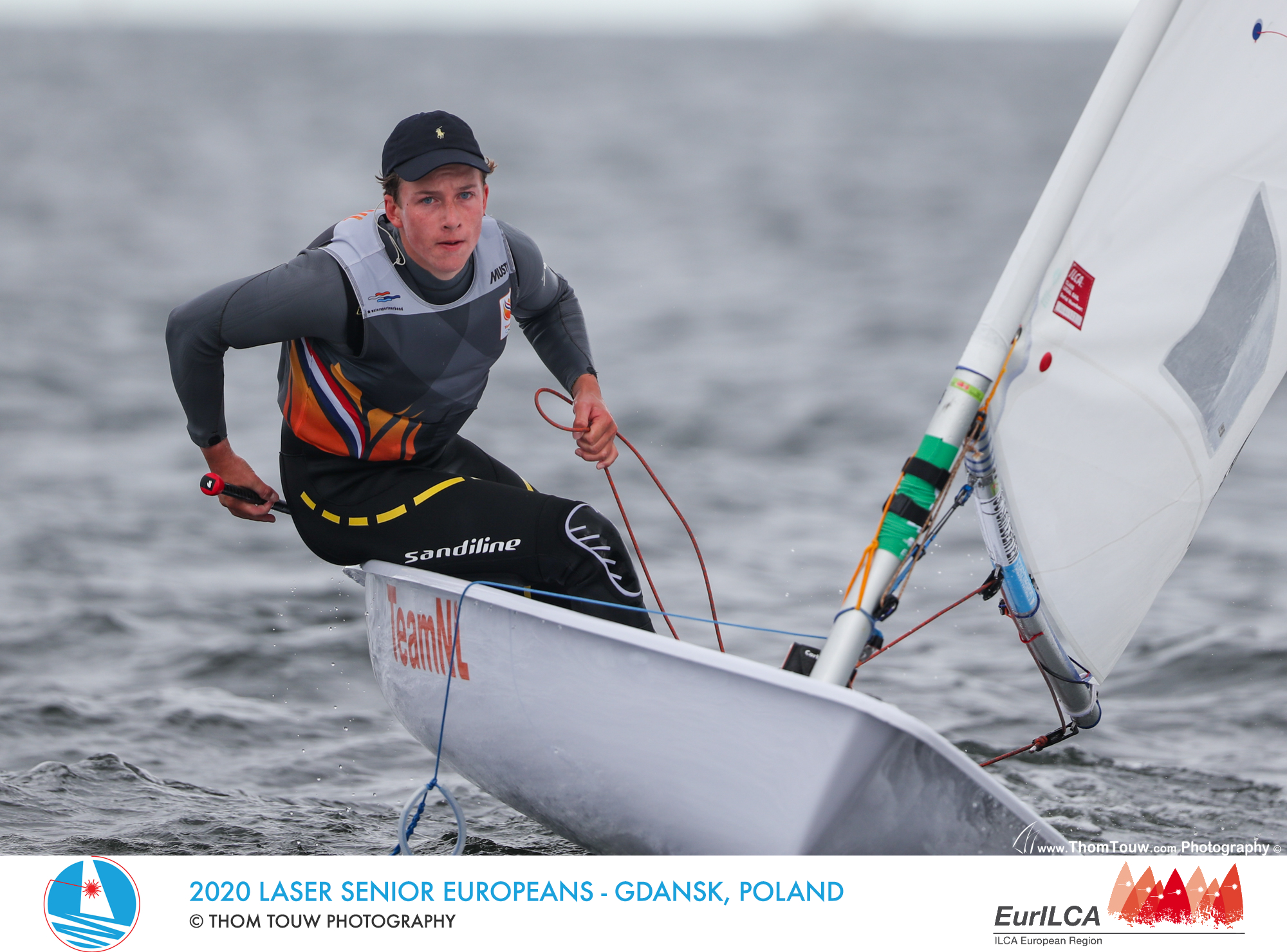 Fourth place for Otto Dahlberg FIN (2-10), sharing 12 points with the Master sailor Adonis Bougiouris GRE (3-9).
30 sailors participate of this fleet.
---
Sailing will continue tomorrow with two new scheduled races. The day will start with Coaches/Team Leaders meeting at 09:00. First warning signal for the Standard will be at 11:00 / 11:45 for the Radial.
How to follow the event
Daily news and reports
Results / Host venue website
Social networks: IG, FB, TW
Photo galleries
Video gallery
Event Overview
Report by Agustín Argüelles – EurILCA | Cover photo: Thom Touw.