Cold weather on the fifth day of races at the 2020 Laser Senior European Championships & Open European Trophy in Gdansk, Poland.
Three races were added to scores on Women's Gold and Silver fleets, and two races on Men's and Radial Men's competitions.
Racing started with 6-8 knots breeze from land on this second day of the Final series, raising then up to 12 knots for the last races.
Forecast announces a windy day tomorrow for the last races so hiking will be back for crowning our new 2020 Senior European champions!
Race Day 5 – Laser Standard
Brit squad conquered the Laser Men's podium in full today, with Michael Beckett GBR (24-22) retaining the leadership with 59 points but now closely followed by Elliot Hanson GBR (6-19) just 2.3 points behind. Third place is now for Lorenzo Chiavarini GBR (18-3) with 73.
"I forgot my jacket today so first of all I have to thank Chris (my coach) for letting me use his between races on what must have been the coldest days sailing for a while 😂 it was another tricky offshore day where it was hard to remain consistent. It's tight at the top but great to be up there with both Enzo & Micky 🇬🇧 Tomorrow should bring something different with a windy onshore breeze, it's been a while since we've been hiking so I can't wait!"– Elliot Hanson GBR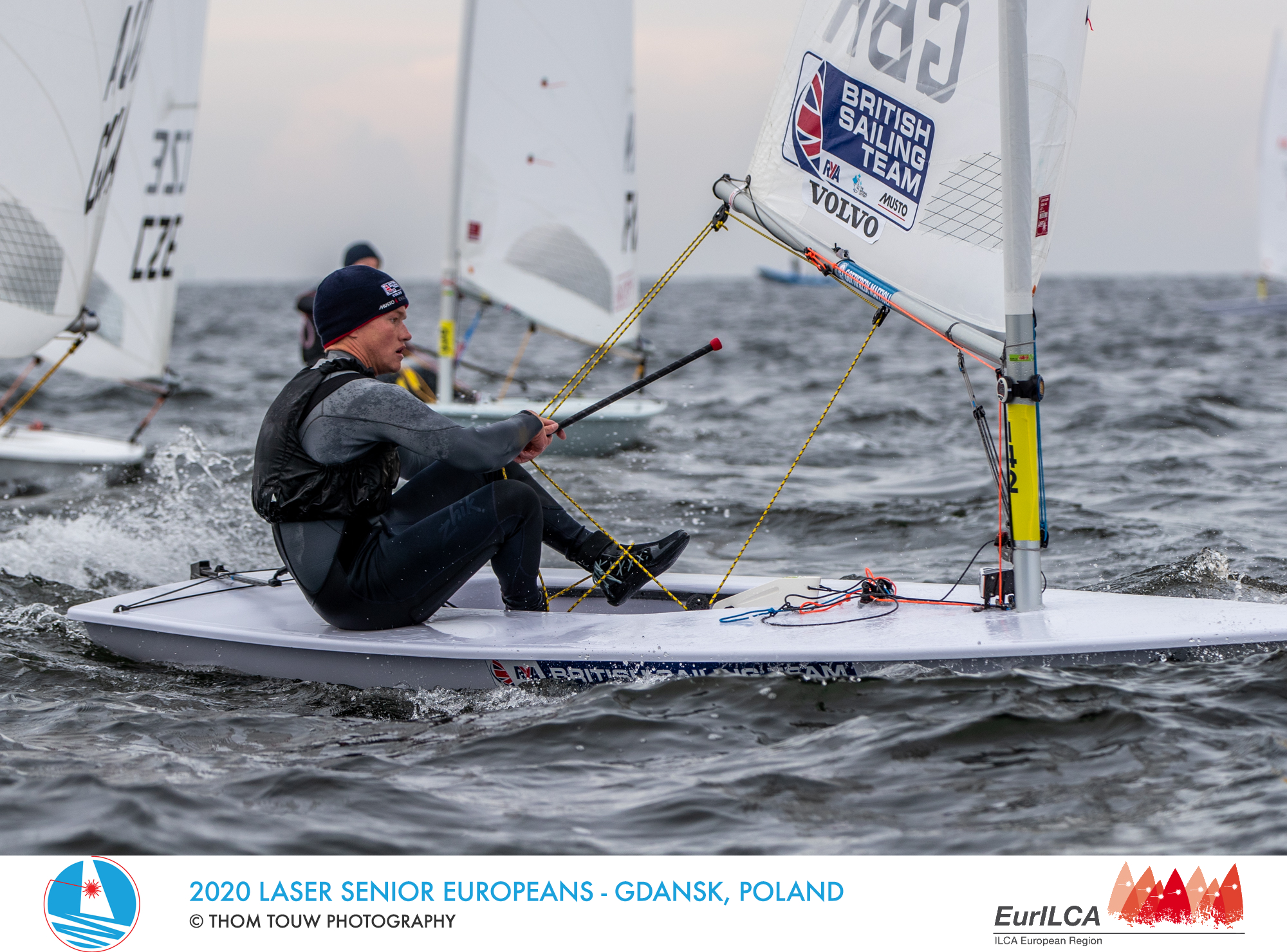 ---
Hard day as always in a Laser Gold fleet. Some nip and tuck racing out there. Tomorrow last day. Enjoying the moment 🙂 – Lorenzo Chiavarini GBR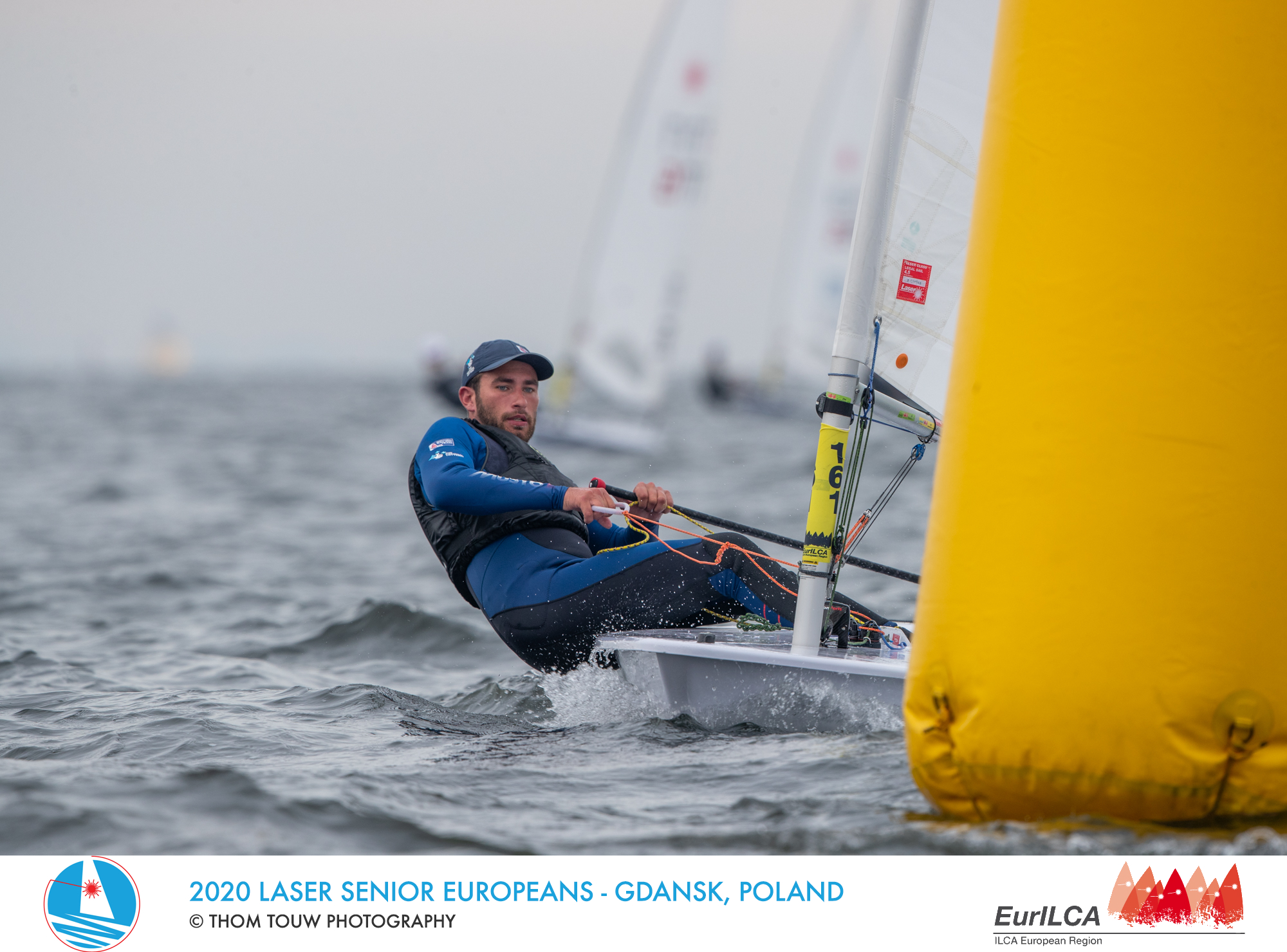 ---
Places fourth to tenth are pretty tight now with all 6 competitors separated by 13 points. Russian sailor Sergey Komissarov RUS (13-27) heads this pack with 90, followed by William De Smet BEL (9-29) and Filip Jurisic CRO (20-4) with 92 and 95 points respectively.
"Today was about controlling the damage. I made a big comeback in the last race. Tomorrow will be the big show down. A second discard comes in play which will mix up the results massively. The only thing I can do tomorrow is sail at my very best and bring my A-game" – William De Smet BEL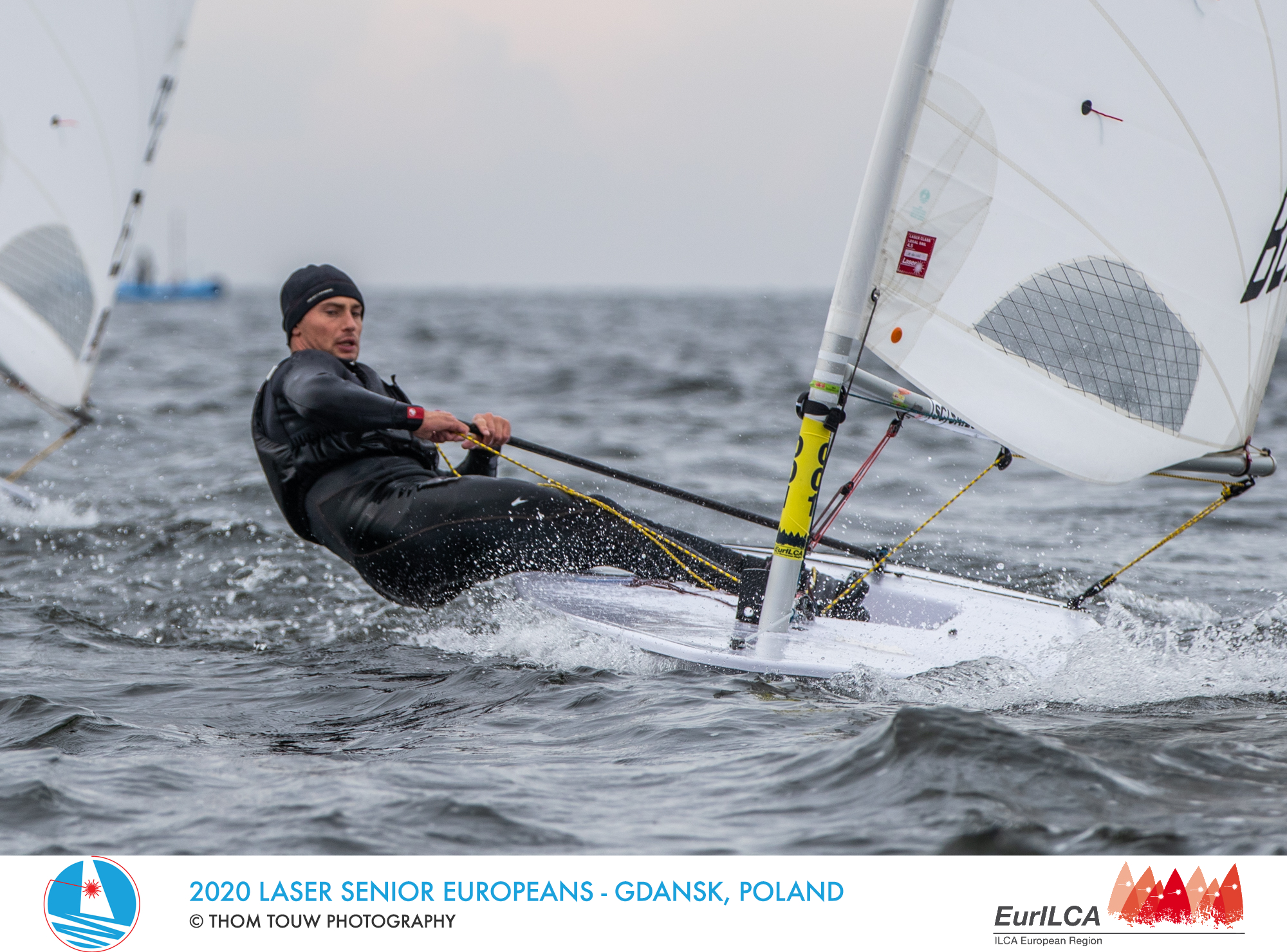 ---
Definitely 20&4 today recover me a bit after very bad day yesterday. I manage to find my way in this light, tricky and shifty conditions. I am keeping focus for the last two races tomorrow, because still everything is open! – Filip Jurisic CRO
Dimitris Papadimitriou GRE –99–, Nicolo Villa ITA –100–, Joaquin Blanco ESP –102– and Giovanni Coccoluto ITA –103 pt and winner of the last race today– are wrapping the provisional European Top 10.
Very happy with my sailing today. I was quick and managed to link up the pressure and shifts well. Tomorrow, it's important to stay focused and sail my own race – Nicolo Villa ITA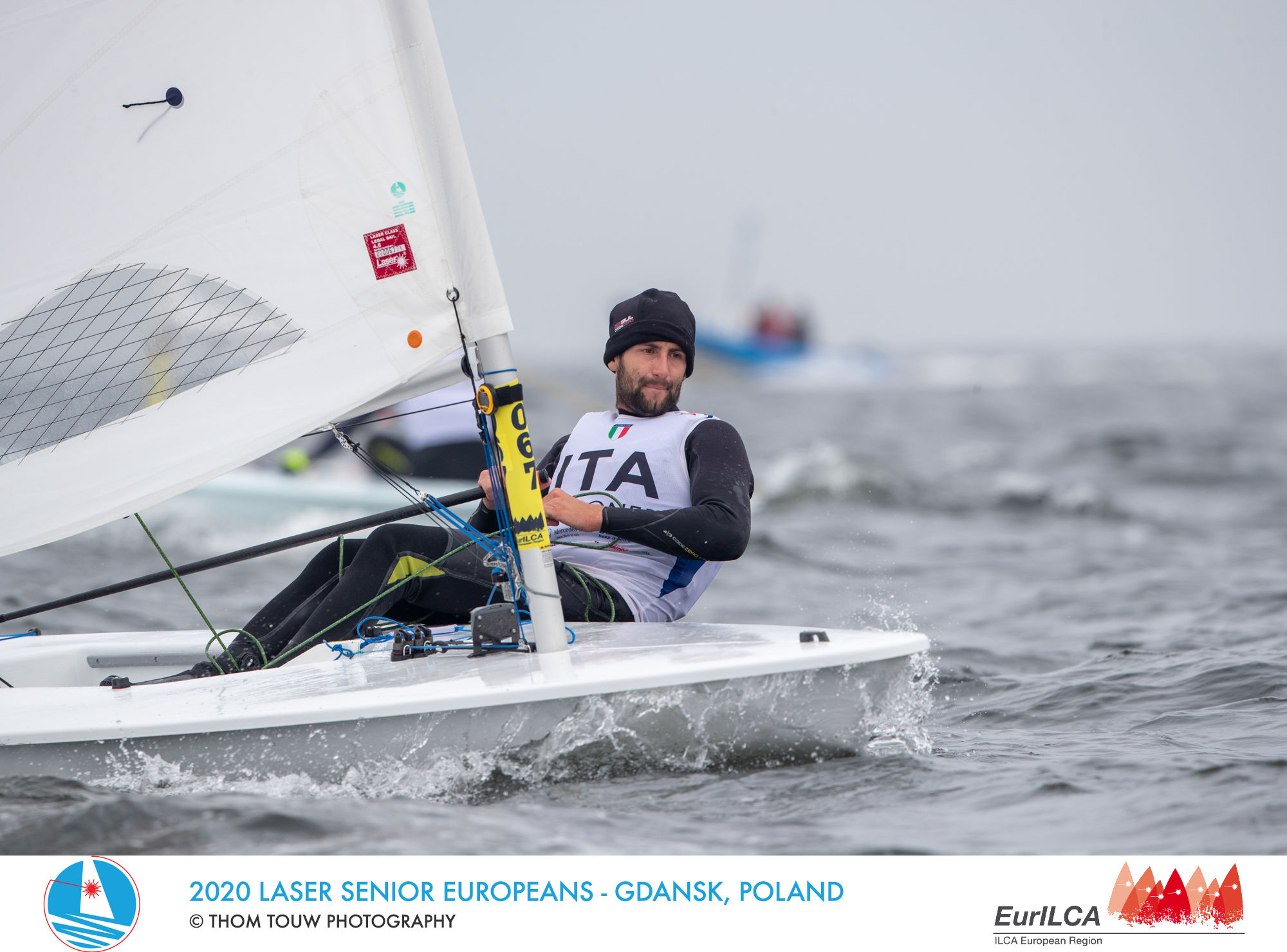 ---
Bad day for multi-champion Pavlos Kontides CYP (40-32) dropping to the 15th place with 114 points.
Charlie Buckingham USA (3-16) continued to show a great consistent sailing today and climbed to the 4th place overall with 83 units.
Race Day 5 – Laser Radial Women
Terrific sailing of our reigning 2019 European champion Anne Marie Rindom DEN (2-9-6), leading the championship from the beginning. She's heading the fleet with 22 points after 10 races and has a 20 points lead on second sailor.
Thing is this second sailor is the reigning 2020 World and 2016 Olympic champion Marit Bouwmeester NED (55 DNC-4-1), who scored her first win today on this event and a 4th after waiting aside during the first race due to Yellow flags received yesterday. So nothing is stated and Gold medal title is open. Sailing conditions will be different tomorrow, although both sailors are Masters in all of them.
Third place is now for ascendant Vasileia Karachaliou GRE (9-1-11) with 51 points, only 9 behind Marit.
"My goal for today was to try to be in top 10 and then try to climb up from there.. I was really happy to be able to come back from mid fleet position in the last race today. It was another really hard day, happy that i manage to survive. Thoughts for tomorrow are to try to stay calm and warm for tomorrow's last day of championship" – Vasileia Karachaliou GRE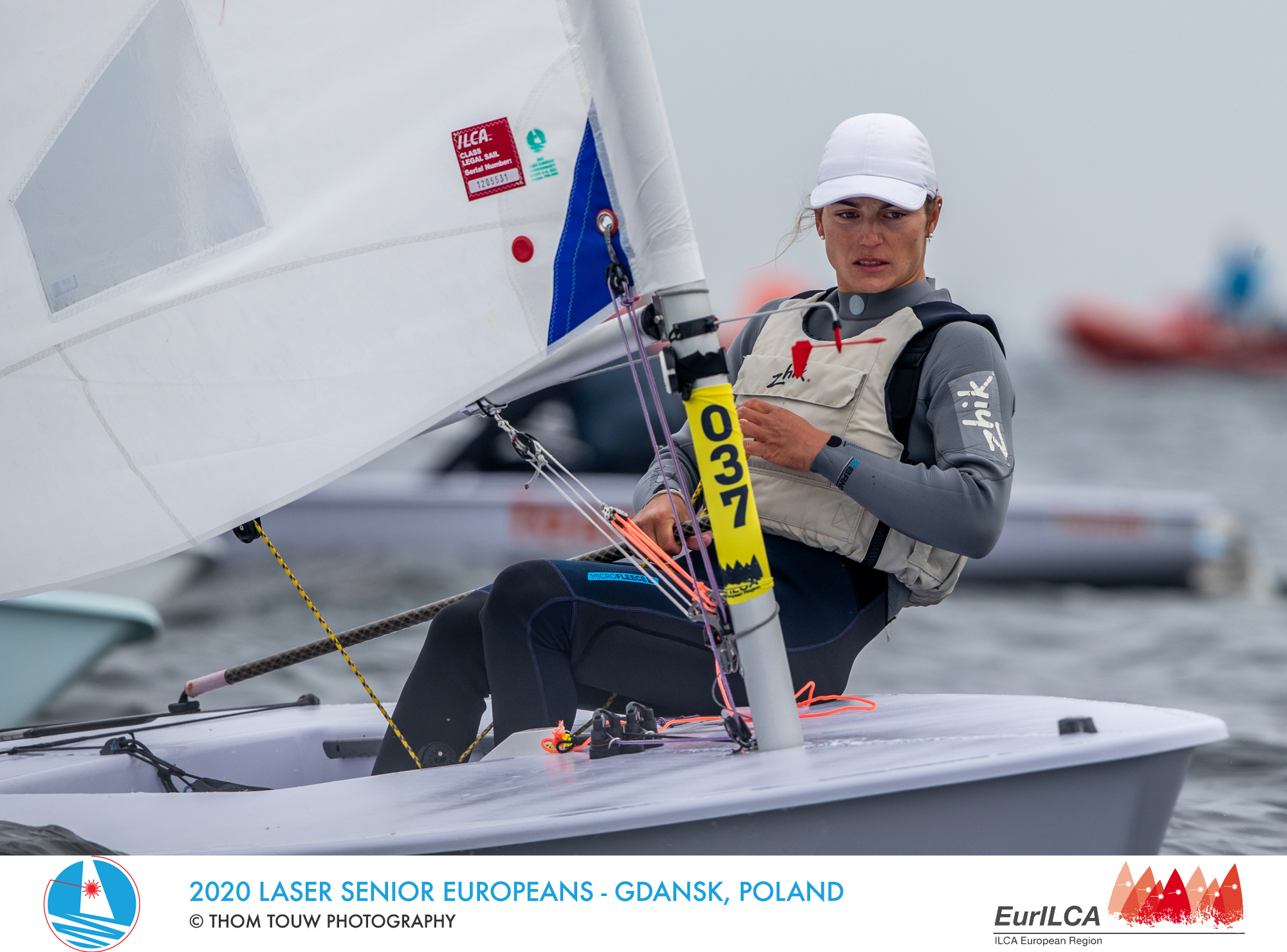 ---
Local sailor Agata Barwinska POL (16-17-23) couldn't repeat yesterday's great performance, dropping from 2nd to 4th with 53 points. Svenja Weger GER (3-12-25) is fifth with 67.
Two points separates the next 4 sailors, ranked 6th to 9th on provisional European Top 10: Maud Jayet SUI –76–, Josefin Olsson SWE –76.2–, Ecem Guzel TUR –78– and Emma Plasschaert BEL –78–. Maxime Jonker NED wraps this list, sharing 87 points with Silvia Zennaro ITA on the 11th place.
Canadian sailor Sarah Douglas CAN is best non-European sailor, holding the 6th place overall with 72 units.
Race Day 5 – Laser Radial Men
Dutch sailor Paul Hameeteman NED (13–12) put some spice today in the Radial Men's championships, scoring her worst two races but still on hold of the first position, although now only 4 points ahead of second Oskar Madonich UKR (6-9). 30 points for the Dutch and 34 for the Ukranian.
I had a terrible day today. Wind pressure was all over the place and I just didnt get I right. Looking forward to some good waves and hiking tomorrow! – Paul Hameeteman NED
Today another hard day has passed in Gdansk, I am glad that I have risen to the 2nd position, we are gaining strength and are preparing for good races tomorrow – Oskar Madonich UKR
---
Some other sailors are also close to the top position, so battle tomorrow promises to be great. Local sailors Przemysław Machowski POL (5-5) and Filip Ciszkiewicz POL (12-10) are third and fourth with 40 and 42 points respectively.
"I did pretty well today. I came to the finish line at the fifth place twice. Tomorrow I hope for some stable conditions and I am gonna fight till my last breath. Show must go on, like gwiazdor sang once" – Przemysław Machowski POL
Tom Higgings IRL and Lukasz Machowski POL are also close to the Medal positions with 45 and 49.
---
The 2020 Laser Senior European Championships & Open European Trophy will finish tomorrow with the last 2 scheduled races. First warning signal for the Laser Radial will be at 11:00, and 11:30 for the Laser Standard. Coaches/Team Leaders online meeting will be at 09:00.
How to follow the event
Daily news and reports
Results / Host venue website
Social networks: IG, FB, TW
Photo galleries
Video gallery
Event Overview
Report by Agustín Argüelles – EurILCA | Cover photo: Thom Touw.