And finally we have our new 2020 Laser Senior European champions!
The 2020 Laser Senior European Championships & Open European Trophy concluded today in Gdansk, Poland, with some last minute surprises!
The day started with a delay onshore due to light breeze. But early in noon the wind raised up as expected and the first round of races started with 12-15 knots from North. For the second bunch of races the wind hadn't varied that much. Quite long waves enlightened the sailing conditions.
Race day 6 – Final results – Laser Radial Women
Everything can happen. That's why we love our sport. And a sort of miracle occurred today on the Radial Women's fleet, where the reigning 2020 World and 2016 Olympic champion Marit Bouwmeester NED (2-1) surpassed our reigning 2019 European champion Anne Marie Rindom DEN (19-16) on this last day and crowned new 2020 Women's Senior European champion for the fourth time in her amazing career.
Anne Marie governed the fleet during the whole event but had a terrible day today, scoring her worst 2 races in the whole championship, ruining the 20 points lead she had this morning.
Marit looked revitalized instead after the Yellow flags penalty received yesterday, and after that DNC she scored her best and awesome 4-1-2-1 results to climb to the top and grab her name on both the Worlds and European titles this year.
What a championship for this two magnificent sailors. We're so happy to have them together on course and enjoying of their amazing sailing. This sportive battle between them is certainly not finished and will relive on next 2021 Laser Senior Europeans in Varna, prelude to their maximum goal, the next 2021 Olympics in Tokyo!
I knew that it would be very difficult. All I could do is sail as good as possible. I've sailed a great day and were lucky that Anne Marie had a difficult day. Which is obviously out of my control – Marit Bouwmeester NED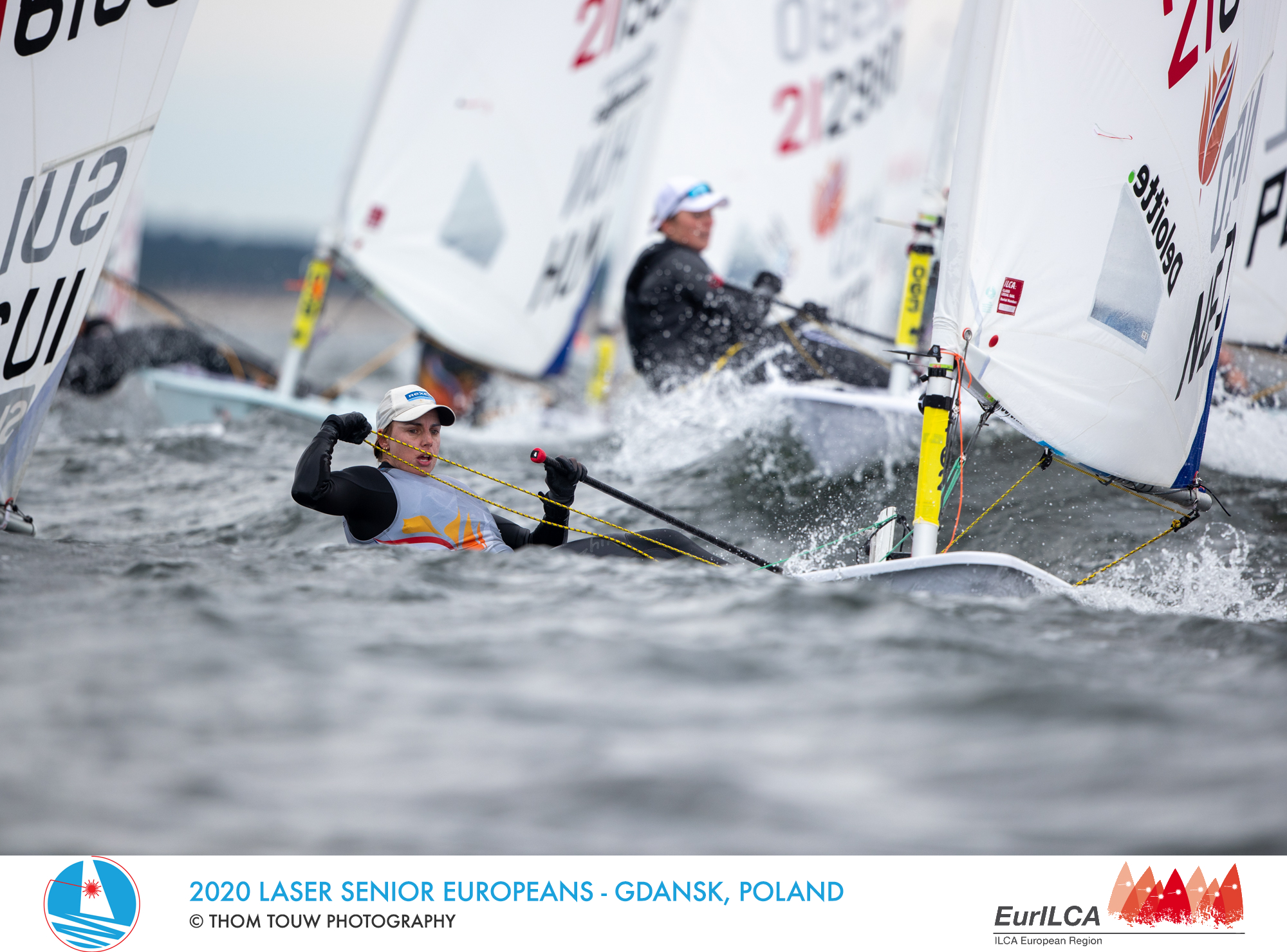 ---
"It was not my day today. I let my emotions effect me today and I sailed under my level. I'm very disappointed and sad but it's a part of sport. I got to learn from it and come back stronger ", confessed Anne Marie.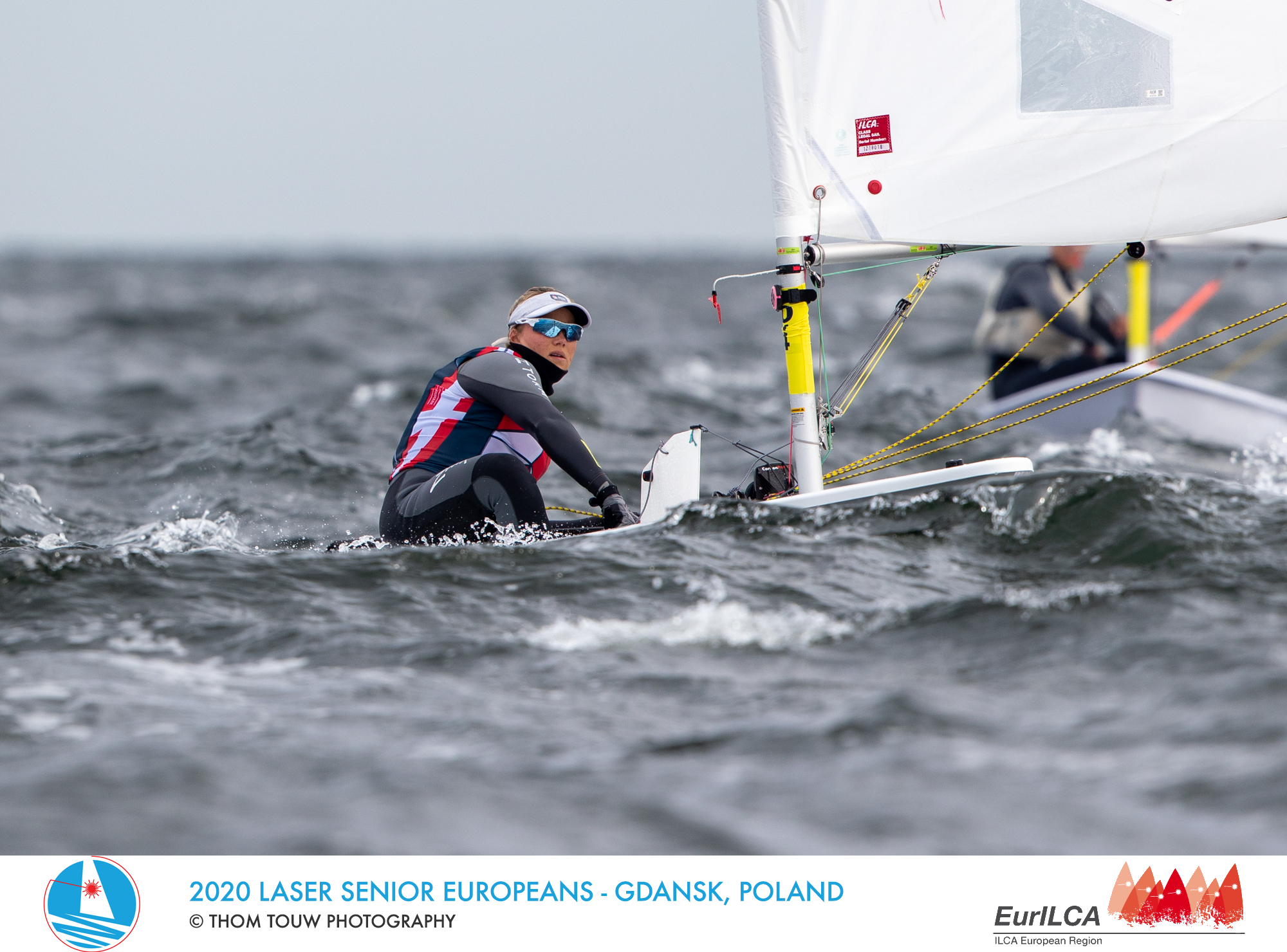 ---
The Bronze medal was finally for local sailor Agata Barwinska POL (15-7), overcoming Greek Vasileia Karachaliou GRE (29-14) by 5 points.
Good day for Swiss sailor Maud Jayet SUI (5-10), climbing to the fifth place overall: "I'm very happy with my performance, obviously wished I could've fought a bit more for the medals but the conditions were very hard and the other girls sailed incredibly well! Very happy as well that we managed to have such an big event during these times so I think we can all be very grateful to the organizers and EurILCA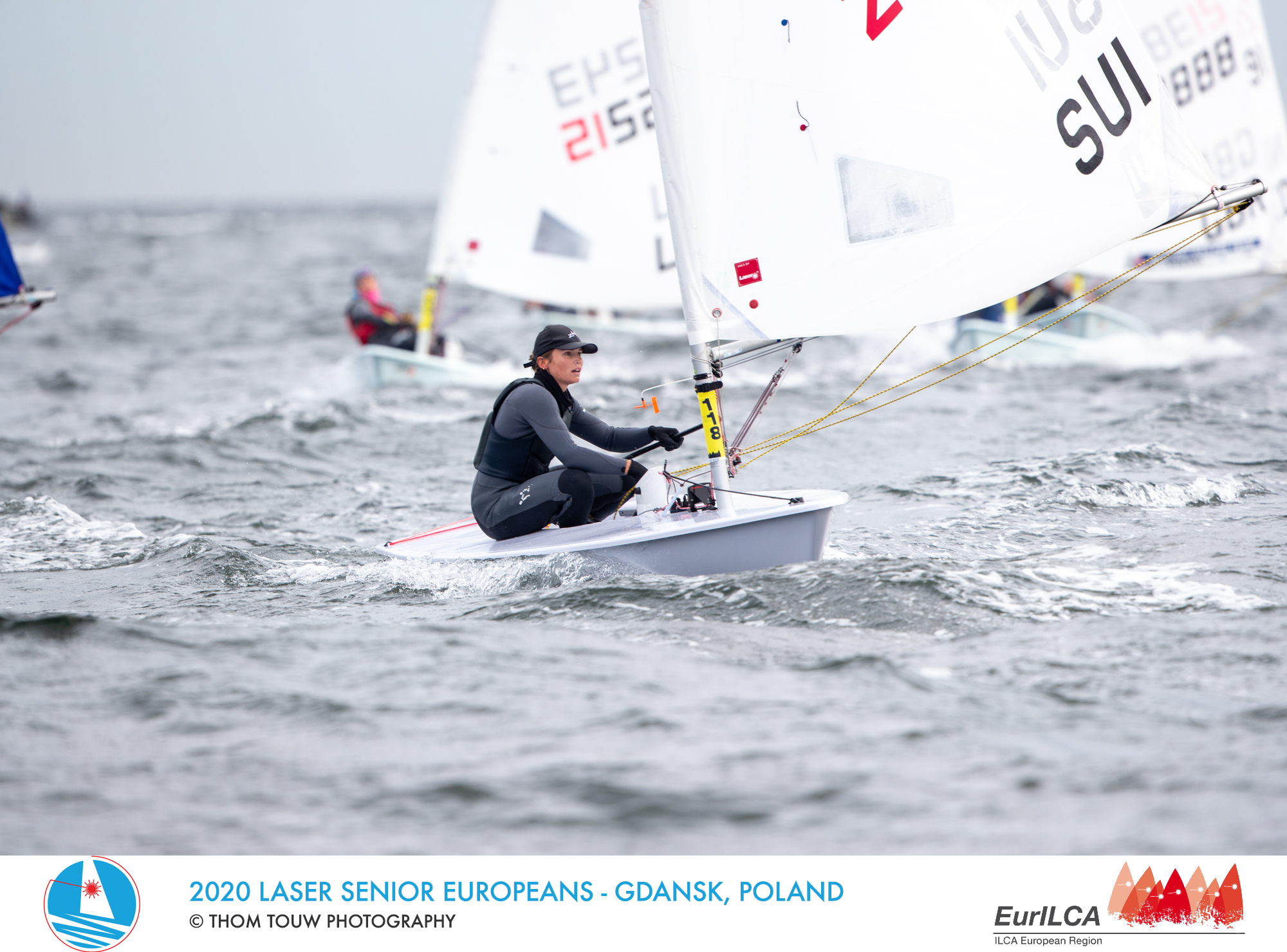 ---
Ecem Guzel TUR, Svenja Weger GER, Silvia Zennaro ITA, Emma Plasschaert BEL and Mirthe Akkerman NED completed the 2020 Senior European Top 10.
Great championship for Canadian sailor Sarah Douglas CAN (1-22), winning a race today and finishing 6th overall on the Open European Trophy.

---
Race Day 6 – Final results – Laser Radial Men
Two other Gold medals are also going for Netherlands this year, with the young sailor Paul Hameeteman NED (4-7) ratifying his supremacy during the whole Radial Men's event and crowning Overall and U21 European champion.
Not the best day for me today, but good enough to take the win. I was playing it a bit too safe today and because of that I had to make some quite big comebacks. Filip was sailing very well today, so it was quite tight if I would get the win or not. Super happy to end this weird season like this!!! – Paul Hameeteman NED
Great day for local sailor Filip Ciszkiewicz POL (3-1) jumping from 4th to 2nd place and winning the Silver medal.
Bronze overall and Silver U21 medal for Ukranian Oskar Madonich UKR (9-8). Bronze U21 medal for local Przemysław Machowski POL (16-6), finishing fourth overall.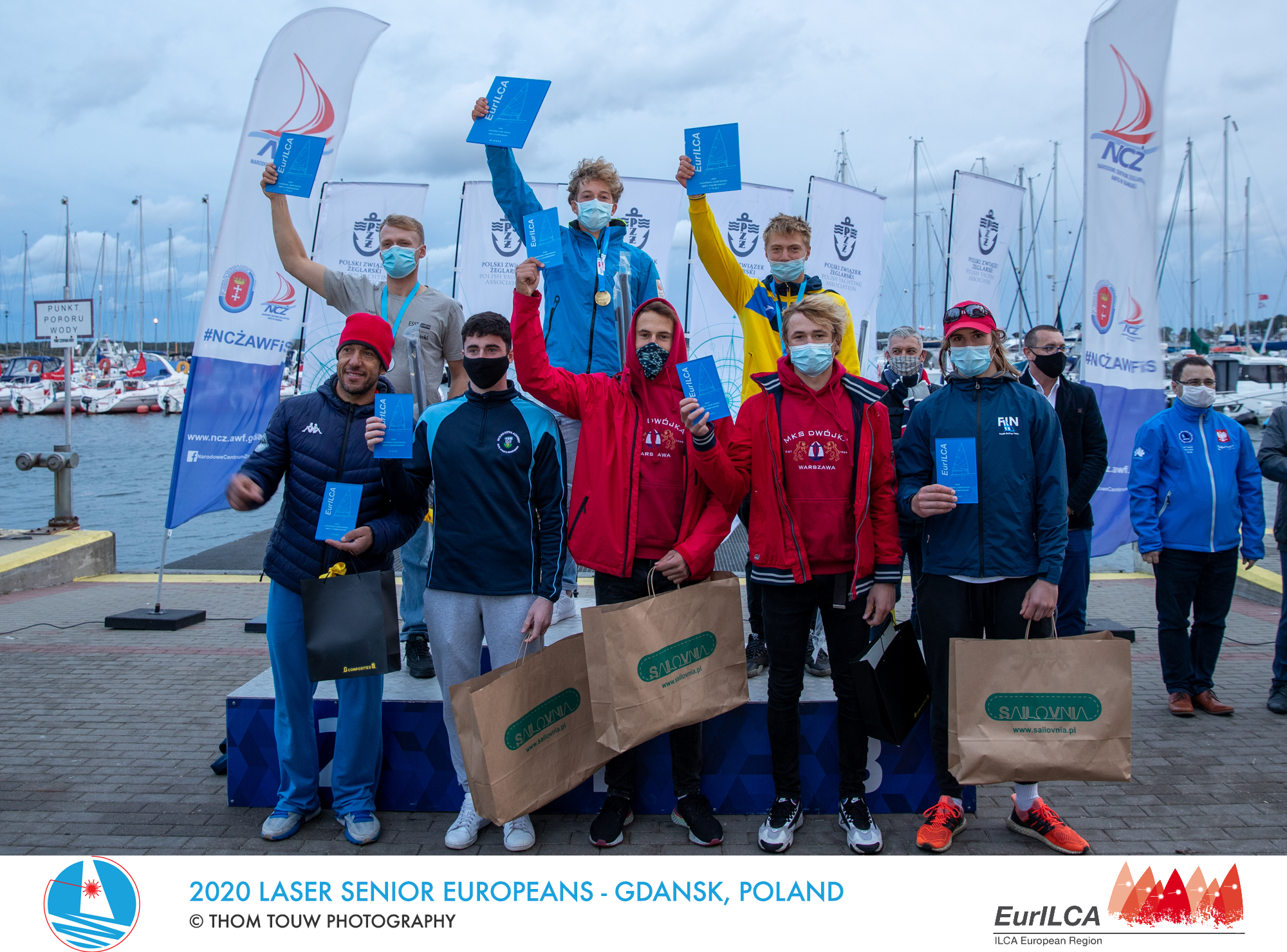 ---
Race Day 6 – Final results – Laser Standard
And finally the Brit squad confirmed they wanted the whole podium for them on the Laser Men's championship, but with a little surprise in the end, with their next Olympic representative Elliot Hanson GBR (11-5) overcoming Michael Beckett GBR (17-14) in this last two races and conquering the Gold medal. Silver for Mickey and Bronze for the 2019 European champion Lorenzo Chiavarini GBR (10-19).
I wouldn't have cared which one of us won today. To lock out the podium with 2 of your best mates since I was 11 years old is something special in the laser fleet and something I'll hold on to for a long time 🇬🇧 – Elliot Hanson GBR
"Very very happy! With only 6 days sailing pre event I definitely wasn't expecting this result! A big thanks to Nick Thompson who kept me on the right track! I enjoyed every moment of this event. Over the moon to come away with a medal along side the Brit Lads :P", emphasized Lorenzo.
Almost there on podium was Croatian Filip Jurisic CRO (16-3), finally fourth with same points than third.
Good championship for Russian Sergey Komissarov RUS (2-8), wrapping the event with nice results and climbing to the fifth place overall.
A second discard today allowed the 2020 World champion Philipp Buhl GER (1-7) to drop his two Black flags from score and jump to the Top 10 for the first time in the event, conquering the 6th European place.
Joel Rodriguez ESP, Tonci Stipanovic CRO, Jonatan Vadnai HUN and Jean Baptiste Bernaz FRA completed the European Top 10.
Charlie Buckingham USA (7-54) finished 6th overall in the Open European Trophy.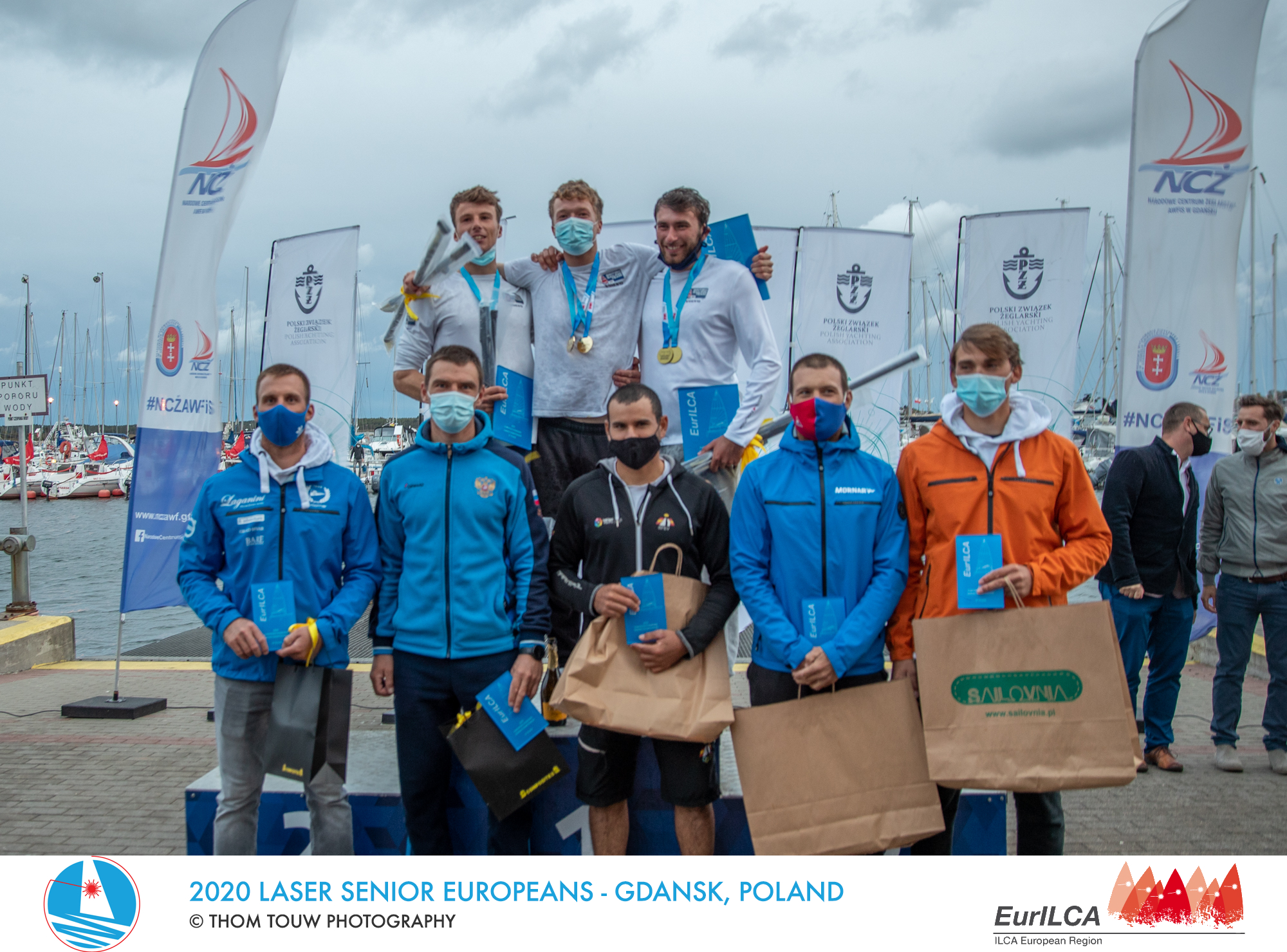 ---
This way the 2020 Laser Senior European Championships & Open European Trophy have finished and we want to send a huge thank to the Polish Sailing Association and all the people who helped us this event come true after various changes and cancellations due to the pandemic situation.
How to review the event
Daily news and reports
Results / Host venue website
Social networks: IG, FB, TW
Photo galleries
Video gallery
Event Overview
Report by Agustín Argüelles – EurILCA | Cover photo: Thom Touw.