We tried until the end to have new races today for closing the 2021 EurILCA Under 21 European Championships & Open European Trophy in Tivat, Montenegro. But the lack of wind made it finally impossible.
First warning signal was scheduled at 12:00 but the wind only arrived around 14:30. Last warning signal time was 15:00 so the Race Committee rapidly moved to start a couple of races at least, but two general recalls vanished those last chances.
This way all results stayed as they were yesterday, crowning Cyprus sailor Marilena Makri CYP and German sailor Julian Hoffmann GER our new 2021 EurILCA Under 21 European champions!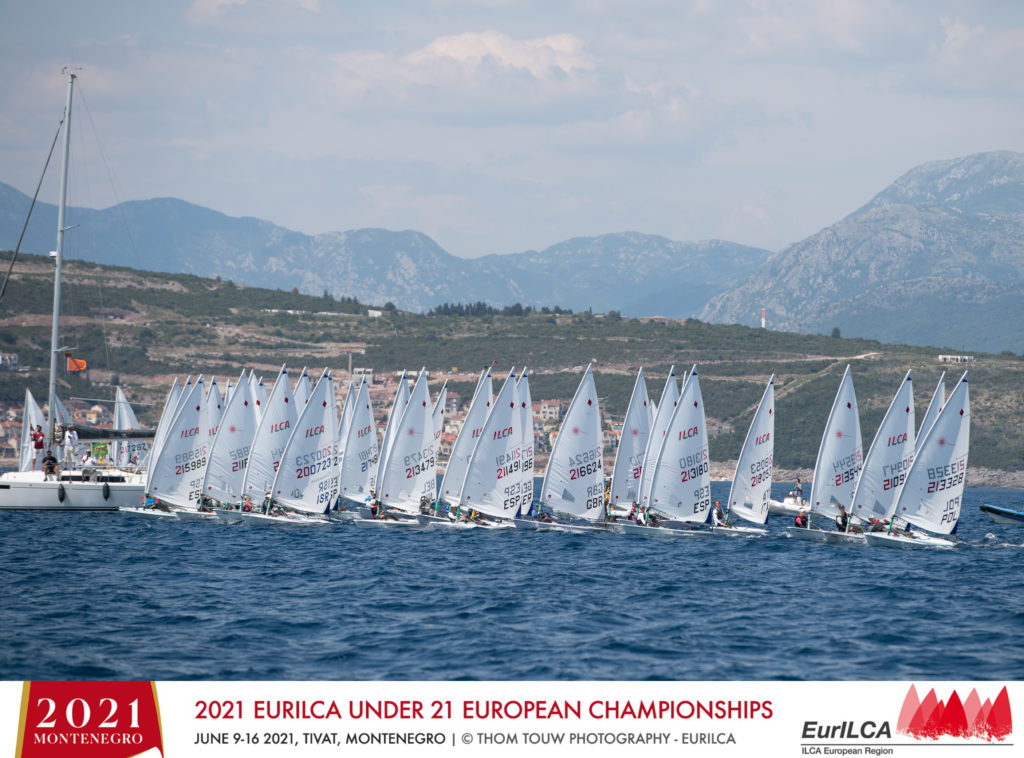 ILCA 6 – Final results
5-1-4-3-3-5-5-5-1 was the terrific and consistent performance showed by Marilena Makri CYP during the 9 races of this Under 21 Europeans, finishing the championship with 27 points and a "5th" discard. Undoubtedly an amazing job that well deserves the Champion's title.
Marilena will be the ILCA6 Cyprus Olympic representative on next month in Tokyo, so we trust this triumph will serve her to keep fighting and move forward onto her next Olympic dreams.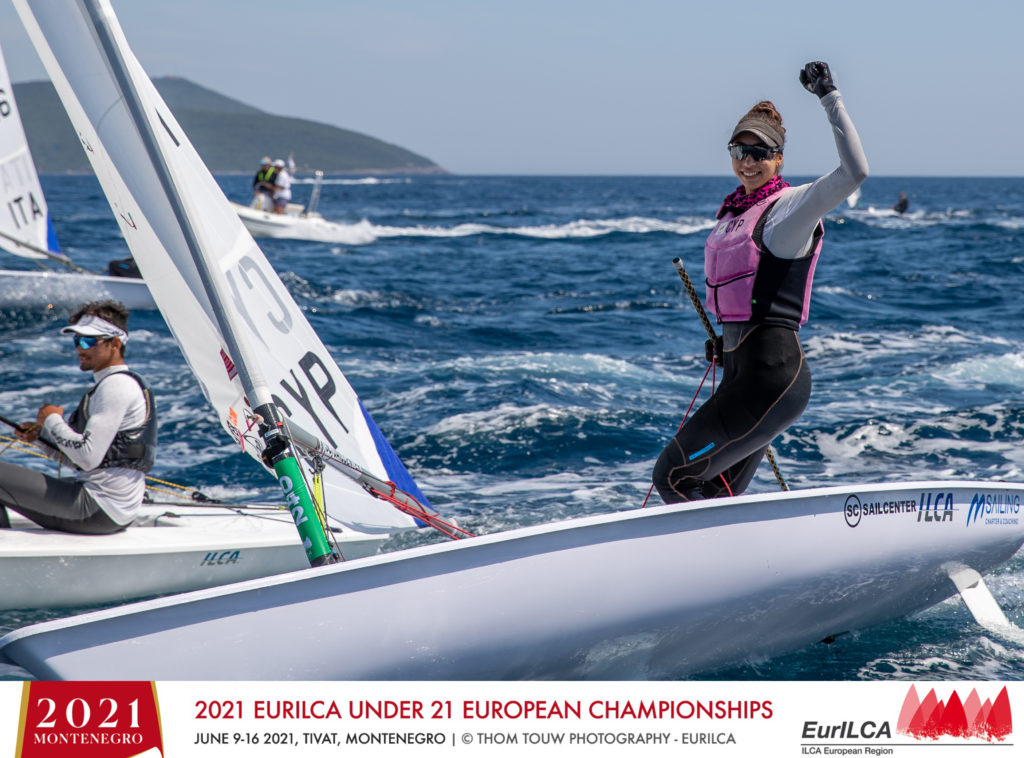 ---
The second and third places were for other great and well known youth European sailors: Chiara Benini ITA and Alessia Palanti CZE. The Italian sailor –2019 Youth Sailing World Champion and 2017 Laser 4.7 Youth Champion– alternated the leadership with Marilena within the week, and finished finally second with 32 points. The Czech sailor –2019 Laser 4.7 Youth European champion in Hyeres– completed the overall podium on third with 41 units.
Leaving out the first two regattas in which she added more than 80 points, the Irish sailor Eve McMahon IRL later became the best of the sailors considering the last 7 races, adding only 23 points compared to the 26 collected by the champion. Undoubtedly a fantastic championship for her also and a promising future.
Completing the European top 10 we had Ana Moncada ESP, Giorgia Cingolani ITA, Sara Savelli ITA and Matilda Nicholls GBR on places 5th to 10th respectively.
ILCA 7 – Final results
With 3 first spots, 1 second and 2 third spots, the German sailor Julian Hoffmann GER conquered the Men's U21 championship with 19 points. Only on the last day he could surpass previous leader Leopoldo Barreto ESP, who was finally second with 25. The third place on podium was for the Swiss sailor Gauthier Verhulst SUI with 43.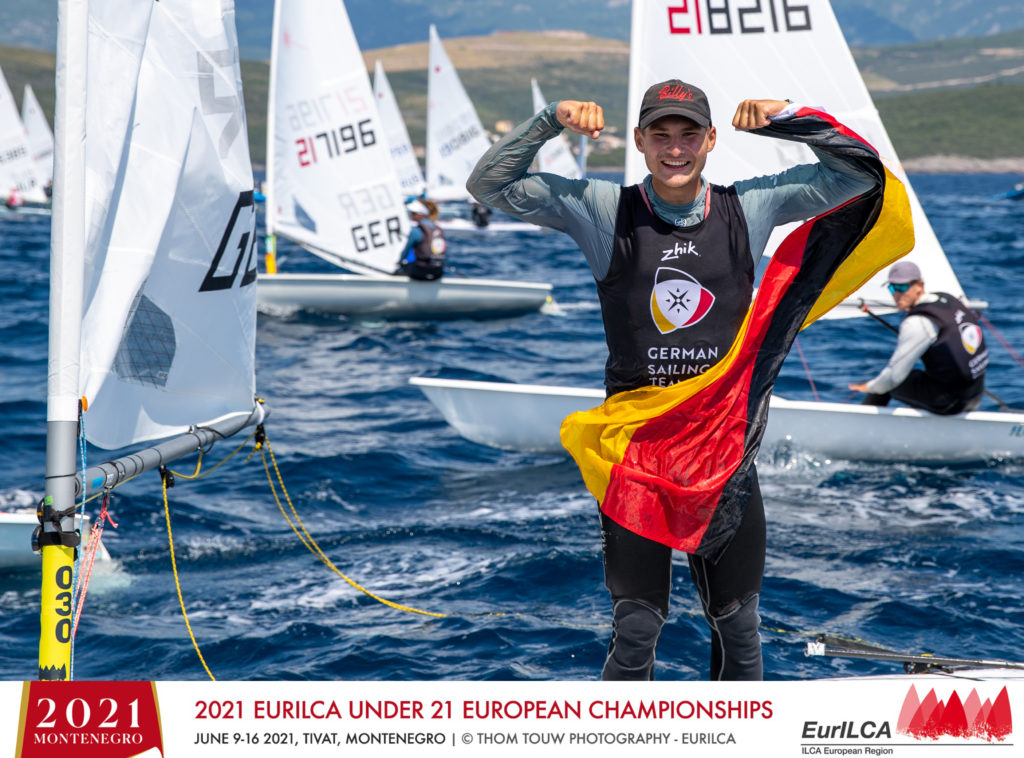 ---
The Boy's Under 19 championship was finally for Polish Michal Krasodomski POL, who finished fourth overall with 56 points. Thomas Flachon FRA (13th) and Theodor Middelthon NOR (14th) accompanied Michal on the U19 podium.
Justin Barth GER, Bruno Gaspic CRO, Ricard Castellvi ESP, Yigit Yalcin Citak TUR, Nico Naujock GER and Cesare Barabino ITA completed the overall top 10 ranking.
128 youth sailors from 29 different countries have been part of this championships, greatly managed by Yacht Club Delfin and Lustica Bay.
Photo galleries – 2021 EurILCA Under 21 Europeans
---
Report by Agustín Argüelles – EurILCA | Photos by Thom Touw.