The 2022 EurILCA Europa Cup Italy concluded today at Circolo Vela Torbole, with the wonderful participation of 512 sailors representing 24 countries, including the class legend Robert Scheidt BRA and various Olympic sailors such as Shai Kakon ISR, Marilena Makri CYP, Elena Vorobeva CRO, Silvia Zennaro ITA and Gintare Scheidt LTU.
The racing started at 13:00 today as per scheduled. The Race Committe decided to set two courses: course A for all the 3 ILCA 6 fleets and the ILCA 7, and course B for all 3 ILCA 4.
The wind conditions were very tricky and lighter than in the previous days, with a breeze varying from 9 to 14 knots.
After 8 races, the new champions in all 3 classes and their respective categories were awarded with their prizes at the closing ceremony. Congratulations to all the sailors, organisers and volunteers for such a wonderful event. Don't miss the event review made by Robert Scheidt in the video below.
ILCA 7 results – 2022 EurILCA Europa Cup ITA
The class legend Robert Scheidt BRA dominated the actions from the beginning, and after winning six of the eight races played he got the ILCA 7's top spot overall with 8 points, followed by three Under 21 Italian sailors: Attilio Borio ITA, Roberto Rinaldi ITA, and Pietro Giacomoni ITA with 30, 55 and 57 units respectively.
ILCA 6 results – 2022 EurILCA Europa Cup ITA
Mattia Cesana ITA was the ILCA 6 overall champion, followed by first Under 17 Antonio Pascali ITA. Enrico Tanferna ITA completed the overall podium. The Women's championship was for Chiara Benini ITA, finishing 6th overall, followed by Giorgia Della Valle ITA and Nazli Cagla Donertas TUR.

ILCA 4 results – 2022 EurILCA Europa Cup ITA
The ILCA 4 changed hands completely on this last day. With a bad performance of the overnight leaders, the overall championship was finally for Tomasso Defontes ITA, followed by the Under 16 sailors Rayene El Haddadi ITA and Mattia Di Lorenzo ITA. Ginevra Caracciolo ITA was finally the girl's champion, followed by and Alenka Valencic SLO and Sofia Visnovic ITA.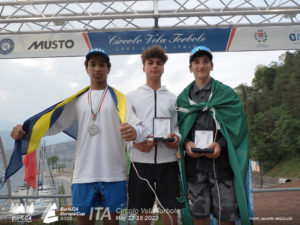 ---
Closing ceremony / Prize giving photos here.
---
---
The next event of this 2022 EurILCA Europa Cup Trophy will be in Dziwnow, Poland, right before the 2022 EurILCA 4 Youth Europeans. All information and registration to this event you can find it here: 2022 EurILCA Europa Cup POL.
After all 10 scheduled events, the 2022 EurILCA Europa Cup Trophy's winners will be awarded with a brand new sail. Overall results – 2022 EurILCA Europa Cup Trophy.
Keep Smiling Keep Sailing,
The EurILCA Team
---
Report and photos by Agustín Argüelles.