The third day of races –first of the Final series– of the 2022 EurILCA Europa Cup Italy was held today in Garda, organised by Circolo Vela Torbole.
It was the first day for the ILCA 6 and ILCA 4 sailing in Gold, Silver and Bronze fleets, according to their results in the past two days.
The Race Committe planned only one course for today, sending the 3 Gold fleets first to the field at 12:00. The races started at 13:00 as per scheduled.
The ILCA 6 Silver / Bronze and the ILCA 4 Silver / Bronze were sent to the water at 14:45.
The wind conditions were ideal again, with a breeze increasing from 12 to 18 knots along the day.
After two new races, all the championships are counting six now in total.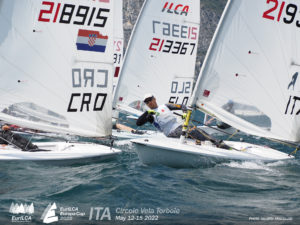 ---
The major news in the ILCA 7 fleet today was that the class legend Robert Scheidt BRA resigned a first place for the first time in the event, crossing the line in the last race after the reigning 2022 EurILCA 6 Men's European champion Stipe Gaspic CRO (18th overall). With five wins and a second place, Robert is comfortably leading the championship with 5 points, followed by the local Under 21 sailors Attilio Borio ITA and Pietro Giacomoni ITA, with 18 and 24 units respectively. The third U21 place is for Roberto Rinaldi with 50 points in the 7th place overall.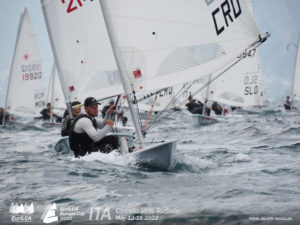 ---
The ILCA 6 is still in hearing process. The provisional results before the jury's decisions shows Mattia Cesana ITA on top of the fleet with 13 points, followed by Antonio Pascali ITA and Matteo Bertacchi ITA, with 18 and 31 points respectively. Chiara Benini ITA is the Women's leader now, ranked in 4th place overall with 33 points, followed by Louise Cervera FRA (35 pt) and Silvia Zennaro ITA (39 pt).
The overnight ILCA 4 leaders Nicolo Cassita ITA (23-8) and Tedi Leonardelli CRO (26-1) scored a bad first race today and dropped to the 6th and 4th places overall respectively. The fleet is headed now by Luca Centazzo ITA (1-4) with 11 points, followed by the Under 16 leader Omer Vered Vilenchik ISR (12-3) and Salvatore Falchi ITA (4-15), with 21 and 26 points respectively. Ginevra Caracciolo ITA continues to lead the girl's championship with 72 points, ranked in the 17th place overall. Clara Lorenzi ITA (1st girl U16 – 23rd overall) and Gaya Datiashvili ISR (24th) complete the girl's provisional overall podium.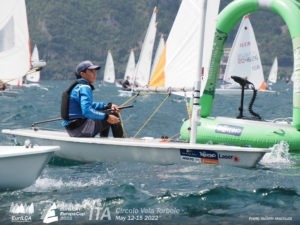 ---
---
Race day 3 photo gallery here.
The last 2 races are coming tomorrow, with the first warning signal at 13:00 for all fleets.
Keep Smiling Keep Sailing,
The EurILCA Team
---
Report and photos by Agustín Argüelles.