Great news arrived today from the Tokyo 2020 Olympic Games, where our European sailors won 5 of the 6 medals on ILCA Dinghy's Women and Men classes.
Tonci Stipanovic CRO and Hermann Tomasgaard NOR were Silver and Bronze on Men's fleet, while Anne Marie Rindom DEN, Josefin Olsson SWE and Marit Bouwmeester NED conquered the Women's podium in full.
Men's results – 2020 Tokyo Olympics
Men's Gold medal was for the Australian sailor Matthew Wearn AUS, who had already secured it before the Medal Race today, making it 3 Gold in a row for his country in this class, following on from Tom Slingsby at London 2021 and Tom Burton at Rio 2016.
"It's a special thing to be able to continue that Australian legacy in the Laser. After my first day when things hadn't gone so well, I really had to dig deep, to work on my mental strength to get me back up there again. It's amazing to have this moment and thank you to the people of Japan for making this happen." Matt Wearn AUS
Tokyo's was second medal in three Olympics for Croatian Tonci Stipanovic CRO, who got the same prize in Rio and a fourth place in London.
First Games for Hermann Tomasgaard NOR, premiering them with a Bronze medal.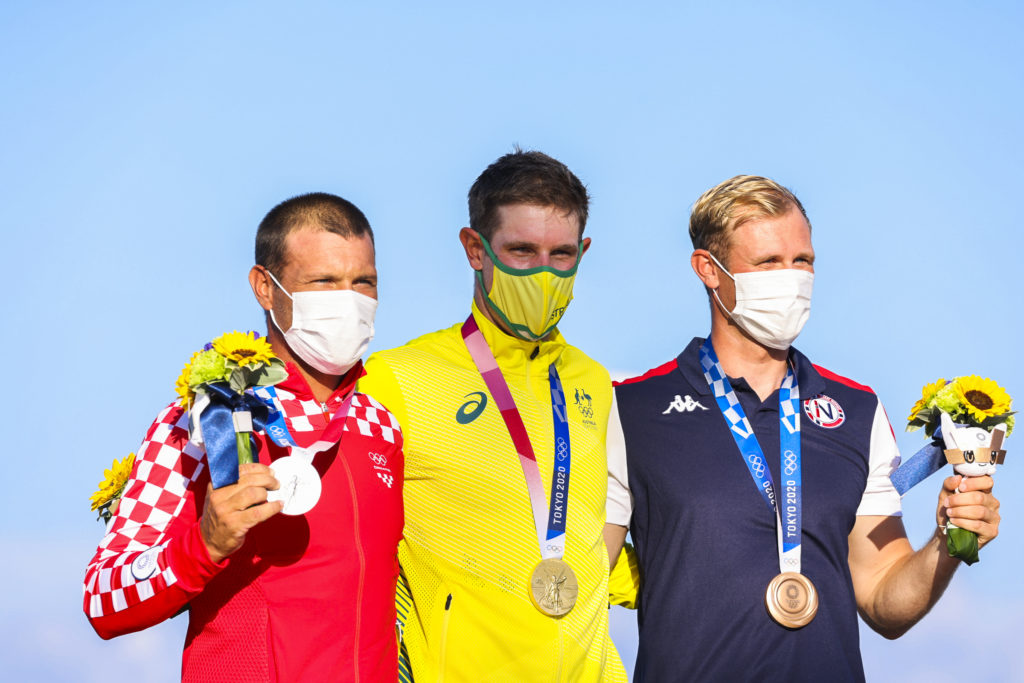 ---
Pavlos Kontides CYP was fourth in his fourth Olympics, only 3 points out of podium. He started with a 13th place in Beijing 2008. Then a Silver medal –first Olympic medal for Cyprus ever– after a memorable Medal Race with Slingsby in London 2012, and 7th in Rio 2016. "Thank you all for your support all these days. It is always tough to be in the first spot off the podium", declared Pavlos on his social networks.
Reigning World champion Philipp Buhl GER was fifth on his second Games after a 14th place in Rio.
French sailor Jean Baptiste Bernaz FRA was the winner of the Medal Race today and finally ranked 6th overall. This are the fourth Olympic Games to him, all of them finishing among the Top 10: 5th in Rio, 10th in London and 8th in Beijing.
Eighth place overall for our class legend Robert Scheidt BRA, who started his Olympics career in Atlanta 1996 –first Olympics for the Laser class also–. Winner of 5 Olympic medals along all this years on the Laser and Star classes, this 48 age years old sailor wanted to make them six at the end of his enormous career. He tried and he was close at Rio 2016, finishing fourth and only 4 points out of podium. Tokyo could be the last Games for this terrific sailor on our physically demanding boat but we are talking about Scheidt, so we never know. Congrats and thank you Robert for all you have given and are giving to the class and the sport of Sailing during all this years.
Women's results – 2020 Tokyo Olympics
Third Olympics and second medal for Anne Marie Rindom DEN. She was 13th on her first event in London 2012, Bronze in Rio 2016 and Gold now in Tokyo.
"Well, so far, it's pretty great!" said Anne Marie about being Olympic champion.
Asked about the Medal Race today she explained; "After the start, it was going kind of easy, but then it kind of crumbled beneath me. I just lost everything on downwind leg. And then my self-bailer didn't work because there was so much seaweed stuck in it and we had never sailed in so much seaweed out there as I saw today. The boat was filling up with water. So many things went wrong but I just kept fighting. I told myself to just keep breathing, take a deep breath and keep working hard until the end."
---
Third Games also for the Olympic vice-champion and Medal Race's winner today, Josefin Olsson SWE. This is the first medal for her after being 18th in London and 6th in Rio.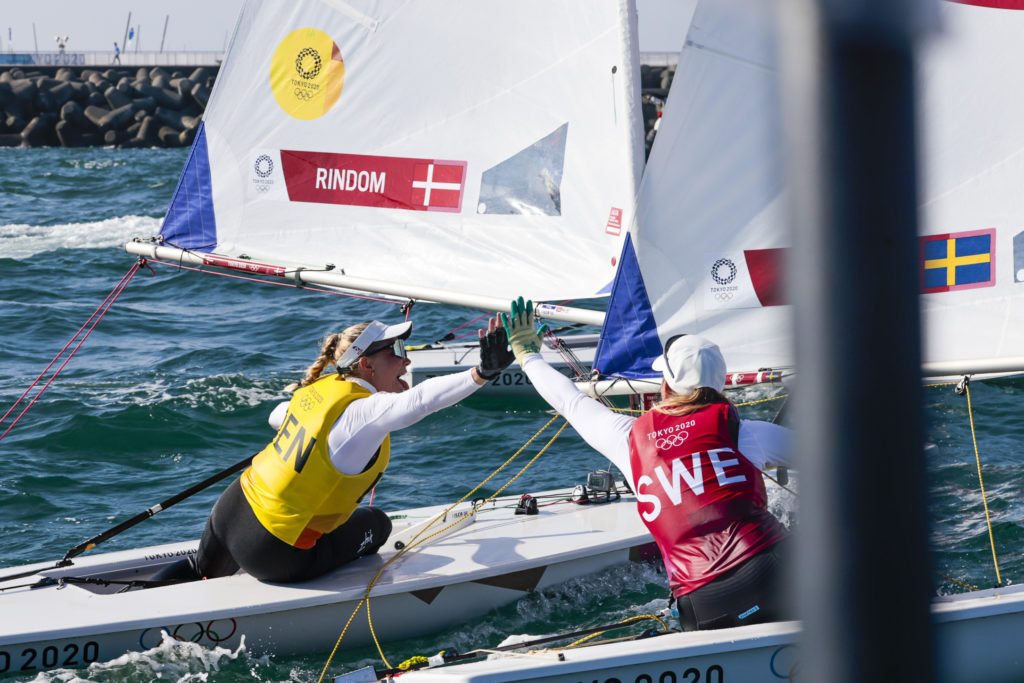 ---
Always strong candidate Marit Bouwmeester NED could only get Bronze this time after being Gold in Rio 2016 and Silver in London 2012. A little bit disappointing result for her although being her third medal in the three Olympic Games she was part of. "The way I race, I race for only one medal. For me, there is only one medal, and I didn't win it. I've let down my team, I've let down my brother (Roelof, her coach)", declared Marit after the Medal Race in Tokyo.
Emma Plasschaert BEL was fourth, only 4 points out of the podium. This were the first Olympics for her. "4th at the Olympic Games. Although I gave it all and I am very proud of this result, it also feels a bit disappointing at the moment. More reflections will follow soon", were first impressions Emma wrote on his social networks.
Tuula Tenkanen FIN on fifth, Silvia Zennaro ITA on seventh, Line Flem Hoest NOR on eight, Vasileia Karahaliou GRE on ninth and Alison Young GBR on tenth completed the Top 10 Olympic ranking.
Canadian Sarah Douglas CAN was the only non-European sailor ranked among the Top 10.
The next Games will be in just 3 years this time so let's start campaigning for Paris 2024!
Full results – 2020 Tokyo Olympic Games
---
Report by Agustín Argüelles – EurILCA | Photos: Sailing Energy – World Sailing.