EurILCA Master ESP´s regatta dinner in Calella is also the annual prize giving to celebrate the age group champions for the 2022 EMS season.
In addition, all sailors who raced in 3 or more EMS regattas were entered into a prize draw for new sails. We thank Devoti Sailing for their generous support for a total of 6 sails. There were 3 separate draws with one sail for ILCA 6 W, two sails for ILCA 6 M and three sails for ILCA 7 based on eligible entries for the draw.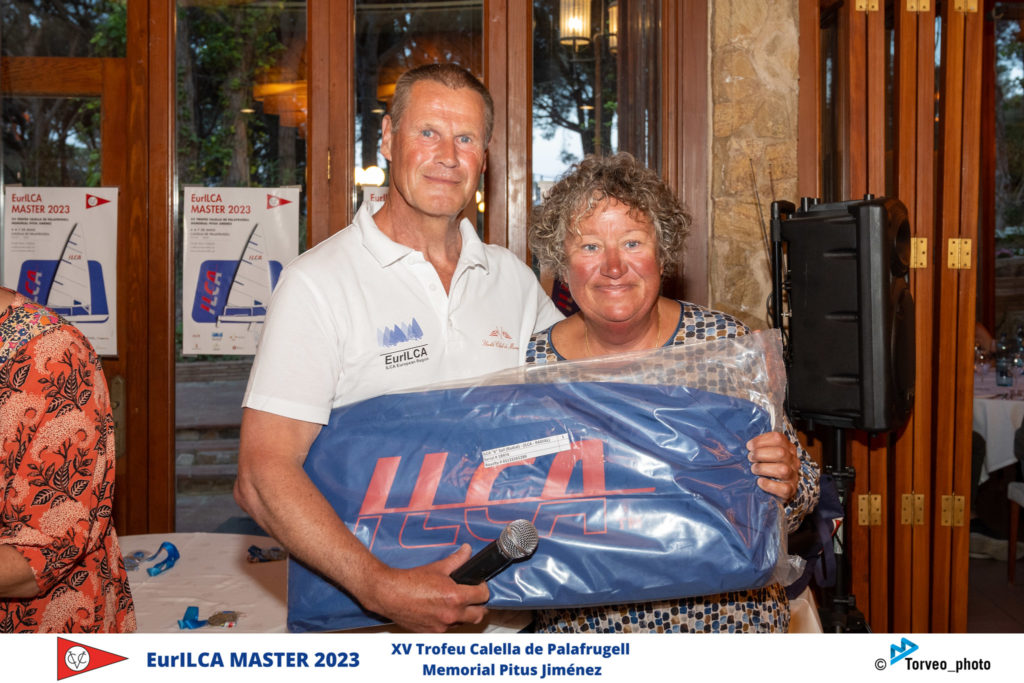 ---
The winners of those sails were Claudine Tatibouet FRA, Jaap Mazereew NED, Glyn Purnell GBR, Jack De Rijk NED, Ian Elliott CAN SWE and Beat Heinz SUI. Unfortunately, not all winners were at the dinner and their sails were collected by a fellow countryman.
We plan to repeat the sail draw each year.
Ahead of the sail draw and prize giving, Alan Davis, EurILCA Master Coordinator, invited Tim Law to pay tribute to Wolfgang Gerz who sadly and unexpectedly passed away in April. A well known and highly respected sailor who was a regular at Calella.
Calella is a very beautiful town on the Costa Brava and a firm favourite for the ILCA masters. This year Calella attracted near record numbers of 115 sailors with the full 9 race schedule being held in challenging conditions. Our thanks go to all the volunteers who make our events possible.

---
2022 EurILCA Master Series overall champions
ILCA 7
Ian Elliot CAN – ILCA 7 Apprentice Master
Johan Lindstedt SWE – ILCA 7 Master
Roberto Bini ITA – ILCA 7 Grand Master
Tim Law GBR – ILCA 7 Great Grand Master
ILCA 6 Men

Carlos Silva MEX – ILCA 6 Apprentice Master
Sebastien Baudier FRA – ILCA 6 Master
Wilmar Groenendijk NED – ILCA 6 Grand Master
Max Hunt GBR – ILCA 6 Great Grand Master
Henk Wittenberg NED – ILCA 6 Legend
ILCA 6 Women
Alice Grassi ITA – ILCA 6 Apprentice Master
Alexandra Behrens GER – ILCA 6 Master
Ann Lorén SWE – ILCA 6 Grand Master
Isabelle Arnoux FRA – ILCA 6 Great Grand Master