We're proud to inform that our Sustainability Programme has been shortlisted by World Sailing as one of the four exceptional finalists for the 2022 World Sailing 11th Hour Racing Sustainability Award, representing the full spectrum of global sustainability initiatives within sailing and the marine industry.
The World Sailing 11th Hour Racing Sustainability Award celebrates the delivery of high-impact, highly-replicable sustainability initiatives, aligned to World Sailing's Sustainability Agenda 2030.
Public voting to help determine a winner will be open from Tuesday 27 September so we need you to vote for us! (link here).
The winner announced at the World Sailing Awards on Tuesday 25 October 2022 will receive a $10,000 USD prize to help further their sustainability activities, as well as an iconic trophy made from recycled carbon fibre.

About EurILCA Sustainability Programme
EurILCA started this program in 2020, concerned about the increasing amount of pollution in our playground waters. Prompted by young sailor Asya Ikizler, who volunteered to lead this project, and the support of Jean Luc Michon –EurILCA's chairperson– and Agustín Argüelles –EurILCA's Social Media and Website manager–, we started raising awareness about the oceans pollution in our Social Media and taking actions to avoid thousands of plastic stickers and single-use items in our European Championships.
From 2022, specific sustainability requirements are included in the contract signed between EurILCA and clubs hosting the events. These initiatives also inspired clubs that are not hosting our events to contact EurILCA, and take sustainability initiatives for their local events.
We're glad to see within these first years we could manage to make a replicable project that is low cost, applicable and adaptable to all class regattas in all countries. But we won't stop here at all. Nature need us to make our best to stop harming our planet and there's no time to wait. Therefore, further sustainable sailing actions will come along.
EurILCA's Sustainability Programme is an open and collaborative project so would you join us!? Whether you are a sailor, coach, race organizer or sailing fan, we would love to count with your help as volunteer. This way we'll have more hands on deck to develop our sustainability actions faster.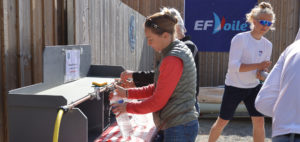 Please visit https://eurilca.org/sustainability-programme/ to learn more about the project.
Follow the hashtag #eurilcasustainabilityprogramme to keep up to date with our latest news.
#SailingAllTogether
The EurILCA Team
---
Report by Agustín Argüelles – Media Manager – EurILCA.