Once again our brave European representatives showed a great performance in a World championship, this time winning all 12 medals at the 2022 ILCA 4 Youth Worlds held in Vilamoura, Portugal.
Boy's final results – 2022 ILCA 4 Youth Worlds
Italian sailor Niccolo Cassita ITA –Silver medalist in our recent 2022 EurILCA 4 Youth Europeans in Poland–  was Gold and twice in Portugal, winning both the Boy's and Boy's U16 championships after 9 races, tied in points with Silver Boy's medalist Dionysios Kalpogiannakis GRE –6th at the Europeans–. Max Frank NED –13th at the Euros– from Netherlands was third overall with 48 and got the Boy's Bronze medal.
Omer Vered Vilenchik ISR –4th overall and 3rd U16 in Poland– and Alexandros Kyfidis GRE –33rd overall and 11th U16 at the Europeans– were the Silver and Bronze winners in the Under 16 category.
Boys Top 5 overall

Nicoló Cassitta ITA – 38 pts
Dionysios Kalpogiannakis GRE – 38 pts
Max Frank NED – 48 pts
Omer Vered Vilenchik ISR ­– 49 pts
Massimiliano Antoniazzi ITA – 54 pts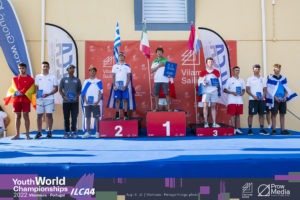 Girl's final results – 2022 ILCA 4 Youth Worlds
Girl's Gold medal was also for Italy, with Ginevra Caracciolo ITA –9th at the Europeans– finishing first overall after 9 races with 28 points. The Silver Girl's and Gold Under 16 medals were for the Ukranian sailor Alina Shapovalova UKR –33rd overall and 8th U16 in Poland– with 38. Bronze Girl's medal was for our also Bronze medalist in the 2022 EurILCA 6 Youth Europeans in Thessaloniki Petra Marendic CRO with 50.
Greek sailor Hermione Ghicas GRE –11th overall and Bronze U16 medalist in Dziwnow– won the Girl's U16 Silver medal after finishing 4th overall with 65. The Bronze U16 medal was for our reigning EurILCA 4 Youth European overall and U16 champion Irene de Tomas Perello ESP, finishing 11th overall with 94 units.
Girls Top 5 overall
Ginevra Caracciolo ITA – 28 pts
Alina Shapovalova UKR – 38 pts
Petra Marendic CRO – 50 pts
Hermionie Ghicas GRE – 65 pts
Adriana Castro Nunez ESP – 83 pts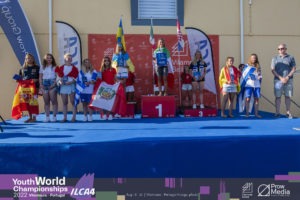 358 European sailors and 68 non-European participated of this event, organised by Vilamoura Sailing.
The next 2023 ILCA 4 Youth World Championships will be in Volos, Greece, from July 22-30 2023.
---
Report by Agustín Argüelles – Media Manager – EurILCA | Photos by OSGA Photo.