Our youth European representatives shone once again in a World championship, this time winning 11 of the 12 medals at the 2022 ILCA Under 21 World Championships raced in Vilamoura, Portugal.
It was a hard and challenging competition, with only 7 races and very light wind.
Belgian sailor Eline Verstraelen BEL was the U21 Women's champion in ILCA 6, while the recent ILCA 6 Youth Men's European champion in Thessaloniki, Ole Schweckendiek GER, won both the U21 and U19 Men's Gold medals in ILCA 7.
ILCA 6 results – 2022 ILCA Under 21 Worlds
6 points behind Eline finished the Irish sailor Eve McMahon IRL, winning the Gold U19 and Silver U21 medals. It was the fourth consecutive Gold medal this year for Eve, after being ILCA 6 Youth European champion in Greece, ILCA 6 Youth World champion in USA and Youth Sailing World champion in Netherlands.
Bronze overall medal was for Giorgia Della Valle ITA, U21 World champion in the last 2021 edition.
Women's U19 podium was completed by Pia Conradi GER and Claudia Adan Lledo ESP, finishing 7th and 10th overall respectively.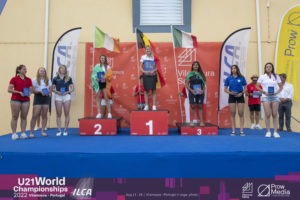 ILCA 7 results – 2022 ILCA Under 21 Worlds
Only 1 point has finally separated the first 3 sailors in the ILCA 7 U21 podium, with José Mendes POR –Silver– finishing 1 point behind Ole, and the 2021 U21 European champion Julian Hoffmann GER –Bronze– finishing 1 point behind José.
Lorenzo Mayer FRA won the U19 Silver medal after finishing 4th overall. Sebastian Kempe BER from Bermuda was the only non European medalist, getting the U19 Bronze by finishing 5th in the overall ranking.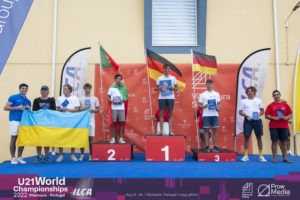 ---
238 sailors participated of this event, organised by Vilamoura Sailing.
The next 2023 ILCA Under 21 World Championships will be in Tangier, Morocco, from October 20-27 2023. The next 2023 EurILCA Under 21 European Championships & Open European Trophy will be in Stavanger, Norway, from August 6-13 2023.
Save the dates!
#keepsmilingkeepsailing
The EurILCA Team
---
Report by Agustín Argüelles – Media Manager – EurILCA | Photos by OSGA Photo.