Report by Marita Schimd | Austrian ILCA Class Association.
From 9-11 September 2022 hundred ILCA sailors gathered at the Union-Yacht-Club Attersee in Austria for the combined EurILCA Europa Cup and EurILCA Master Series Austria 2022.
On the first day, the 43 ILCA 6, 44 ILCA 7 and 14 ILCA 4 sailors from ten nations spend the time waiting in the club area for a wind that did not come.
Saturday, all were enthusiastic going out in the morning with a nice wind from South. Unfortunately the wind did not stabilize from South and shifted 90° to West, back to South, turning West again, and so on. Patiently the sailors waited on the water and diligently followed the instructions of the race committee moving around the lake. In the afternoon the classical bad weather conditions at Attersee came through, meaning shifty winds with up to 20 knots in the gusts. The very experienced local race committee used this opportunity to set the course to start the first races. ILCA 6 and 7 had two challenging races, whereas ILCA 4 did have to cancel the second race as the wind declined significantly.
---
The rain on Sunday morning led some to think that this means no races. But as we all know, there is not bad weather, just bad equipment. So after a short AP phase the race committee packed in warm and hoisted Follow-me for the unbelieving sailors hiding under their umbrellas. The wind from South with standard wind between 10-15 knots and gusts up to 18 knots proved the race committee right. There was a good race for all classes although the ILCA 4 course had to be shortened at the windward gate. With the declining wind from South and starting to shift again to the West the race officer decided to hoist AP above H. Witnessing the decline of the wind on shore led to the decision to call it a day and finish the Europa Cup and Euro Master Series at Attersee.
Winners were celebrated in ILCA 7 with Viktor Teply (CZE) leading in front of Liam Orel (SLO) and Deny Saidukov (UKR), ILCA 6 Women won by Eva-Maria Schimak (AUT), 2nd Klara Himmelova (CZE) and 3rd Sofiia Naumenko (UKR); ILCA 6 Men winner was Semen Khashchyna (UKR), 2nd Dima Karabadzak (UKR) and 3rd ALex Malina (SVK); ILCA 4 girls won by Linda Dokoupilova (CZE), 2nd Varavara Postrelko (UKR), 3rd Barbora Markova (SVK) and ILCA 4 boys winner was Ivan Antipin (UKR), 2nd Semen Sokol (UKR) and 3rd Jeremias Prikryl (CZE).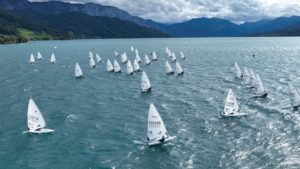 ---
The EurILCA Master Series in ILCA 7 was won by Viktor Teply (CZE / Winner Apprentice), 2nd Denys Saidukov (UKR / winner Master), 3rd Christoph Marsano (AUT / Winner Grand Master); winner Great Grand Master was Thomas Müller-Hartburg (AUT). In ILCA 6 Women the winner was Eva-Maria Schimak (AUT, winner Apprentice), 2nd Sigrid Foerster (AUT, winner Master) and 3rd Waltraud Sattler (AUT, winner Grand Master). ILCA 6 Men was won by Jörg Holl (AUT, winner Grand Master), 2nd Francesco Martina (ITA) and 3rd Josef Maurer (GET, winner Legend) and winner Great Grand Master was Christoph Werr (AUT).
Overall, it was a challenging event that proved the resilience and the dedication of the ILCA sailors to our beloved sport.
---
Photos via Union Yacht Club Attersee.