The 2021 EurILCA Master European Championships concluded today in Gargnano, Italy, organised by Circolo Vela Gargnano in Lake Garda.
The Standard Apprentice's and Master's fleets closed the event with 9 races. 8 races for all the Radial fleets and 7 for the Standard Grand Master's and Great Grand Master's.

---
Radial results – 2021 EurILCA Master European Championships
Starting with our Radial Legends, the first place overall was for Jacques Kerrest USA from the United States, winning 6 of the 8 races and finishing the event with 12 points. The European Championship title was for Henk Wittenberg NED from Netherlands with 18. Poopy Marçon FRA was third with 19.
The Radial GGM championship was for Jaap Mazereeuw NED with 22 points, escorted on podium by Jean Philippe Galle FRA and Jean-Luc Dreyer SUI with 23 and 26 points respectively. Evelyn Ferrat FRA was Women's GGM champion, finishing 11th overall.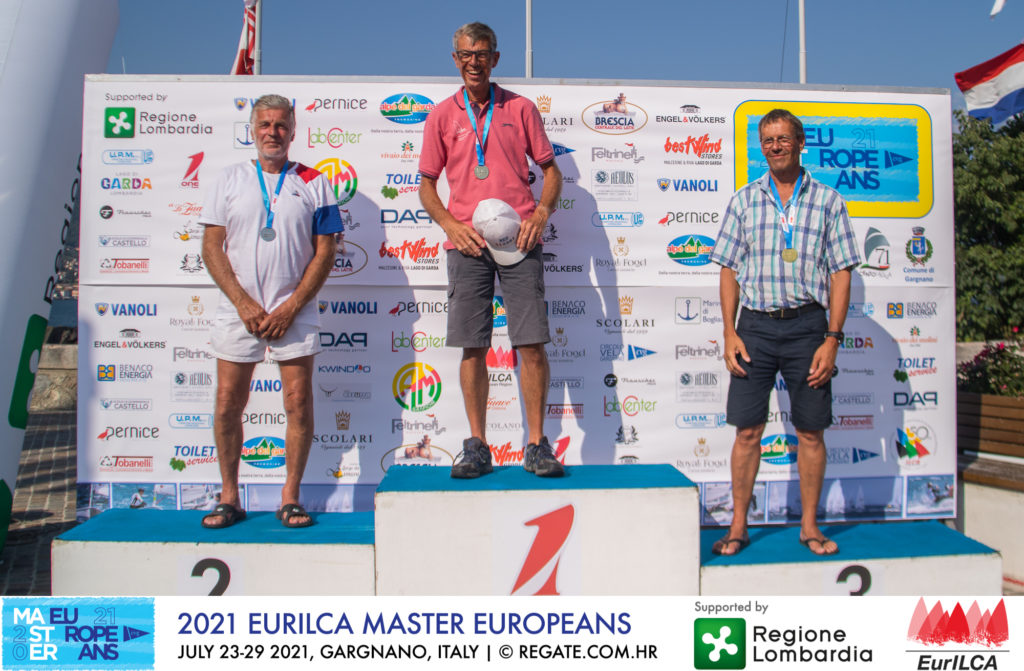 ---
French Gilles Coadou FRA was the Radial GM's champion with 22 points, winning half of the races held. He was acccompanied on podium by Thomas Buettner GER and Pieter Van Laer BEL with 34 and 35. Helene Viazzo FRA was first among Women on the 8th place.
Local sailor Alessio Marinelli ITA was first among the Radial Masters with 11 points and winning 5 of the 8 races contested. Freek De Miranda NED and Sebastien Baudier FRA escorted him on podium with 26 and 29 units. Giovanna Lenci ITA was Master Women's champion on fourth place overall with 33.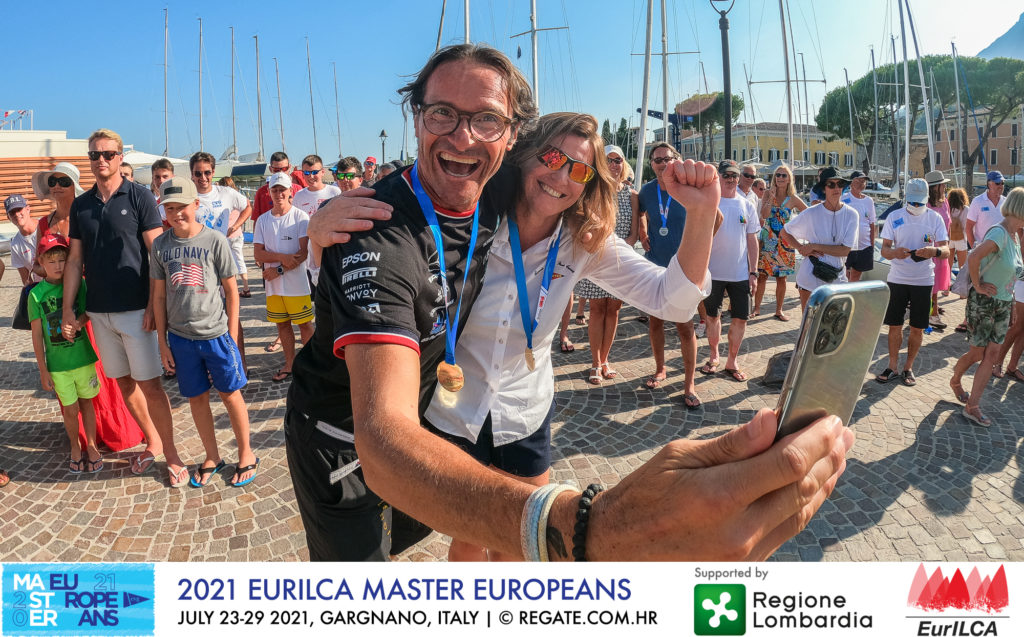 ---
Radial AM's championship was for Eva-Maria Schimak AUT, winning half of contests and wrapping the event with 14 points. Ugo Arlini  ITA and Alice Lang AUT followed her on podium with 23 and 26.

---
Standard results – 2021 EurILCA Master European Championships
The Standard GGM champion's title was for Wolfgang Gerz GER winning all 7 races held and finishing the event with perfect score. Second and third place were for Gilles Grenier FRA and Tim Landt USA with 17 and 21. Third European spot for Jacques Fiquemont FRA, finishing 6th overall with 35 units.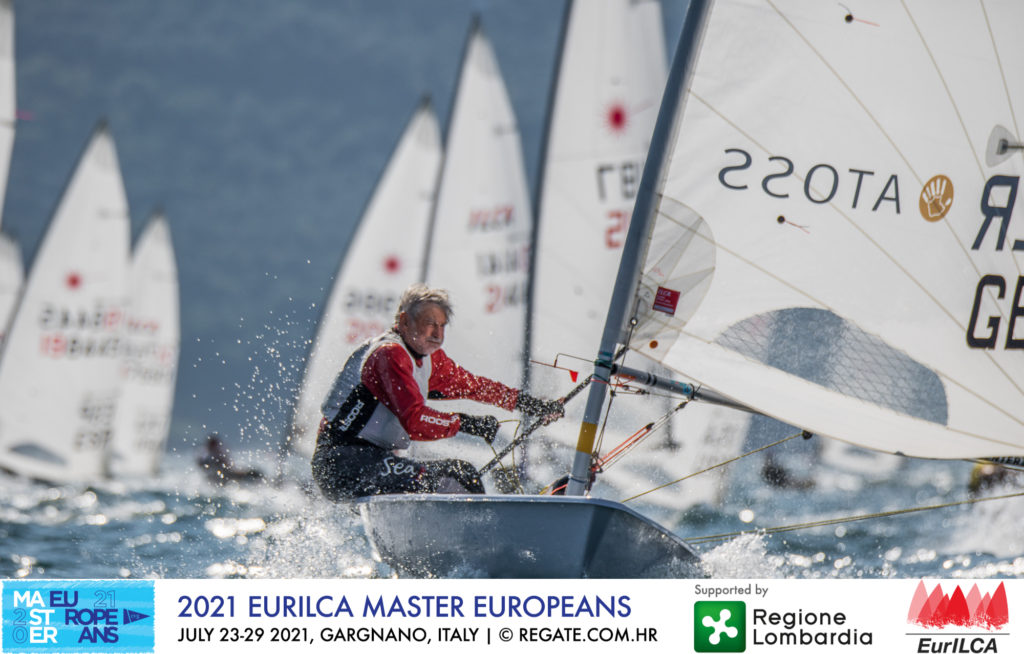 ---
Standard Grand Master's was the largest fleet at this event with 45 sailors, and triumph was for Spanish Carlos Martinez ESP with 11 points, escorted on podium by Christoph Marsano AUT and Benoit Meesemaecker NED with 16 and 22.
The Standard Master's championship was for Greek Adonis Bougiouris GRE with 21 points and followed by Bertrand Blanchet FRA and Carlos Echavarri ESP with 32 and 39 respectively.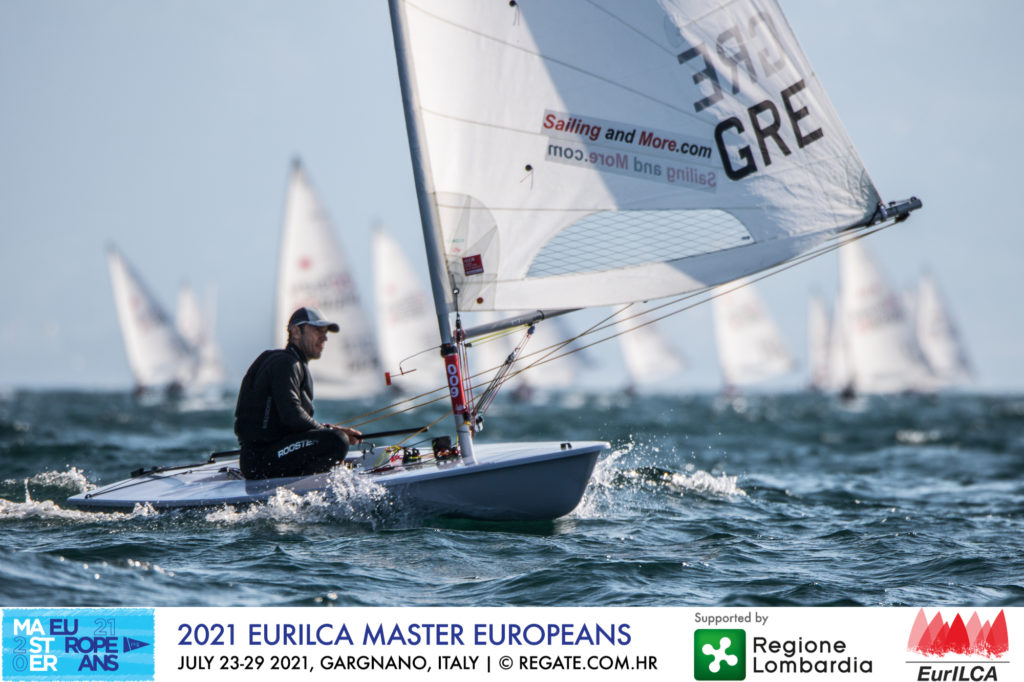 ---
Finally the Standard Apprentice's title was for Maciej Grabowski POL, winning 6 of the 8 races played and finishing the championship with 10 points. Second and third place for Lorenzo Cerretelli ITA and Leandro Rosado ESP with 24 and 29 units.
Thanks everyone for coming and hope to see you next year in Warnemunde for the 2022 edition.
#KeepSmilingKeepSailing 😉
---
How to relive the action of the 2021 EurILCA Master Europeans
REPORTS
Daily reports you'll find them all on our event webpage; https://eurilca.org/2021-master-european-championships/
PHOTOS
Daily photo galleries have been published on our Smugmug account; https://eurilca.smugmug.com/2021-European-Championships/2021-EurILCA-Master-European-Championships  – They are all free to be used for editorial purposes related with the event. For commercial use or others you must contact the photographer through his website.
VIDEOS
Video highlights and interviews are have also been published on our YouTube channel; https://www.youtube.com/eurilcachannel
RACING / RESULTS
Results you can find them on the following link; https://www.racingrulesofsailing.org/documents/2309/event
---
Report by Agustín Argüelles – EurILCA | Photos by Hrvoje Duvancic – Regate.com.hr