Strong 18-32 knots wind conditions and storms allowed only the Gold fleets to go out for sailing today on the fifth day of races of the 2021 EurILCA 4.7 Youth European Championships & Open European Trophy in Travemunde.
A lot of fun but also capsizes and hard situations were experienced by the brave 127 youth sailors that were sent out to water.
Girl's championships
Dutch Annemijn Algra NED is leading now the Girl's championship with 31 points, relegating the overnight leader Emma Mattivi ITA to second but only 1 point behind. Claudia Adan Lledo ESP holds the third place on provisional podium with 40 units.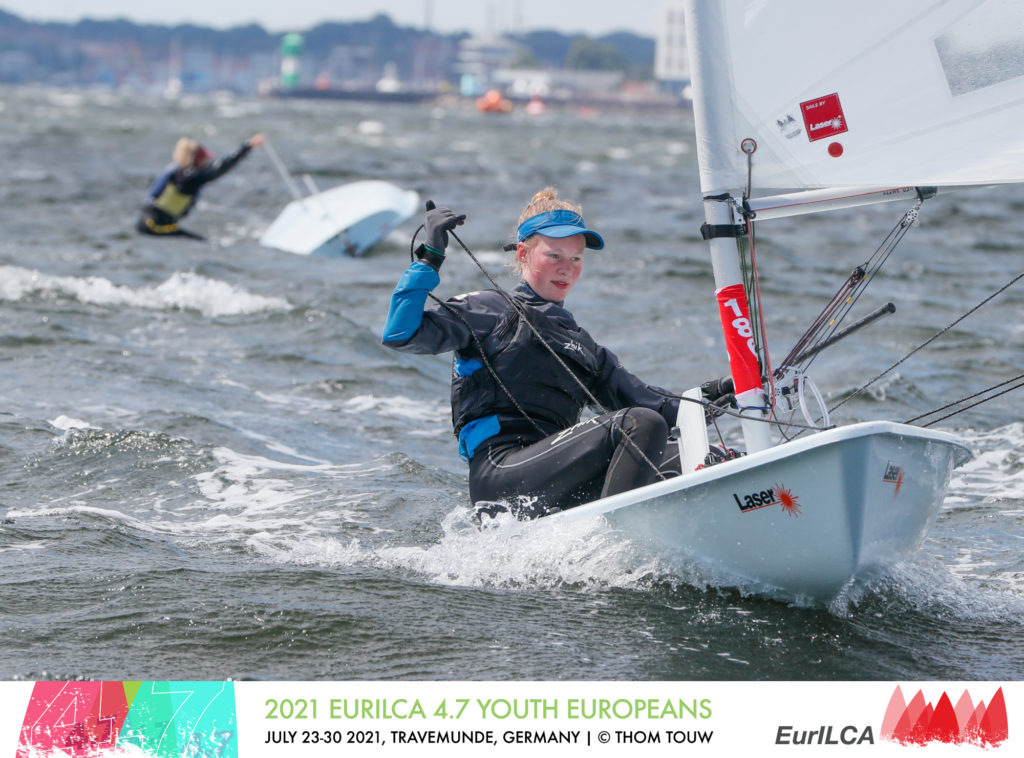 ---
Italian Maria Vittoria Arseni ITA climbed from third to the first U16 place today and leads now the youngest fleet sharing 88 points with Polish Aleksandra Borucka POL. Third U16 place for Adriana Castro ESP with 114.
Boy's championships
Both the boy's and boy's U16 competitions are governed now by Greek sailor Athanasios Kyfidis GRE, who won the two races today and leads with 33 points. Compatriot Alexandros Eleftheriadis GRE is second overall with 38. The third place overall is now for Turkish Can Kaska TUR with 49. Overnight leader Davide Nuccorini ITA is now fourth with 50.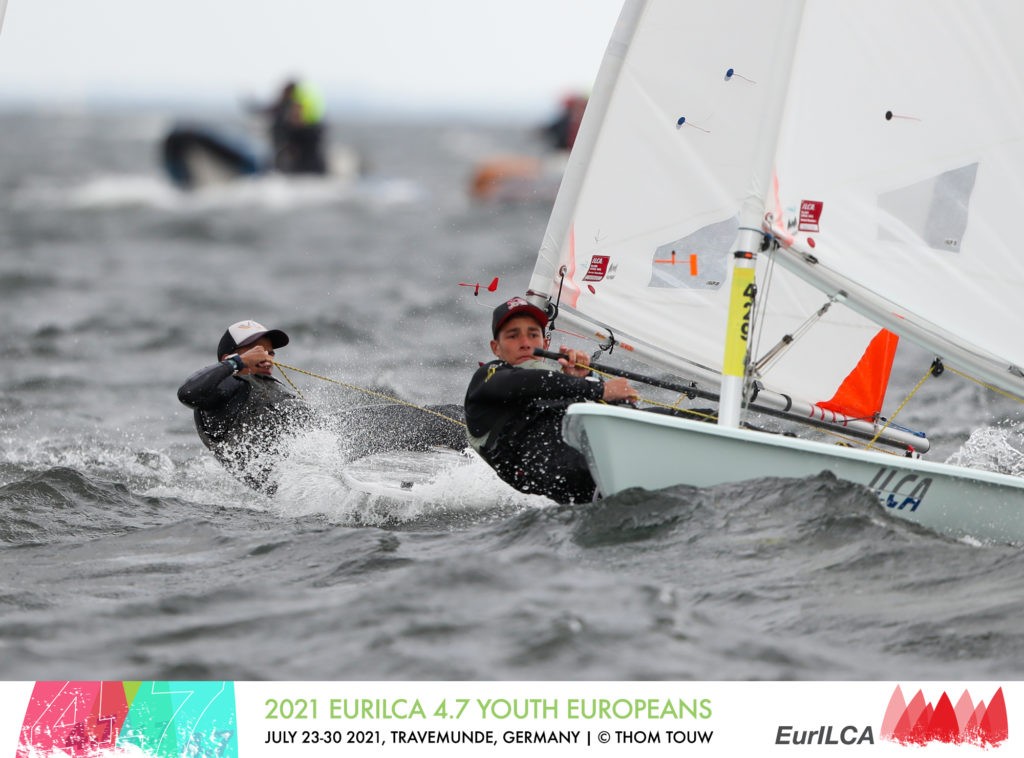 ---
Italian sailors Nicolo Cassitta ITA and Luca Centazzo ITA complete the boy's U16 provisional podium with 61 and 74 units respectively.
Last races are coming tomorrow! Forecast announces more windy action, although a little bit lighter than today, so hopefully we'll fill Travemunde's courses with all 380 sailors again 😉
---
How to follow the action at the 2021 4.7 Youth Europeans
LIVE STREAMING
We're broadcasting the racing live from courses on our Instagram account; https://www.instagram.com/eurilca/ – If you lost previous live footage you'll find them all on our YouTube channel (link on paragraph below).
REPORTS
Daily reports you'll find them on our event webpage; https://eurilca.org/2021-47-youth-european-championships/
PHOTOS
Daily photo galleries are being published on our Smugmug account; https://eurilca.smugmug.com/2021-European-Championships/2021-EurILCA-47-Youth-Championships  – They are all free to be used for editorial purposes related with the event. For commercial use or others you must contact the photographer through his website.
VIDEOS
Video highlights and interviews are also being published on our YouTube channel; https://www.youtube.com/eurilcachannel
RACING / RESULTS
Online Notice Board and Results you can find them on Travemunde Woche's website; https://www.travemuender-woche.com/home.html – Here you can also find a useful virtual flagpole and other racing features.
---
Report by Agustín Argüelles – EurILCA | Photos by Thom Touw Photography.