The 2022 edition of the EurILCA Europa Cup Trophy concluded yesterday, with the last of the events held in Hvar, Croatia.
57 sailors enjoyed of the last regatta of the year during 4 days of competition, where light to medium winds were the dominating conditions.
ILCA 4 results
Ukranian sailor Bohdan Rukhlin UKR was the overall winner in ILCA 4 among 26 competitors, finishing first in 2 of the 5 races held and wrapping the championship with 7 points. Croatian Tristan Tol CRO was second with 11. Third place overall and first U16 for Ivan Antipin UKR with 13.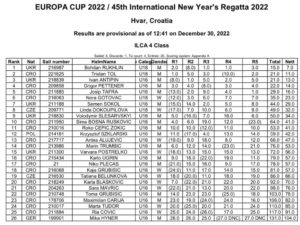 ---
ILCA 6 results
Romanian Ebru Bolat ROU was first among the 25 sailors composing the ILCA 6 fleet, wrapping the event with 9 points after 6 races. Niko Jakelic CRO was second overall and first U17 with 20 points. Third place overall for Petra Mastelic CRO with 23.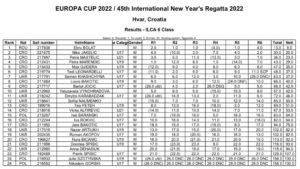 ---
ILCA 7 results
Ukranians Valeriy Kudryashov UKR, Oskar Madonich UKR and Andrew Verdysh UKR formed the ILCA 7 podium with 6, 8 and 14 points respectively.

---
Photo galleries – 2022 EurILCA Europa Cup CRO
This way the 2022 EurILCA Europa Cup Trophy succesfully concluded after 10 regattas in Spain, Belgium, Switzerland, Italy, Poland, Germany, Austria, Czech Republic, Montenegro and Croatia, with almost 1500 participants!

---
Overall Ranking – 2022 EurILCA Europa Cup Trophy
We are updating now the Final Overall Ranking in the link below to find out who were the overall winners to be awarded with brand new sails!
Overall ranking – 2022 EurILCA Europa Cup Trophy
2023 EurILCA Europa Cup Trophy's Calendar
Next year's edition will start in March in Koper, Slovenia, with the 2023 EurILCA Europa Cup SLO. Next 9 events will be in SUI, ITA, FRA, GER, POL, SRB, HUN, MLT and CRO. You can check the full calendar here;
Full calendar – 2023 EurILCA Europa Cup Trophy
We wish you all a Happy New Year and a wonderful 2023 full of waves, wind and friends!
#keepsmilingkeepsailing
The EurILCA Team
---
Report by Agustín Argüelles – EurILCA | Cover photo: Cucin Photography.