Second day of racing at the 2022 EurILCA Senior European Championships & Open European Trophy in Hyeres, France, with fantastic sailing conditions and winds of 15 to 20 knots, dropping then to 12 at the end.
Races started at 11:00 as per scheduled in the ILCA 6 Women's and Men's course, and a little bit later at the ILCA 7 area. All fleets returned to shore with their work done before 15:00.
After 2 new races, the following are the provisional leaders in all four championships at stake.
---
Race day 2 – ILCA 6 Women's results
Fierce competition we are seeing these days among the 109 sailors being part of the ILCA 6 Women's championship. The top places are very tight after 4 races, with Maud Jayet SUI (2-9-3-1) leading now the fleet with 6 points, followed one point behind by the overnight first and reigning 2021 Senior European champion Agata Barwisnka POL (4-1-2-4) with 7. British sailor Hannah Snellgrove GBR (21-1-2-6) is third with 9.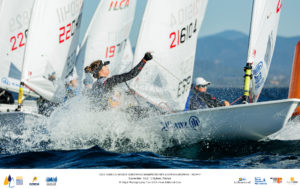 ---
The Gold medalist in Rio 2016 and multiple times World and European champion Marit Bouwmeester NED (9-5-4-2) comes fourth with 11 points.
Two-times world champion Emma Plasschaert BEL (5-8-6-2) completes the provisional European's Top 5 with 13.
Canadian sailor Sarah Douglas CAN (14-2-1-3) is second overall in the Open European Trophy, tied in 6 points with the leader.
Vasileia Karachaliou POR (3-10-16-1) and Pernelle Michon FRA (5-5-8-4) are also close with 14 units.
– Photo gallery – ILCA 6 Women
---
Race day 2 – ILCA 7 results
The reigning 2021 EurILCA Senior European champion Michael Beckett GBR (3-2-1-1) showed a terrific performance today and took the ILCA 7's leadership with 4 points after scoring two bullets.
The 2020 Senior European champion Elliot Hanson GBR (8-3-2-2) is second with 7. The third place overall is for Jonatan Vadnai HUN (2-4-9-3) with 9.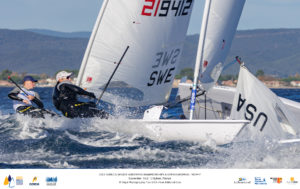 ---
Kaarle Tapper FIN (7-DNF58-1-2), Hermann Tomasgaard NOR (17-1-3-6) and the overnight leader Duko Bos NED (1-3-19-6) are tied in 10 points on places 4th to 6th respectively.
12 points are sharing now the recent 2022 World champion Jean Baptiste Bernaz FRA, the 2019 Senior European champion Lorenzo Chiavarini ITA and the 2018 Senior European champion Pavlos Kontides CYP.
Filip Jurisic CRO completes the provisional European's Top 10 with 13 units.
---
Race day 2 – ILCA 6 Men's results
There are two Senior European titles at stake in the ILCA 6 Men's competition: the Overall champion and the Under 21 champion, and both are actually held by Rocco Wright IRL (1-2-2-SCP27) with 4 points.
The second place overall is for Ben Elvin GBR (4-1-9-2) with 7. Alastair Brown GBR (18-8-3-1) completes the Overall podium with 12.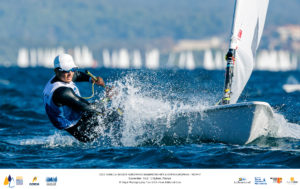 ---
Georgios Yiasemides CYP (9-5-1-19) and Lovre Bakotic CRO (27-7-4-11) complete the provisional U21 podium in places fourth and sixth overall with 15 and 22 points respectively.
Xavier Leclair FRA (46-3-6-10) is fifth overall with 19 units.
---
Tomorrow will be the last day of the qualifying series, with the first warning signal at 12:00.
Forecast announces even stronger winds for tomorrow so let's see what happen.
Six days of races are scheduled in total, with the last ones coming on Monday 21st to decide our new 2022 EurILCA Senior European champions.
---
How to follow the 2022 EurILCA Senior European Championships
We're daily publishing a report with news and results right after the races, with links to photo galleries and video highlights. You can also find all this information and links at any time in the event website;
– Event website – 2022 EurILCA Senior Europeans
We recommend you to subscribe to our YouTube channel to be notified when new videos are published.
Follow us on Instagram and Facebook  for live news and contents. The event's hashtag is #EurILCASeniorEuropeans22 
For further information about the competition you can also check the regatta's documents here;
– Documents – 2022 EurILCA Senior Europeans
Keep smiling, keep sailing
The EurILCA Team
---
Report by Agustín Argüelles – EurILCA | Photos: Douglas Machado.