The third day of racing concluded with only 1 race per fleet today at the 2022 EurILCA Senior European Championships & Open European Trophy in Hyeres, France.
Races were supposed to start at 12:00 in both courses, but strong winds of +25 knots during the morning made the Race Committee to postpone the action.
Later on in the noon the wind dropped and the ILCA 6 Women and Men fleets were allowed to go on water at 12:15. ILCA 7 did it a few minutes later.
Once in the courses, the wind was not much and very shifty, making the first of the ILCA 6 Women's race to be cancelled after the windmark. Meanwhile in the ILCA 7 Men the wind was varying a lot so the starting procedure was delayed.
After some course's adjustments, a new breeze of 10-15 knots was established and all the races were started. Unfortunately, and helped by some general recalls, the time in the afternoon was only enough to complete one race per fleet before the time limit.
This way the Qualifying series concluded after 5 races, with the following provisional leaders in all four championships at stake;
---
Race day 3 – ILCA 6 Women's results
British sailor Hannah Snellgrove GBR (21-1-2-6-1) was the winner of the single race today and climbed from the 3rd to the 1st position with 10 points. She's closely followed just one point behind by last year's champion Agata Barwisnka POL (4-1-2-4-BFD56) with 11.
Canadian sailor Sarah Douglas CAN (14-2-1-3-5) has also 11 points, being second overall in the Open European Trophy.
Overnight leader Maud Jayet SUI (2-9-3-1-UFD56) is third European now, tied on 15 points with the two-times world champion Emma Plasschaert BEL (5-8-6-2-2).
Pernelle Michon FRA (5-5-8-4-5), winner of the recent French championships also here in Hyeres, completes the European Top 5 with 19 units.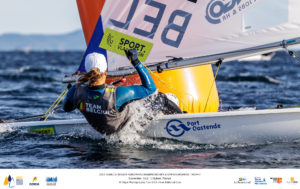 ---
Provisional European Top 10 heading the Final series:
Hannah Snellgrove GBR 10
Agata Barwisnka POL 11
Maud Jayet SUI 15
Emma Plasschaert BEL 15
Pernelle Michon FRA 19
Marit Bouwmeester NED 20
Daisy Collingridge GBR 21
Matilda Nicholls GBR 24
Vasileia Karachaliou POR 27
Maria Erdi HUN 30
---
Race day 3 – ILCA 7 results
Overnight leader Michael Beckett GBR (3-2-1-1-1) won his third race in a row today and consolidated his leadership in the ILCA 7 fleet with 5 points. Only 3 points behind comes Elliot Hanson GBR (8-3-2-2-1) with 8, winning his first race in this championship.
The third place overall is now for Pavlos Kontides CYP (2-3-7-10-1), who has also won a race for the first time in this competition. He's tied in 13 points with fourth Hermann Tomasgaard NOR (17-1-3-6-3).
Lorenzo Chiavarini ITA (5-6-6-1-2) wrap the European Top 5 with 14 units.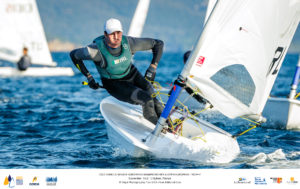 ---
Provisional European Top 10 heading the Final series:
Michael Beckett GBR 5
Elliot Hanson GBR 8
Pavlos Kontides CYP 13
Hermann Tomasgaard NOR 13
Lorenzo Chiavarini ITA 14
Kaarle Tapper FIN 15
Jonatan Vadnai HUN 15
Filip Jurisic CRO 16
William Nik Aaron GER 20
Duko Bos NED 21
---
Race day 3 – ILCA 6 Men's results
The ILCA 6 Men's overall championship has a new leader, and that's British Ben Elvin GBR (4-1-9-2-2) with 9 points.
He's closely followed by the overnight overall leader and current Under 21 leader Rocco Wright IRL (1-2-2-SCP27-8) with 13.
Georgios Yiasemides CYP (9-5-1-19-3) is third overall and second U21 with 18 points.
Viko Alfirevich CRO (20-13-11-5-7) is third U21 on place 7th overall with 36 units.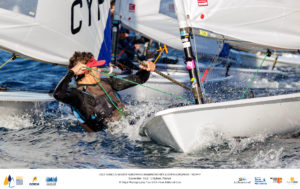 ---
The Final series will start tomorrow so stay tuned!
For the last three days the ILCA 7 sailors will race in Gold, Silver and Bronze fleets; while the ILCA 6 Women sailors will do it in Gold and Silver. No changes for the ILCA 6 Men championships due to racing in a single group.
From tomorrow you'll be able to follow all the 3 Gold fleets live through the tracking system:
Live Tracking – Follow the Gold fleet's racing live
The first warning signal for tomorrow is expected to be at 11:00. Coaches meeting at 09:00.
Six days of races are scheduled in total, with the last ones coming on Monday 21st to decide our new 2022 EurILCA Senior European champions.
Keep smiling, keep sailing
The EurILCA Team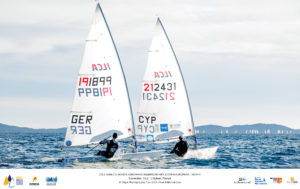 ---
How to follow the 2022 EurILCA Senior European Championships
We're daily publishing a report with news and results right after the races, with links to photo galleries and video highlights. You can also find all this information and links at any time in the event website;
– Event website – 2022 EurILCA Senior Europeans
We recommend you to subscribe to our YouTube channel to be notified when new videos are published.
Follow us on Instagram and Facebook  for live news and contents. The event's hashtag is #EurILCASeniorEuropeans22 
For further information about the competition you can also check the regatta's documents here;
– Documents – 2022 EurILCA Senior Europeans
---
Report by Agustín Argüelles – EurILCA | Photos: Douglas Machado.