Shifty 12-18 knots wind and big waves were the predominant sailing conditions today on the third day of races at the 2021 EurILCA Senior European Championships & Open European Trophy in Varna, Bulgaria.
This way the first half of the event concluded with 5 races for all the 3 fleets.
The day started earlier today, with the ILCA 7 sailors launching their boats in the morning to start racing at 11:00 as per scheduled. The yellow group was the first one on the cue and they could start sailing almost immediately. The blue group had to wait for a while before starting due to a big wind shift, rain and unstable conditions that almost forced the yellow's race on play to be cancelled. Fortunately they could complete that race.
New shifts and unstable conditions made the Race Committee to work hard setting new courses until they were proper. After 4 hours on water, both ILCA 7 fleets could finally return to shore with two new races done and wrap the Qualifying series with 5 results on score. From tomorrow on they will be split in Gold and Silver groups.
The ILCA 6 fleets were supposed to start racing at 14:00 today but due to the delay on course with the ILCA 7 class, they were finally sent to water around 15:00.
Just in case the cold and cloudy weather during the whole day wasn't enough, the rain also returned around 16:00 to bless the last sailors on course.
Due to being that late, both the ILCA 6 Women and ILCA 6 Men could only complete one race today.
Day 3 results – 2021 EurILCA Senior Europeans
Michael Beckett GBR (1-1-4-9-1) could preserve the lead of the ILCA 7 championship after returning to victory on the last race. He's now heading the fleet with 7 points. Zan Luka Zelko SLO (1-2-37-1-4) and Pavlos Kontides CYP (2-3-1-4-3) are only one and two points behind the leader.
Luke Elliott AUS (2-6-1-8-2) is fourth with 11 points in the Open European Trophy, while Filip Jurisic CRO (3-20-5-3-1) is fifth overall and fourth European with 12.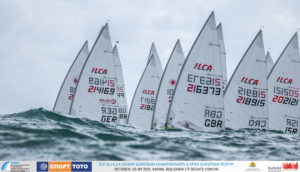 ---
Line Flem Host NOR (3-3-1-79BFD-6) continues to lead the ILCA 6 Women's championship with 13 points. Second comes another Olympic representative in Tokyo, the Greek sailor Basileia Carahaliou GRE (14-1-3-8-14) with 26. 28 points for Agata Barwinska POL (20-8-13-4-3) on third.
The French sailor Louise Cervera FRA (15-11-26-3-1) won the single race today and she's on fourth place now with 30.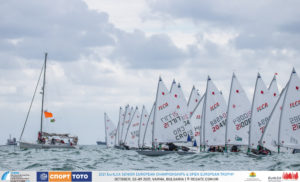 ---
The ILCA 6 Men's championship changed hands today after the single race contested. Stipe Gaspic CRO (2-3-4-2-1) is now the leader with 8 points and a great performance discarding just a 4th.
The overnight leader and current Under 21 leader Umut Eyriparmak TUR (1-1-2-7-7) is second overall now, sharing 11 points with U21's vice-leader Oskar Madonich UKR (3-5-3-1-4).
The third U21 place is now for Andrew Verdysh UKR with 18 units.
The RC is planning three races for tomorrow, starting the sequence with the ILCA 6 Women at 11:00, followed by ILCA 6 Men. ILCA 7 Gold will start at 12:00, followed by ILCA Silver. More information at the Official Notice Board.
The event will run every day until Saturday 9th, when we'll know the new 2021 Senior European champions.
The event is organized by EurILCA in conjuction with SC Cherno More Briz, the Bulgarian Sailing Federation, the Ministry of Youth and Sports and the Municipality of Varna. The event is supported by Port of Varna.
---
---
Note for participants: the organization informs that during Saturday 9th there will be a COVID–19 virus testing at Varna's harbour for all sailors who need a PCR test or rapid antigen test to show when returning home. Therefore, it is necessary to apply to it by Thursday 7th in the Race office. Please, bring your travel document with you.
---
How to follow the 2021 EurILCA Senior Europeans
Daily reports with news and results you will find them at the event's webpage.
We're also producing daily videos and photos you can watch on our YouTube channel and Smugmug photo galleries.
For live news and contents you can follow us on Instagram and Facebook.
---
Report by Agustín Argüelles – EurILCA | Photos by Hrvoje Duvancic.