Varna continued to deliver fantastic sailing conditions for the fourth consecutive day on this 2021 EurILCA Senior European Championships & Open European Trophy. 20 knots of wind and big waves today where the repeated Bulgarian scenario for our brave sailors.
Conditions are being really demanding for all 220 participants, with the elements forcing them to give it all on every meter and every wave, challenging not just their skills but their strength.
This was the first day of the Final series for the ILCA 7, so they sailed in Gold and Silver fleets. Unfortunately they could only complete one of the scheduled races so they wrapped the day with 6 on their scores, while the ILCA 6 fleets did it with 7.
The racing started at 11:00 this morning as per scheduled, with the ILCA 6 Women and ILCA 6 Men classes coming first.
The Race Committee could adjust the courses faster this time and by 14:00 all four races for the ILCA 6 fleets were done.
When the last of ILCA 6 race was finishing, the ILCA 7 fleets started arriving to the course, just when the sky got a little bit darker and the rain also said hello on this party.
Day 4 results – 2021 EurILCA Senior Europeans
The Women's championship changed hands today with the Olympic Greek sailor Basileia Carahaliou GRE (14-1-3-8-14-4-1) taking the lead with 31 points. Agata Barwinska POL (20-8-13-4-3-1-5) has also climbed one position and she's ranked second now, only three points behind the leader.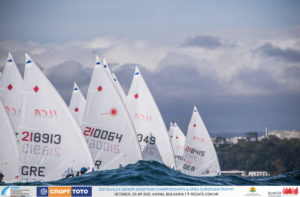 ---
Overnight first Line Flem Host NOR (3-3-1-79BFD-6-11-15) dropped to the third place with 39.
Maxime Jonker NED (24-18-12-5-8-3-10) raised to the fourth place now, although 17 points far from the provisional podium.
The French sailor Louise Cervera FRA is fifth with 62. Marie Barrue FRA, Federica Cattarozzi ITA, Daisy Collingridge GBR, Elena Borobeva CRO and Hannah Anderssohn GER complete the provisional European Top 10.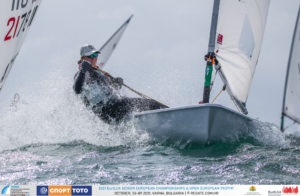 ---
The ILCA 6 Men's championship is still controlled by Stipe Gaspic CRO (2-3-4-2-1-1-1), winning both races today and leading with 10 points. The strong wind and waves are being delightful for this 78 kg sailor.
On the second place overall and leading the Under 21 championship is Umut Eyriparmak TUR (1-1-2-7-7-5-7) with 23. Third place overall and 2nd U21 for Jason Kefallonitis GRE with 26. Oskar Madonich UKR is fourth overall and 3rd U21 with 27.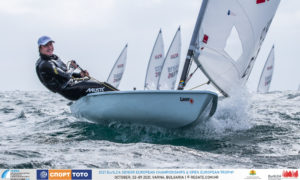 ---
The ILCA 7 competition is becoming tighten now with the top 7 sailors separated by just 16 points. They could only done one race today, with Michael Beckett GBR (1-1-4-9-1-11) scoring an eleventh and leading with 18 points. Six points behind him is now Croatian Filip Jurisic CRO (3-20-5-3-1-12) with 24. Third place on this provisional podium for ascending Lorenzo Chiavarini GBR (11-13-4-1-5-6) with 27.
The winner of the single Gold race today was the Russian sailor Maxim Nikolaev RUS, now climbing to the 6th position with 33 points. Second today was the Hungarian Jonatan Vadnai HUN who's now 5th overall with 30. Pavlos Kontides CYP scored a 21st today and dropped to the 4th position. Similar situation for the Australian Luke Elliott AUS dropping to the 7th place on the Open European Trophy.
Wannes Van Laer BEL, Duko Bos NED, Nooa Laukkanen FIN, Sam Whaley GBR and Sergey Komissarov RUS complete the provisional European Top 10.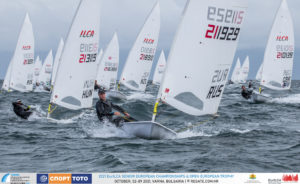 ---
The RC is planning three new races for tomorrow, starting at 11:00 with ILCA 7 Gold fleet and followed by Silver. 14:00 will be the time for the ILCA 6 Women, followed by ILCA 6 Men. More information at the Official Notice Board.
The event will run every day until Saturday 9th, when we'll know the new 2021 Senior European champions.
This competition is organized by EurILCA in conjuction with SC Cherno More Briz, the Bulgarian Sailing Federation, the Ministry of Youth and Sports and the Municipality of Varna. The event is supported by Port of Varna.
---
---
How to follow the 2021 EurILCA Senior Europeans
Daily reports with news and results you will find them at the event's webpage.
We're also producing daily videos and photos you can watch on our YouTube channel and Smugmug photo galleries.
For live news and contents you can follow us on Instagram and Facebook.
---
Report by Agustín Argüelles – EurILCA | Photos by Hrvoje Duvancic.