We had a fantastic fifth day of racing at the 2022 EurILCA Senior European Championships & Open European Trophy in Hyeres, France.
Three new races were held today by all the fleets, with shifty and patchy 8-12 knots of breeze. Many ups and downs made the sailing conditions very tricky for all the 350 competitors, with significant changes in the standings.
The ILCA 7 championship counts now with 10 races in total, while the ILCA 6 Women counts with 9. The ILCA 6 Men fleet counts with 8 races.
With the last day of competition coming tomorrow, the following are the provisional leaders in all four Senior Europeans at stake;
---
Race day 5 – ILCA 6 Women's results – Gold fleet
Consistency is paying off at the ILCA 6 Women's championship, with two sailors now on top of the fleet with 50 points: those are the reigning 2021 Senior European champion Agata Barwisnka POL (2-8-17 today) and the ascendant Marit Bouwmeester NED (8-2-5). The third place is for Maud Jayet SUI (1-6-12) with 52, closely followed by Emma Plasschaert BEL (6-22-8) with 54. Matilda Nicholls GBR (3-11-14) is fifth with 61 units.
The Open European Trophy's overnight leader Sarah Douglas CAN (22-16-28) is ranked sixth now with 66 points.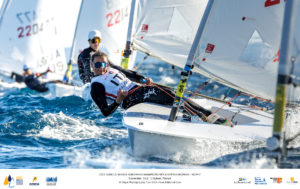 ---
Provisional ILCA 6 Women European Top 10 after 9 races:
Agata Barwisnka POL 50
Marit Bouwmeester NED 50
Maud Jayet SUI 52
Emma Plasschaert BEL 54
Matilda Nicholls GBR 61
Daisy Collingridge GBR 75
Pernelle Michon FRA 93
Hannah Snellgrove GBR 101
Marie Bolou FRA 102
Maria Erdi HUN 103
---
Race day 5 – ILCA 7 results – Gold fleet
It was not a good day for the overnight leader and reigning 2021 Senior European champion Michael Beckett GBR (22-25-2), loosing the top spot for the first time in the event. He's now in the second place but only 2 points behind the new leader Pavlos Kontides CYP (4-3-1) who's counting 32 units.
Finland's Kaarle Tapper FIN (5-23-3) is now third with 50. 7 points after him is Jonatan Vadnai HUN (8-18-17) on fourth.
Lorenzo Chiavarini ITA (6-17-13) and Sam Whaley GBR (24-6-10) are tied in 66 points on places fifth and sixth.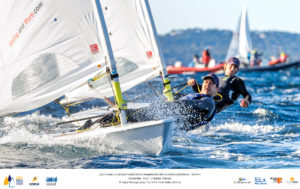 ---
Provisional ILCA 7 European Top 10 after 10 races:
Pavlos Kontides CYP 32
Michael Beckett GBR 34
Kaarle Tapper FIN 50
Jonatan Vadnai HUN 57
Lorenzo Chiavarini ITA 66
Sam Whaley GBR 66
Niels Broekhuizen NED 72
Tonci Stipanovic CRO 74
Hermann Tomasgaard NOR 75
Jean Baptiste Bernaz FRA 85
---
Race day 5 – ILCA 6 Men's results
Irish sailor Rocco Wright IRL (1-13-5) recovered the control of the fleet and leads both the overall and Under 21 European championships again with 32 points.
The overnight leader Ben Elvin GBR (25-35-23) is now third overall with 66.
Georgios Yiasemides CYP (3-11-39) is second on both the overall and U21 championships with 51.
Daniel Cardona Balsa ESP (third U21 sailor) and Mario Novak CRO complete the overall Top 5 with 73 and 77 points respectively.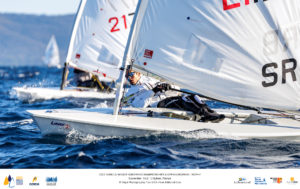 ---
The event will finish tomorrow with three scheduled races for the ILCA 6 Men and Women, and 2 for the ILCA 7.
Remember you can follow all the 3 Gold fleets live through the tracking system:
Live Tracking – Follow the Gold fleet's racing live
The first warning signal will be at 10:00 so stay tuned! Coaches meeting will be at 08:30.
Let's wait to see who will become our new 2022 EurILCA Senior European champions!
Keep smiling, keep sailing
The EurILCA Team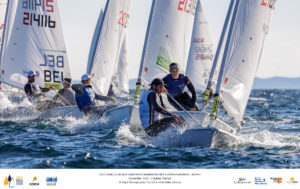 ---
How to follow the 2022 EurILCA Senior European Championships
We're daily publishing a report with news and results right after the races, with links to photo galleries and video highlights. You can also find all this information and links at any time in the event website;
– Event website – 2022 EurILCA Senior Europeans
We recommend you to subscribe to our YouTube channel to be notified when new videos are published.
Follow us on Instagram and Facebook  for live news and contents. The event's hashtag is #EurILCASeniorEuropeans22 
For further information about the competition you can also check the regatta's documents here;
– Documents – 2022 EurILCA Senior Europeans
---
Report by Agustín Argüelles – EurILCA | Photos: Douglas Machado.